Say Her Name
Breonna Taylor's death and the consequent lack of justice prove just how broken the judicial system is.
Those of us who have been radicalized by observing or experiencing police brutality and abuse of power have come to view the police through the lens of violence, and there are a few things we have recognized to be true.
The first is that no Black man, woman, child, or anyone in between, has ever been truly set free. The second is that property will always triumph over humanity in a system that prizes wealth and possession over all other things. 
There has been no greater testament to this than the regrettably violent and turbulent summer months of 2020. Though it's difficult not to mention that the revolution we are experiencing knows nothing about the seasons, the raging fight for Black lives took hold in early June as the deaths of George Floyd and Breonna Taylor began to surface in mainstream media.
Taylor's story is famous, but not because it ends happily, and that is why we are still fighting for justice for nearly 200 days later. 
The facts are seemingly simple– a Black woman, who worked as an emergency room technician, was shot in her own home while she was asleep at nearly one in the morning during a botched raid on her apartment by the Louisville Metro Police Department. 
"
Taylor's story is famous, but not because it ends happily, and that is why we are still fighting for justice for nearly 200 days later. "
However, in a country where justice is not afforded equally to all, it unfortunately was no shock to learn that Taylor's killers have still not been prosecuted accordingly. 
On Wednesday, September 23rd, officers Jonathan Mattingly, Myles Cosgrove, and Brett Hankinson faced charges for the wrongful death of Taylor and the endangerment of others. Only Hankinson was charged with three counts of first-degree wanton endangerment for shooting into the neighboring apartments and was given a 15,000 dollar cash bond. No other officers are being charged with the death of Taylor herself.
Though the decision is devastating, it comes tragically as no surprise. The walls of a Black woman's apartment were valued more than her own life, and her death goes unvindicated, as do so many Black lives in America. 
However, over three weeks after the case has seemingly met its end, new facts about what happened that evening are coming to light. These facts, simply put, have the ability to turn the indictment, or lack thereof, into a scandal: 
– The warrant was for Jamarcus Glover, who had clearly not lived there for several months before the raid, as no packages to his name were delivered to the apartment, despite this being the basis for the warrant.
– Louisville's Postmaster General went on the record to say they lied to obtain the warrant.
– Kenneth Walker, Taylor's boyfriend, fired his gun in self defense after hearing what sounded like someone breaking into their apartment. He had a license to carry and feared that Taylor's ex-boyfriend was attempting to enter their apartment to hurt her.
– The court offered Walker a lesser indictment for the "attempted murder of a police officer" if he said that Breonna was on or selling drugs, despite the fact that she was not.
– Ballistics don't support the Attorney General's claim that it was Walker's bullet that hit Mattingly in the leg. The bullet entered Mattingly's leg at an angle and direction that doesn't match where Walker shot from.
– Out of all the witnesses interviewed, only one said he heard the officers announce themselves. However, even this is questionable considering he changed his story from first stating that he heard no announcement prior to the raid.
– Multiple SWAT team members told investigators that they had serious concerns about the raid on Taylor's apartment before it occurred.
– Several officers involved with the raid on Taylor's apartment were also involved in another botched no-knock raid before Taylor's death and entered a house that didn't belong to any of the suspects in the drug case.
– Taylor's name was never mentioned in the official indictment against Hankinson.
– The Kentucky Attorney General admits that he never recommended any charges for the officers who shot and killed Taylor, claiming "Sergeant Mattingly and Detective Cosgrove were justified in their use of force after having been fired upon by Kenneth Walker." Implying that Taylor's death was justified despite her not posing any danger, or being the one who shot at the police.
– Her family was given a record-setting $12 million settlement in the wrongful death suit against the officers, showing that the city was aware that her death was unjustified.
Because this new information came out after the case had already been tried, it is very apparent that the city of Louisville has consistently been trying to cover up their corruption and incompetence for weeks.
The release of tapes from the trial reveals that jurors consistently asked more questions about the case and were dismissed or ridiculed for asking them. This further proves that there was never any intention from the city to serve justice in Taylor's case.
The change.org petition demanding justice for Taylor has become the second largest petition the site has ever seen, and the ongoing protests have gathered even more steam.
The facts that have come to light too little too late may just possibly be the basis for one of the largest scandals of the year, but unfortunately, only time will tell if Taylor's life will ever receive the justice it deserves.
However, what we do know is that the indictment has caused outrage. On the day of the indictment, two officers were shot as protesters stormed the streets of Louisville in outrage at the outcome of the trial. 
The city was soon placed under around-the-clock surveillance and was patrolled by members of the National Guard.
"
The Black community has been hurting for centuries over the loss of so many lives that they hold dear, and Taylor will be yet another name etched into our memories forever."
Taylor's name has become tragically famous, being used to pass laws— like Breonna's Law, banning no-knock warrants— and her face has been plastered on seemingly every magazine cover, newspaper article, and TV screen. Yet the one place she has never received any recognition is where it matters most— the court. 
To defend the cops who shot Taylor, or to justify military occupation of a city where she was brutally murdered in her own home, is deplorable. A life was lost and the only charges against the officers were for the shots that they missed. 
It's hard not to wonder what would have happened if the officers who fired their weapons that night had not hit the neighboring apartments, but it would most likely mean that not a single officer would be charged at all. 
The Black community has been hurting for centuries over the loss of so many lives that they hold dear, and Taylor will be yet another name etched into our memories forever. The policing system in America has never allowed the Black man, woman, or child to ever be genuinely free— free of oppression, of fear, and of the shackles placed on their skin color hundreds of years ago— no matter how much we are told otherwise.
We remember and honor the life of a woman who was never free, a woman who dedicated her life to helping others, even amid a global pandemic, and a woman who, more than anything, should still be with us today. We will continue to say her name.
Here is a link to support the Louisville bail funds.
Leave a Comment
About the Writer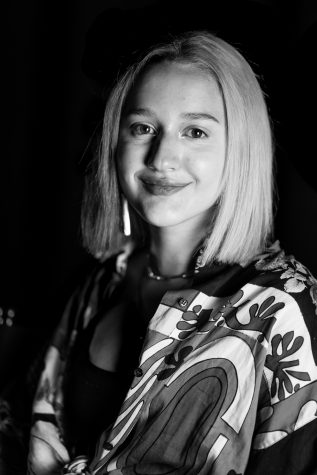 Julia Poppa, Photography Editor
Julia is a senior at NASH and is delighted to be this year's Photography Editor. She uses she/they pronouns and is passionate about making a positive change in the world. In her spare time she enjoys reading about philosophy, photographing the world, creating art, writing, and caring for her plants. She hopes to become a helicopter pilot one day and dreams of going to school in New Zealand.