Our Better Half
Balancing academics and athletics can be difficult, but every student should prioritize their education.
The balancing act of juggling sports and an education gets tiring, especially when a student tries to incorporate a social life into the mix. The thin line that distinguishes a healthy balance from an unhealthy amount of pressure can quickly vanish. This unnecessary pressure on young adults in both high school and college becomes suffocating, putting them in a situation of having to make sacrifices or give something up. Time is a currency, and there are no refunds on what you spend it on.
But make no mistake — if a student-athlete is struggling to fit it all in, education must come first. Unless they are extremely athletically gifted, a diploma and good grades are necessary in order to get a job later in life. The truth is that only one in 16,100 student-athletes turn their involvement in sports into careers.
Additionally, the possibility of getting injured and the likeliness of burning out after years of training are both very real. And, as young athletes are frequently reminded, there is always going to be someone who is better. 
In college recruiting, coaches are only able to leverage the admissions data. Even if the student is a highly recruited athlete, in most cases, they must at least meet the standard educational requirements of the school, or they will not make the roster. 
"
Every student athlete must remind themselves that they should come to school as students first and athletes second."
According to the Chicago Tribune in 2013, "about ten percent of aspiring Division I athletes fail to meet the NCAA's academic benchmarks each year." This number has only grown in recent years, resulting in many athletes getting dropped by coaches in the recruiting process.
One athlete that the Chicago Tribune interviewed, Darius Moffett, was a very skilled and highly sought after football player, but he grew accustomed to coasting along in high school. By the time offers were being made during his senior year, many of his opportunities vanished due to his low GPA and ACT score. 
Realizing that his dream of playing college ball was in serious jeopardy, he amassed credits during his freshman year of college, but he had to pay straight out-of-pocket because he received no scholarship. After working hard to meet the academic requirements needed to play football, he was scouted by a college team and accepted into the school with a scholarship. He ultimately performed both well on the field and in the classroom, where he majored in criminal justice. 
Having learned from his failures, he did not make skipping class an option.
"I know I've got to go," he said in the interview. "When I think about my schoolwork and not going to class, I remember this is my last year to play football."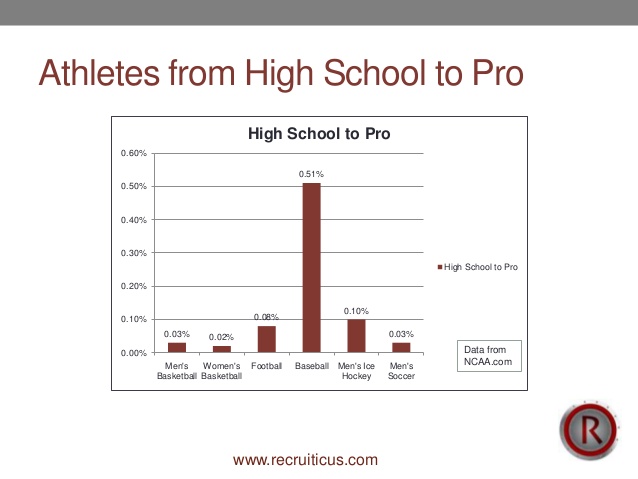 Without Moffett's improvement in his education, he would have ended among the 30% of students who quit their life-long sport during their four years at college. 
Mary Willingham, a learning specialist at the University of North Carolina at Chapel Hill, works with her students to combat that percentage so that they can finish out their years on the team. When she first joined the program, she was astonished to see that many of her student-athletes could not proficiently read or write.
"Student-athletes who can't read well but play in the money-making collegiate sports of football and basketball are not a new phenomenon, and they certainly aren't found only at UNC-Chapel Hill," she explained. 
Tackling this issue will take more than just involving parents who are already immersed in their children's lives. Instead, coaches who are admired by their players should be emphasizing the importance of education and how it should always come before a spot on the team. 
It's not easy being a student, and it's not easy being an athlete.  When we try to do both, we can quickly lose perspective on our priorities. It takes discipline, maturity, and positive role-modeling to continually remind ourselves that, first and foremost, we're students.