An Altered Celebration
Senior nights for the class of 2021 are vastly different than years past.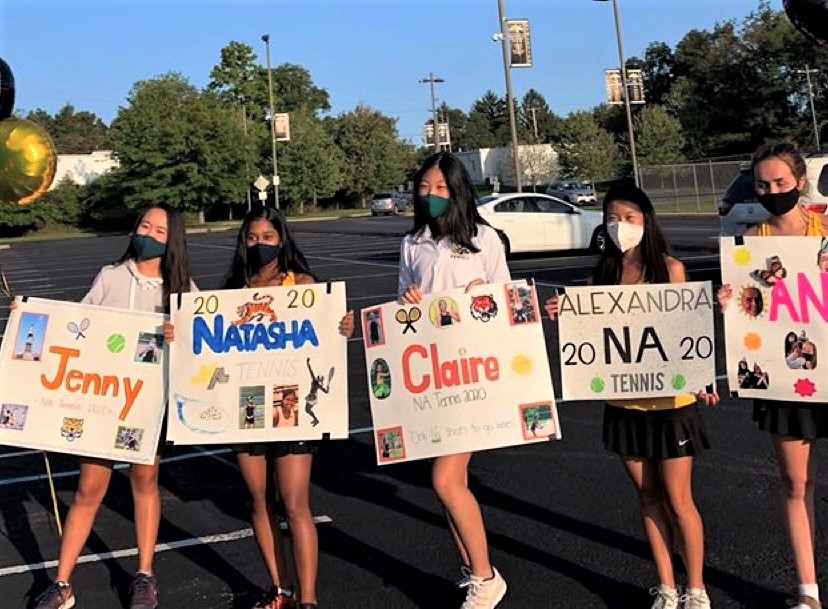 On a traditional senior night, student-athletes are bombarded with flashes of cameras held by elated parents, colorful posters, and even flowers. They typically walk under the black and gold inflatable arch, receiving applause and feeling proud of all the things they've accomplished.
This year, however, senior nights look different, if they are even able to occur at all. Despite the district's efforts to make the event as enjoyable and "normal" as possible, the year still has a different, more somber feel for most students.
"Although senior night went the same as previous years, minus the social distancing and masks, it still felt different," senior field hockey player Supritha Challa said.
 The CDC considers "large in-person gatherings where it is difficult for individuals to remain spaced at least six feet apart" a high-risk activity. So, similar to the rest of the athletic season, modifications have become essential for safety. All senior nights require social distancing and face masks.
Girls' Tennis is one such sport that saw its usual festivities altered.
"We moved the pizza party from the cafeteria to the parking lot and sat on lawn chairs in what was like one big, socially distant circle," said senior Anna Mott, a member of the team.
However, these modifications did not prevent the night from being special.
"It was amazing. It was so nice outside, and I think that it was even better than years' past," Mott added.
Julia Wonsettler, a senior cross country runner, experienced some minor disappointments on her senior night.
"It was conducted much differently than in previous years," she explained. "It was outside instead of inside, and there was no pasta, unfortunately. The underclassmen were required to sit away from the seniors."
"
It was amazing. It was so nice outside, and I think that it was even better than years' past."
— Anna Mott, senior
However, she felt that the team made the best out of the situation.
"I honestly preferred the outside setting compared to the usual inside setting. I was still able to be with my senior friends, which was enjoyable," she said. "Right now, safety is the most important priority."
While fall sports were able to hold their senior nights safely, the fate of winter sports is less clear. As COVID-19 cases surge, the question of whether or not winter sports will even be able to hold a senior night has been raised, especially as the district is currently conducting full remote learning. 
Senior and assistant captain of the Boys' Ice Hockey team Karl Fuchs said safety was also of utmost importance to his team.
"It is obviously necessary to ensure everyone's safety first. I really hope that I will be able to have a senior night, but I understand that there are more important things to consider first," he said.
Hockey is one sport that will have a difficult time organizing its senior night as it has in the past. Previous senior nights entailed the younger players being on the ice with the seniors. Such a large number of people on the ice at one time and the fact that the event is held inside may prove to be a problem.
It is a given that, unfortunately, senior nights will not be the same this year. So far, athletes have still been able to celebrate their achievements, but the future remains uncertain. Until they know more, students are trying to stay optimistic.
"I have no idea if I will have a senior night for hockey, but right now I am grateful for every game the team gets to play," said Fuchs.
About the Writer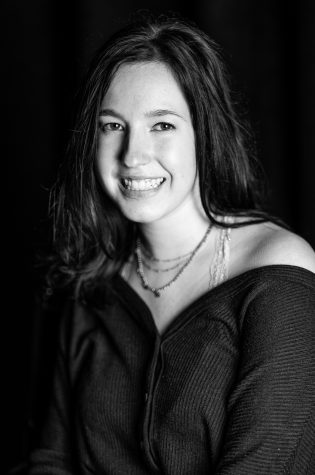 Alyssa Bruce, Copy Editor
Alyssa Bruce is currently in her senior year of high school and is excited to write for her fourth year on the school newspaper staff. She participates in NHS, Key Club, Tiger Thon & Project Water Committees, and NEHS.  For the school year, she runs on vanilla lattes and power naps.