The Crazy Endeavors of Black Friday
The day after Thanksgiving is synonymous with shopping mania, but this year will look much different.
With Thanksgiving right around the corner and the advent of shopping and hours of weary employees battling customers, Black Friday is creeping up on us just in time for the holidays.
Despite rarely participating in the event in-person, as I personally prefer not to partake in the commotion of the shopping festivities, a thorough online shopping spree is always a good way to score some deals that are worth the year-long-wait and chaos.
As stated by the National Retail Federation, Black Friday 2019 consisted of 84.2 million shoppers in stores and 93.2 million shopping online, spending an average total of $361.90 over the Thanksgiving holiday weekend. Especially with COVID-19 added to the mix of holiday bustle, Black Friday is bound to be a hit online this year more so than ever, as shoppers will likely wish to avoid the in-person experience with masks, social distancing, and customer limits.  It's easier than ever to safely browse favorite online stores for deals from the comfort of our own homes. 
But when did this frenzied, post-Thanksgiving hunt for good deals begin in the first place?
During the Roaring Twenties in 1924, Macy's Department Store launched its well-known Thanksgiving Day parade in New York City. The parade was such a hit that it increased sales for the next day, and retailers made an agreement to wait until then before promoting holiday sales. Since many wanted to get a head start on their holiday shopping, in the 1950s, people commonly called in sick the day after Thanksgiving. This caused businesses to treat that day as another paid holiday, so there was no confusion in discerning who was actually sick and whose pay was to be cut.
The name "Black Friday" is equally interesting.  As the phrase "in the black" represents profitability on an accounting balance sheet, retailers named the day Black Friday. The term was officially coined in 1966, as it was featured in a print ad in The American Philatelist, a stamp collectors' magazine, after the name had been used by the Philadelphia Police Department to describe the hectic shopping atmosphere at downtown stores.  
For this year's Black Friday spectacle, in order to achieve the most successful profits, certain retailers have already advertised sales days in advance and are even planning to prolong them (akin to the debut in 2005 of Cyber Monday on the Monday after Thanksgiving) to accommodate restrictions due to the pandemic. Considering this, fewer in-store crowds are expected.
The most drastic change to Black Friday this year compared to past years will be the smaller crowds allowed in stores. It is beyond doubt that there will be much longer wait times due to the limiting of shoppers in each store, per health code mandate. Regardless of whether shoppers decide to buy online or pick-up in the store, a wait is almost guaranteed. With this in mind, in-store offers may start to dwindle. 
The uncertainty of the year leaves shoppers craving tangible gifts for family and friends this holiday season. For better or worse, they will likely resort to the companies that command the biggest online presence — at the expense of the  "Mom and Pop" family businesses.
About the Writer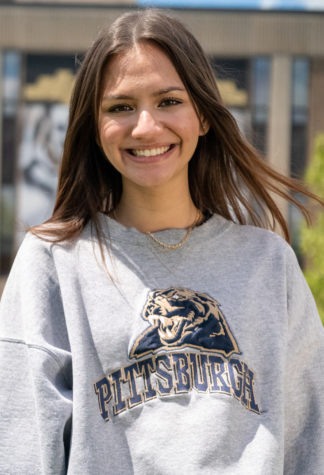 Sofia Brickner, Senior Staff Writer
Sofia Brickner is a senior at NASH who enjoys listening to oldies, watching movies, skateboarding, and playing the ukulele. When she is not working you can find her frequently adding new music to and listening to her Spotify playlists religiously, as well as editing movies.