A Review of "Drivers License"
Olivia Rodrigo's smash hit attests to the singer's ability to connect with her audience's emotions.
Sixteen. Idolized, celebrated, a milestone in adolescence. The thrill of maturity, freedom, and adult responsibility at age 16 is inseparable from the coveted driver's license.
For Olivia Rodrigo, obtaining her drivers license was as much of an inspiration as an accomplishment.
Rodrigo, born February 20th of 2003, is an American actress well known for her roles on such Disney Channel shows such as Bizzardvark and High School Musical: The Musical: The Series. In November of 2019, Rodrigo released a song entitled "All I Want," which was an automatic hit and is still on the Spotify US Daily Top 40.
When her new song "Drivers License" was released, the world was taken by storm. The song has blown up in popularity across multiple social media platforms, such as Instagram and Tik Tok, since its release on January 8th, 2021. As of January 15th, the song was still rising in popularity, topping charts on Apple Music, iTunes and Amazon Music. Additionally, "Drivers License" has topped its own record of 15 million global plays with 17 million streams in a matter of days. 
In the four-minute single, Rodrigo releases her suppressed emotions by pouring her feelings into a story based on personalized experiences and poetic lines. The song starts out with the sound of a car starting up, followed by the beginning of the storyline:
I got my drivers license last week / Just like we always talked about. / 'Cause you were so excited for me / To finally drive up to your house.
These lyrics set up the plot line and mood of the song; the longing feeling of missing someone, and wanting to share life's happiest moments with those we love. 
Possibly the strongest aspect of Rodrigo's song is the relatability listeners feel. Early on in the piece, Rodrigo's lyrics are able to connect with her listeners and convey one message that is felt by many.
And you're probably with that blonde girl / The one that always made me doubt. / She's so much older than me / She's everything I'm insecure about.
Relationships and breakups are very difficult parts of life, and moving on when they are over is very overwhelming. Rodrigo here is expressing her doubts about a girl she was always worried about and caused her to be insecure. Feelings of distrust and insecurity are common, and Rodrigo's depiction of these lyrics form a bond between her and her listeners.
As the song goes on and the story unfolds, Rodrigo describes her intense emotions through visuals and images of past interactions and events.
Red lights, stop signs. / I still see your face in the white cars, front yards / Can't drive past the places we used to, go to. /
While experiencing these lyrics, Rodrigo's listeners can imagine past events with someone who is no longer in their own life, times and places that are deeply missed and now have an emotional attachment. This bridge in the song is one of the most emotional parts — even though there are few words, the lines that Rodrigo sings depict all the things we think and feel.
The song ends after the bridge with lyrical repetition.
'Cause you didn't mean what you wrote in that song about me / 'Cause you said forever now I drive alone past your street.
These lyrics tie back to the beginning of the song, when Rodrigo gets her driver's license but can no longer share the moment with the one person she wishes she could. The music slows, and the intense feeling after the bridge fades as Rodrigo says her last words. The story has concluded, and life must go on. However, the feeling of loss and longing will remain.
Olivia Rodrigo has set the standard of music in 2021 extraordinary high with this tear-jerking piece, and the charts agree. The emotions and visuals portrayed in this song are very real to many listeners worldwide, grabbing the attention of many and causing us all to feel something. Rodrigo was able to create a story out of her emotions and feelings, and this story is one that will be passed on by many, though each listener will interpret it slightly differently. Rodrigo's ability to appeal to her listeners' emotions was the key to her success with this single, and "Drivers License" will likely be remembered as one of the biggest hits of 2021.
About the Writer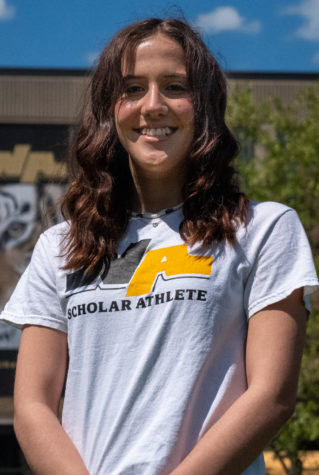 Maddie Harris, Staff Writer
Maddie Harris is a junior at NASH this year; this is her first year writing for The Uproar.  Maddie has a very strong passion for writing, and is ecstatic to be able to share her words and stories with the community. Maddie swims on the North Allegheny Swimming and Diving Team; spending most of her free time in the water. When she is not swimming, Maddie is an avid volunteer at her church, teaching...