Home Away From Home
NASH's second floor is home to, well, a home.
Picture this: It's second grade and you're shopping with your mom in the grocery store. You round the aisle and, out of nowhere, you see your teacher browsing for cereal. As your mom asks polite questions about how you're doing in their class, you can't help but think,

"Don't teachers live at school?"

You had no reason to believe your school didn't boast an array of apartments for its teachers– after all, it is a very big building. 
As students get older, they come to terms with the fact that their teachers live a life entirely separate from school, but what many students may not know is that NASH does, in fact, have an apartment hidden within its walls. 
But contrary to the imaginations of elementary schoolers, this apartment isn't for teachers who want to spend the night at work. NASH's apartment is the lifeblood of the Daily Living class for the Life Skills students here at NA. 
What once was a simple storage room is now a mock apartment for the students at NASH who need just a little extra help learning what life entails after graduation. It's here that students learn how to tackle day-to-day tasks that they'll face once they leave the confines of North Allegheny.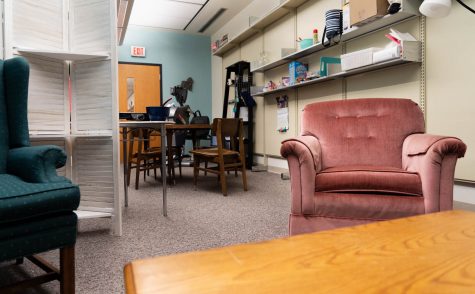 Mrs. Johnson hasn't been at NASH long, but her time at NAI prior to this year inspired her to create "The Apartment" for her students. 
"Our students are getting close to life after high school, I felt that they needed the practice before they graduate," Johnson said. "It used to take close to the whole period for our students to make the bed, and two days ago when we did we were astonished at their improvement. Even with vacuuming, we're starting to see an improvement."
But vacuuming and making the bed are only two of the activities that the Daily Living class entails.
"We learn how to do laundry, fold the clothes, and workplace behavior. We cook, and we'll plan what we're making the day before, and learn how to count calories and make healthy decisions. We also go through the prices so we know how much we are spending on our meals," Johnson said. "We do so many things in here. It's a very eclectic space."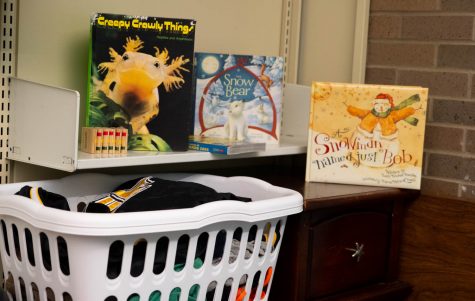 The apartment is clearly a very versatile space, but considering the architect of NASH didn't build an apartment into the layout themself, there are still a few things Johnson hopes can be added on one day. 
"I wish we had a bigger space and more appliances," Johnson said. "The sink is great, but right now we're dealing with a toaster oven, a regular oven, and a microwave, and most of those things we brought from home. I wish we had a washer and dryer, but we're doing the best we can with our space."
While it may not look like a typical apartment, the converted-storage room serves its purpose. One of Johnson's students' favorite apartment activities takes place on Fridays, when the students get to make their own meal.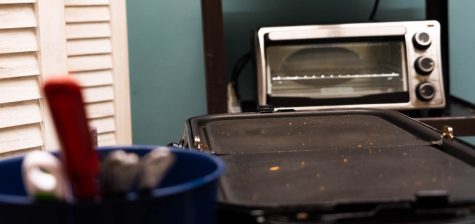 "Every day we'll pick one of the activities that I mentioned before," Johnson said. "[On] Thursday, we typically prepare the meal for the next day, and then each week students get to pick what we'll make that Friday on a rotating schedule."
But NASH's bell schedule can make certain tasks more difficult to complete.
"I would like more than one period," she said. "A lot of times we still have dishes to do and it will have to butt into the next period. Hopefully we can look into having a double period next year."
"The staff has been so supportive, and Dr. Dirda has been wonderful," Johnson continued. "She's been on board, she loves seeing the pictures, and she'll come down and join the kids for rice krispy treats every once in a while."
But staff support of the space is nothing compared to how it impacts the students that inhabit it. 
The class responded with a resounding "good!" when asked how they felt about the space, and cooking is by far their favorite activity.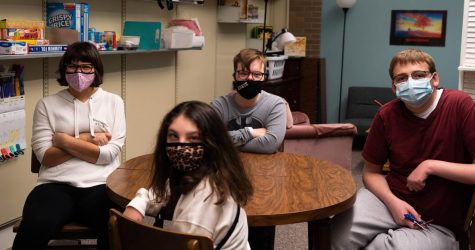 Each student has their preferences, but they work together to make something they all can enjoy. Syler Corona is partial to scrambled eggs, and Ed Sesky likes to mix lemonade as his beverage of choice. John Funk has even been known to bring in waffles from time to time, and Miah Viscuso is a master when it comes time to flip grilled cheese for her classmates. A class favorite is ketchup– perhaps not a food, but a delicious condiment indeed!
On the menu this week is toast and jelly. "We love to cook!" Corona said, and the rest of her peers agreed. 
The apartment may be a fresh new space, but even in its short existence at NASH, it has tremendously helped the students in the Daily Living class advance and refine their skills.. 
"It would be great if more people realized what our students can do, and how well they can do it," Johnson said.