On the Job
A.W. Beattie vocational ed offers students the chance to explore career goals in a real-world environment.
It's common for high school students who are mapping out their career goals to ask themselves,  "What next?" For many, the answer is college, where an estimated one in three students will change their major.  But for students in vocational education programs, the future is far less uncertain.
A.W. Beattie Technical School
For high school students living in the nine school districts located in northern Allegheny County, there is a way to gain a leg up on their future careers as graduation approaches. The A.W. Beattie Career Center, the northern region's vocational education school, is home to 20 unique programs that grant students an opportunity to learn real-world skills before they receive their high school diplomas. Take a glimpse into the lives of the eight students featured below who have taken advantage of what Beattie Tech has to offer.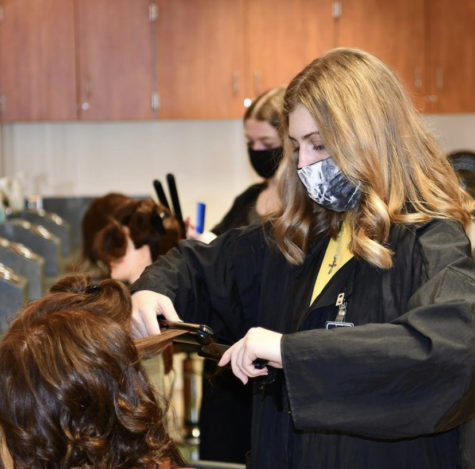 MEGAN ROTH
Registered as a student in the Cosmetology program at Beattie Tech, Megan Roth has had the opportunity to hone the beauty techniques she once learned on YouTube into professional skills. Growing up, Roth spent hours glued to her screen, perfecting the art of hair, makeup, and nails. Knowing that a regular 9-5 office job would curb her life goals, she enrolled at A.W. Beattie her junior year. Although she regrets the decision to wait until her third year of high school to apply, she said "it's better late than never."
Commending that the staff on board is willing to help any student who is lost or behind, Roth believes that anyone who is contemplating applying to Beattie should definitely do so.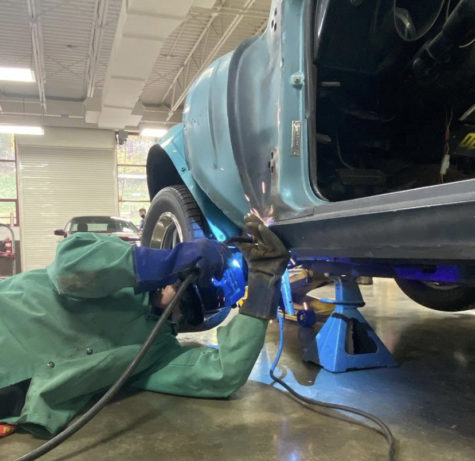 CAYDEN ESCOLA
Automotive Collision Technology student Cayden Escola is working to do something many are not able to do– turn his childhood dream into a reality.
"Growing up I would always watch car shows and go to all sorts of races," Escola said.
After learning about Beattie Tech's automotive program, he jumped at the chance to join. One of the great incentives of this program is the ability to get experience in local dealerships. The hands-on-learning approach proves to be an important factor as trial and error teaches the students how to solve problems of their own.
Cayden aims to continue his education after graduating from Beattie and plans to attend a tech school for diesel mechanics or go into high-performance technology to build race cars.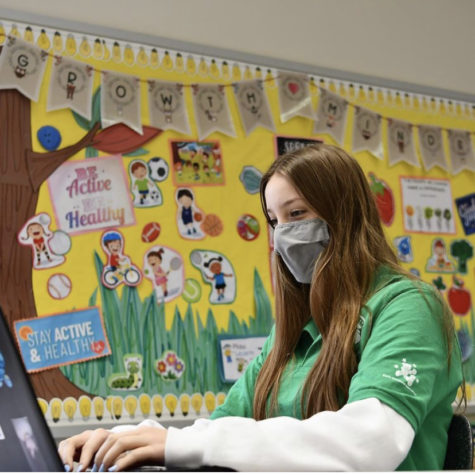 KENNEDY DODGE
As someone who loves working with children and helping others, Kennedy Dodge knew that the Early Childhood Education program was perfect for her. Project-based learning, which centers around a hands-on experience with the children who attend the program, has assisted Dodge in cementing her future goals.
As she leans towards earning an elementary education degree in college, she looks forward to helping children grow and learn. Beattie has already made her more enthusiastic about what her future has in store.
"I love seeing [the kids] grow and learn as they get older!" she said.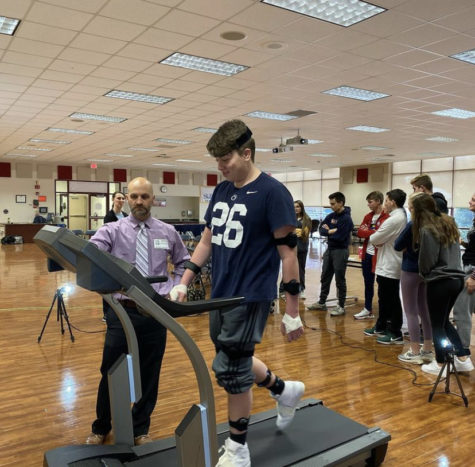 JOE GRAPER
Injuries often leave lifelong impression, and that certainly holds true to Joe Graper, whose past injuries made him curious about occupational athletic training and physical therapy.
"I had a lot of injuries because of sports, so I learned a lot about the profession. It started to interest me," Graper explained.
Enrolled in his second year in the Sports Medicine and Rehab Therapy program, Graper has begun to master the talent of evaluating an injury, rehabilitating the body part, and discharging the patient with a helpful plan that diminishes the threat of relapse. He plans to continue his work at Beattie in order establish a better foundation in the field of athletic training.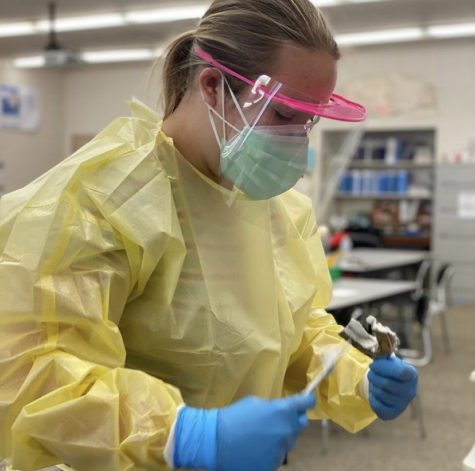 SYDNEY BESKET
For second-year student Sydney Besket, A.W. Beattie has been "the perfect way to explore what [she] had dreamed about from age six."
While going to the dentist office is daunting experience for many young children, Besket claims that, even at a young age, she was fascinated and rather enjoyed those visits. By the age of ten, Besket was engrossed in child-like dental kits of her own.
Since then, nothing has changed. The Dental Careers program has planted a seed of knowledge within Besket that she desires to further explore through her own practice some day.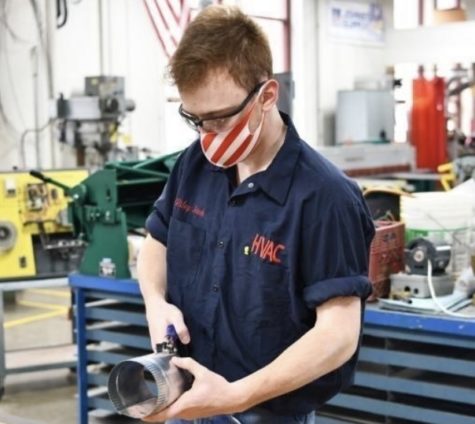 RILEY STACK
For some students, the decision to attend Beattie Tech might have been spur-of-the-moment, but for Riley Stack, it was an opportunity that he has always looked forward to. After meeting his Heating, Ventilation, and Air-Conditioning (HVAC) teacher, Mr. Miller, he "knew right away that this [program] was a cool choice."
Understanding the ins and outs of HVAC plays a huge role in his voluntary job as a firefighter for Highland in McCandless, PA. When a fire breaks out, controlling unwanted ventilation is key in consolidating the fire from continual spreading. Stack plans to continue firefighting before eventually attending college and becoming a first responder.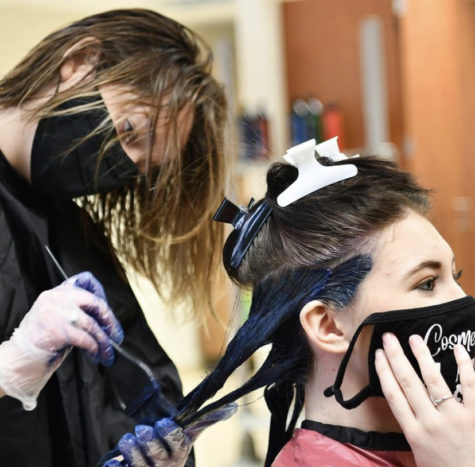 REAGAN MEANS
The opportunity for creativity in the Cosmetology program at Beattie has allowed Reagan Means to craft beauty every day. Although she does not exclusively see hairstyling in her future, she hopes that she can put the skills she has learned towards paying off her student tuition.
"I still plan to attend college because I want to go into Student Ministry, but I hope my cosmetology background will help me work as I go through my four years," Means said.
Still, she hopes that she can continue to hairstyle for as long as she can, as she says that her incredible instructors at Beattie have opened up her eyes to a career field that she absolutely loves.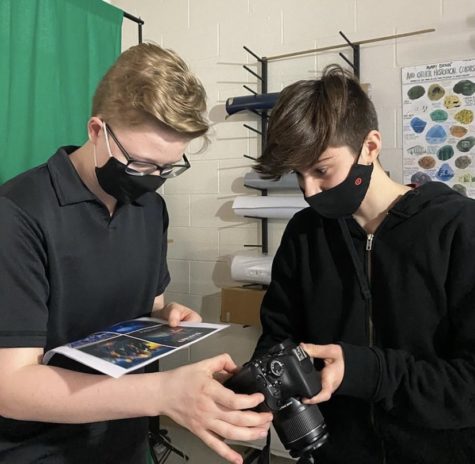 TOM BARRANTE
Making the switch from a full day of classes at NASH to a split classroom approach at Beattie has first-year student, Tom Barrante, especially enjoying his junior year. With a knack for art, Barrante was drawn to the Advertising Design program. The opportunities are abundant, as the curriculum ranges in a variety of projects including photography and multimedia.
State-of-the-art digital software is the focal point of Barrante's love for the program, and he hopes that he can perfect his skills so that he can earn a job in digital design with either animation or logo designing.
Overall, Beattie Tech has offered students all across the region an opportunity to explore a field of study they love, and eight NASH students have discovered just how rewarding that can be. Beattie is currently enrolling students for next school year, and interested prospective students can learn more here.
Leave a Comment
About the Writer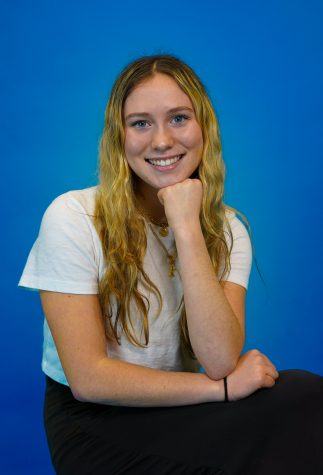 Kara Mihm, Co-Editor-in-Chief
Kara Mihm is a senior co-editor-in-chief on The Uproar. Along with writing, she also contributes to NATV. When not in school or participating in sports, you can find her online shopping with the money from her minimum-wage lifeguarding job. She is very excited about her second year of writing for the school newspaper.