7 Degrees of Syncopation
The brass bound, founded at NA, is eager to return to live performances and release an original album this spring.
Seven boys. Five instruments. One musical family. Meet the 7 Degrees Brass Band.
Founded at North Allegheny, the 7 Degrees Brass Band came onto the scene in late 2019. The group consists of seven boys: freshman at Youngstown State University Ethan Hoffman, NA seniors Theo DiBiasi, Michael Barnett, Logan Henderson and Jacob Anzelone, junior Erik Bloomquist  and sophomore Ben Swihart.
DiBiasi and Barnett play trumpet, with Bloomquist and Swihart on saxophone, Hoffman on tuba, Henderson on trombone, and Anzelone on the drums.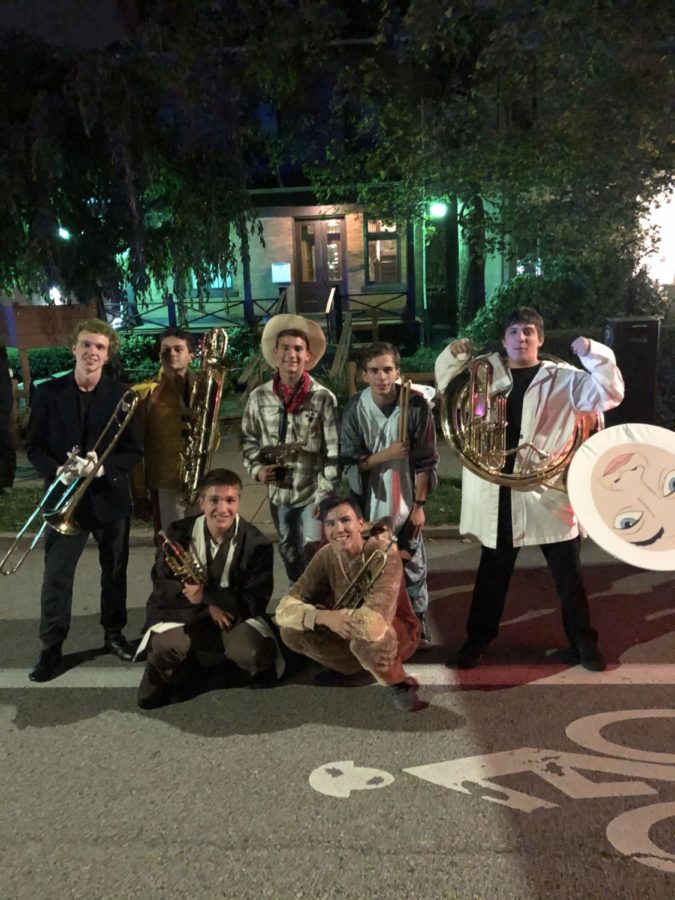 With all of the boys previously or currently playing for the North Allegheny Marching Band, they already shared a common interest in music. The Marching Band brought them together, allowing them to combine their separate musical talents into one extraordinary small ensemble.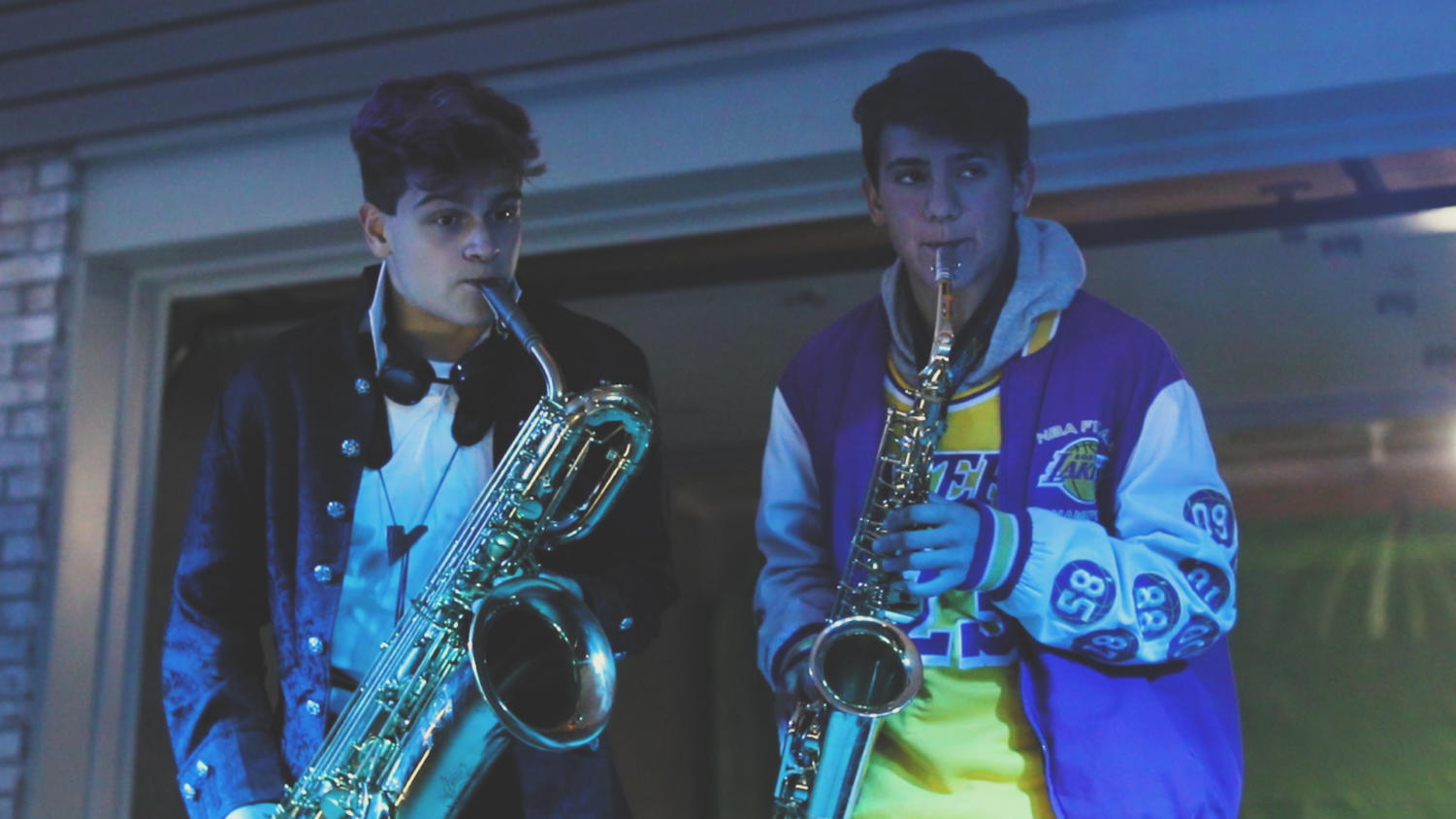 "The idea originally was to get together on Halloween in 2019 and play a show," Swihart said. "Theo organized it all and got us to play in his neighborhood on Halloween night. We had so much fun together that we decided to keep the band going after that, and here we are."
The boys met at DiBiasi's house, the location where 7 Degrees was born.
"I wanted to get a little band to play on Halloween at my house just as a little jam session," DiBiasi said. "I asked around to find some solid players, and it ended up coming together fairly quickly and we just started a group chat and began rehearsing almost every weekend."
With every great band comes an even greater name, and these boys have come up with an interesting name for themselves with a clever backstory.
"It was actually Michael who coined the name," Henderson stated. "In the Marching Band, we're always told to have our horns 15 degrees above parallel because it looks better, and we thought it sounded cool.  There are seven of us, so the name '7 Degrees' came naturally.  That's why whenever anyone asks if it's Fahrenheit or Celsius, we always tell them it's actually an angle."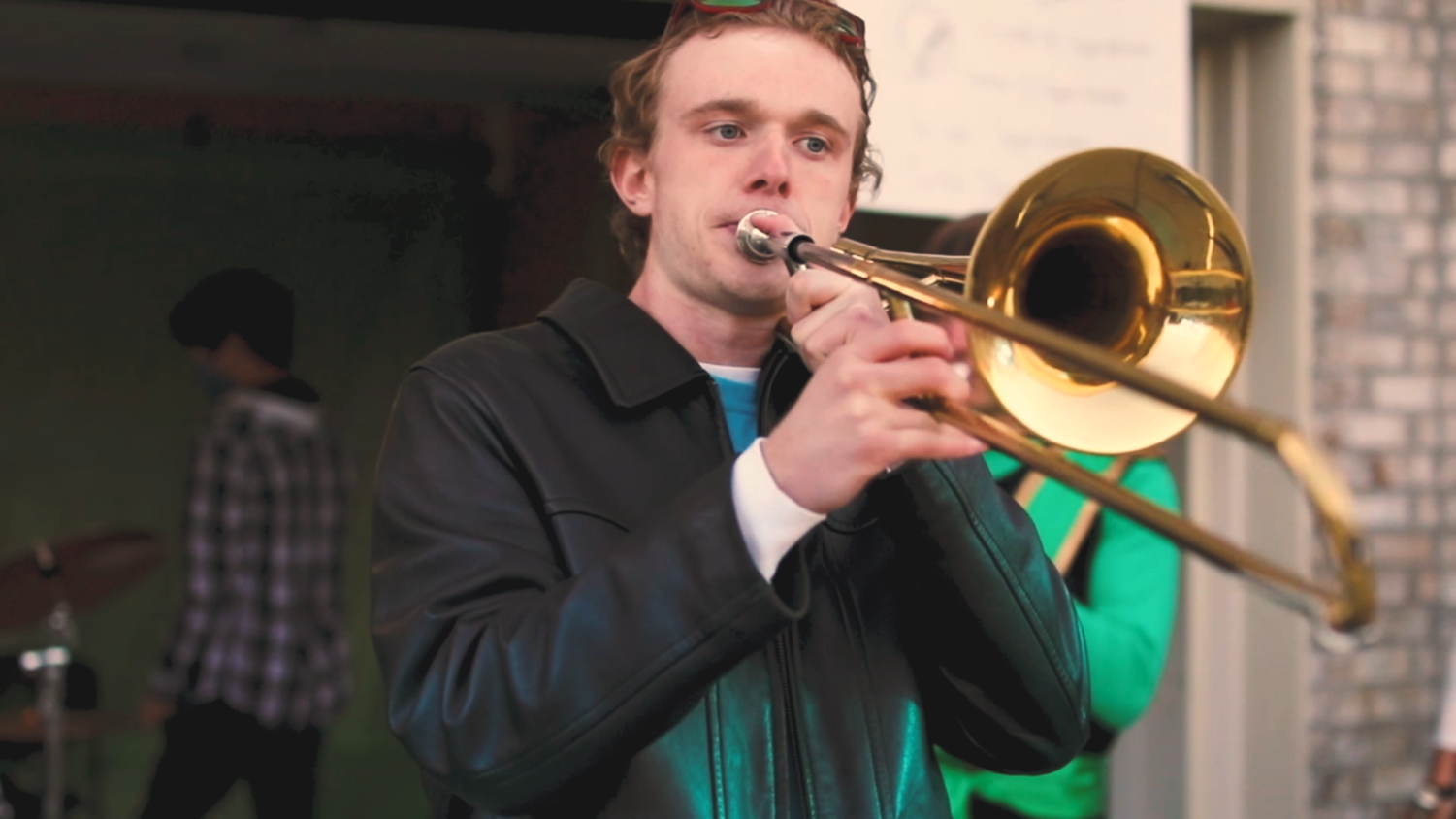 The band has been practicing together for almost a year and a half, coming up with original songs and covering their favorites, and they're looking forward to live performances later this year. 
"Our only official shows have been the Halloween shows from 2019 and 2020," Swihart said. "We had a few shows lined up for March and April of last year, but everything got shut down, so unfortunately those were canceled. We have some show dates that will be announced in the following months."
Due to the COVID lockdown, the band unfortunately was not able to perform or practice together for many months. Slowly they have resumed rehearsals in smaller groups.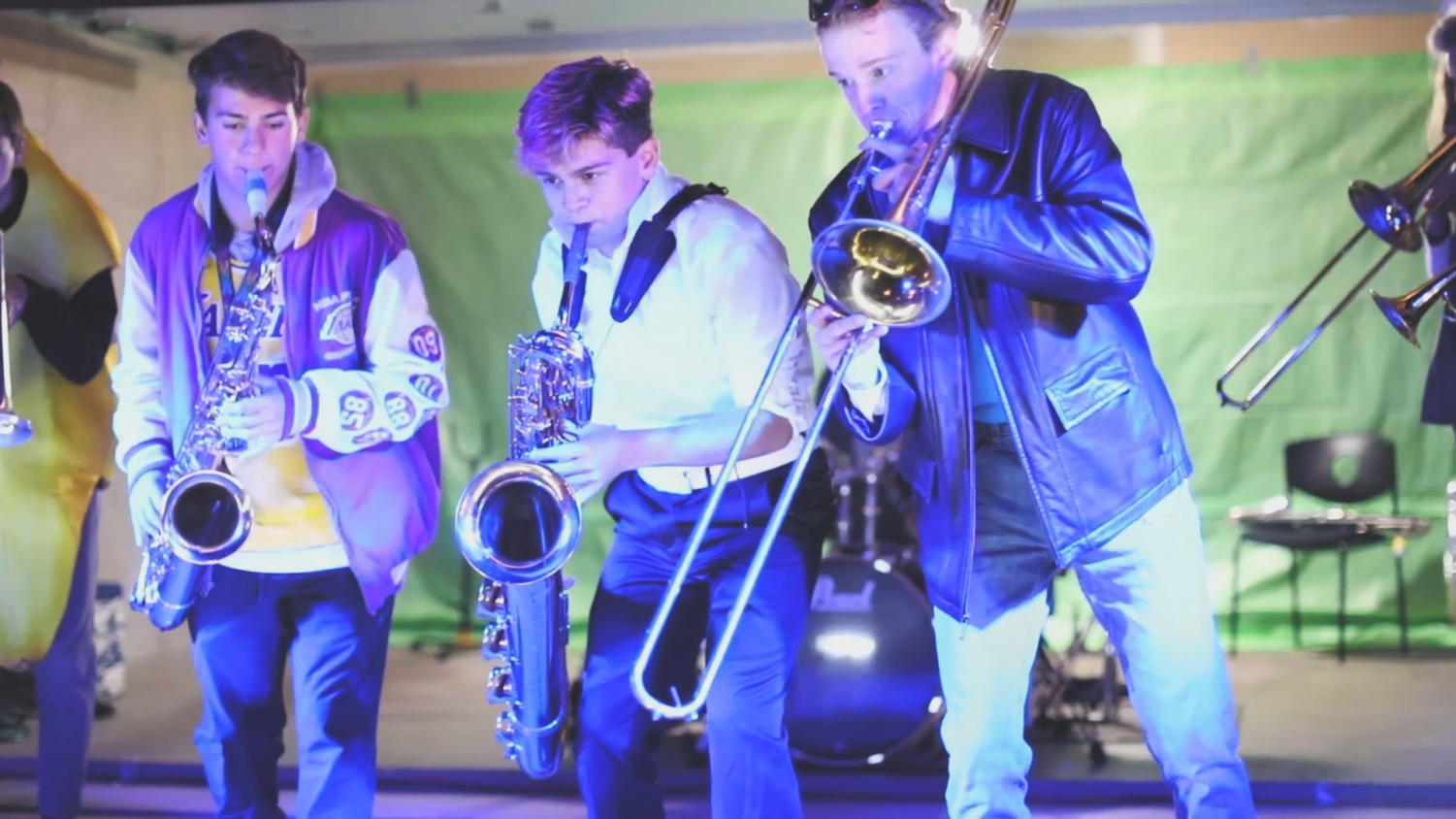 "Unfortunately, COVID has restricted our playing opportunities," Barnett added. "But we have played at Theo's house the last two Halloweens and will be playing at McCandless Crossing and hopefully some other venues this summer."
The band came together through the boys' shared love of music, but the group itself contains much more meaning to its members than the mere opportunity to perform.
"Oddly enough, my favorite part of playing in the band is relaxing," Barnett said. "Because we formed the band ourselves, there's no pressure to play really well on a technical level. We can just let loose and have fun."
The band is just the outlet the boys were looking for outside of their more formal musical responsibilities.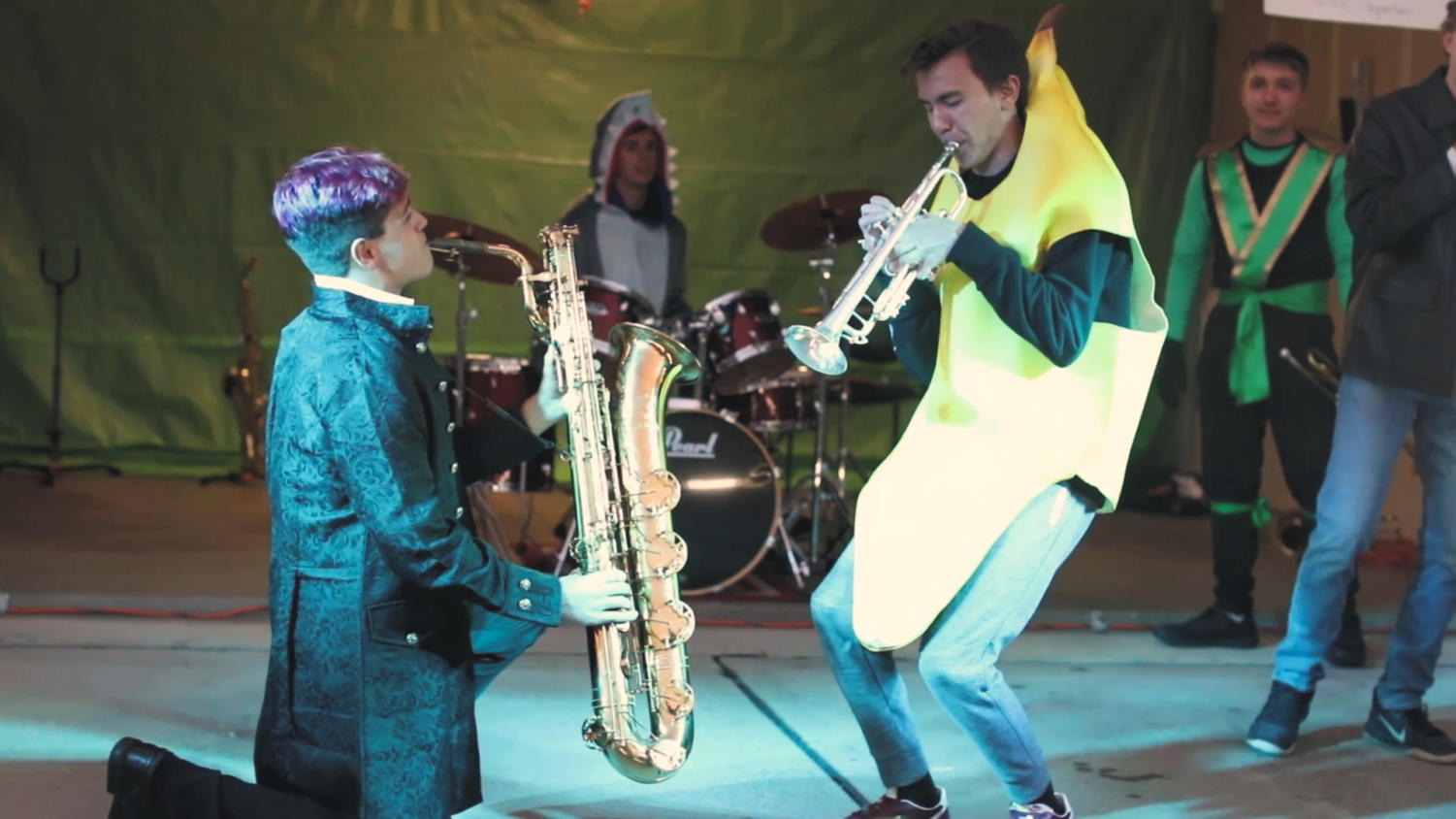 "Just playing with really good friends and musicians becomes so much fun," DiBiasi said. "The music is great and now, with some originals of our own, we just have so much fun planning and making music."
Along with their live performances, the 7 Degrees Brass Band has been working on many projects; including their very own album.
"Our next big project is an album that we hope to release in April or May," Henderson announced. "We already finished writing all the music, which was really fun but also extremely challenging, and we've started recording and editing what we can."
Besides their new upcoming album, the group has released a plentiful number of tracks, both originals and covers.
"In total, we have released two singles, two EP's, and a live album," said Swihart. "You can find all of it on YouTube and our Bandcamp page. However we do have a cover of The Jackson 5's "I Want You Back" and a Christmas EP on Spotify, Apple Music, and other platforms. I can say that our next big project may or may not be an all original album! We will announce more about that soon."
Over the last few weekends, the boys have been getting together in small groups to record an original album, dropping in the near future.
"We have written arrangements of popular songs, like "Bohemian Rhapsody," "Thriller," and more," Bloomquist said. "Arranging is much more difficult than it seems, and reflecting all parts of a song with only seven instruments is definitely a challenge. Currently, we are working on an album which consists of only original songs."
Each of the boys has his own strengths and talents, as well as individual musical styles and preferences. That is the beauty of the band itself; all of their musical personalities come together to form one collective sound.
"I love playing covers of pop songs because audiences know the music," said Bloomquist. "I also enjoy playing our originals. It is really cool to see a piece of music you wrote come to life with real people playing it."
Barnett has a similar musical taste to Bloomquist with a little twist, putting his own personality into the music.
"Well-known pop songs are my favorite, both new and old, but in the brass band style," said Barnett. "It's a blast to just jam out because we already know how the song should sound. Plus, putting a little spin on a tune can make it that much more engaging for both us and our audience."
As a whole, the boys bring all of their musical preferences together and play from their hearts, combining each individual instrument into one musical masterpiece.

"With the band, our collective favorite styles are definitely pop, rock, and jazz," said Henderson. "Pop and rock are the fun songs that everyone knows, but we try to sprinkle in some jazz since we're all seasoned jazz musicians as well." 
After a span of a mere year and a half, as a band, the boys are not on the verge of stopping anytime soon. Despite COVID and all of the shutdowns, the group has continued on with their music, persevering and creating a load of exciting prospects for the future. Performances and albums on the way, the 7 Degrees Brass Band is on a roll.
About the Writer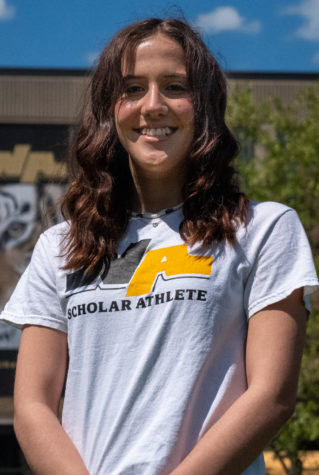 Maddie Harris, Staff Writer
Maddie Harris is a junior at NASH this year; this is her first year writing for The Uproar.  Maddie has a very strong passion for writing, and is ecstatic to be able to share her words and stories with the community. Maddie swims on the North Allegheny Swimming and Diving Team; spending most of her free time in the water. When she is not swimming, Maddie is an avid volunteer at her church, teaching...