A Spring Check-in with Dr. Dirda
NASH Principal Dr. Natasha Dirda reflects on the past three months and looks forward to the remainder of the year.
In December of 2020, North Allegheny decided to close its doors once again due to an alarming number of cases of COVID-19. This put a great amount of stress on students and staff of NASH. However, over the past three months, the return of in-person instruction and extra-curricular activities has NASH Principal Dr. Dirda in an optimistic frame of mind.
Dirda is looking forward especially to the upcoming end-of-year activities.
"While it's going to look different, we are thrilled to be planning these events," she said. 
But for now, the main focus for Dirda is to get the majority of NASH students into the building regularly for in-person learning as a way of slowly phasing back to normality. Dirda expressed joy when seeing all of her students back in the classroom in late March, but that joy was short-lived.
On Tuesday, April 6th, the first day students returned from spring break, it was announced that NASH would return to the hybrid schedule. This came after Allegheny County announced a substantial spread of COVID-19 cases in the previous two weeks.
While the county cases are increasing, Dirda says NASH is doing just fine.
"We have not seen an increase here at the building level. There have been increases in the county level." she said.
For the month of April, one week will consist of juniors following their cohort schedule while seniors will be in the building on Mondays, Tuesdays, Thursdays, and Fridays. The rotation will then switch, where seniors will follow their cohort schedule and juniors will attend class in-person Mondays, Tuesdays, Thursdays, and Fridays.
The next phase is to bring all juniors and seniors in the building together for four days each week. 85% of NASH students have chosen to be in class while the remaining 15% prefer to learn via the North Allegheny Cyber Academy (NACA). 
As of now, the most challenging change NASH has been facing is occurring during the lunch periods. Students who choose to buy lunch are to eat in the cafeteria while packers sit in the auditorium. This is the part of the day when the staff are seeing issues with a lack of student COVID compliance, such as failing to keep a six-foot distance from peers and being sure to reapply masks when their meal is complete, a mandate made by the state of Pennsylvania.
"It is not [a case of] us wanting no social engagement between our students," Dirda said. "It is a health and safety concern."
"
Just know that we are here to support and help if there is anything that is needed at any time."
— Dr. Dirda, NASH Principal
Dirda says her staff is stepping up with compassion and will continue to do so. 
"We couldn't be more proud of them. They have done an unbelievable job and are really committed," she said.
Commitment to making sure students are taken care of is perhaps the most important element of this entire process. This desire is what led to the development of Wellness Wednesdays. 
Wellness Wednesday was an idea from students at NASH who realized what they needed most was time to recharge. Every Wednesday allows just that. All nine class periods are shortened, giving an extra two hours at the end of the school day for students to reach out to teachers, complete any extra work, or simply take a break. 
For NASH junior Sam Donaldson, the amount of time that is provided makes her look forward to every Wednesday.
"I get extra time to catch up on school work and do activities that I actually enjoy," she said.
Dirda was delighted to hear that many students are grateful for the weekly break.  However, knowing that all students may be in the building soon, concerns among the student body that the wellness time will be taken away were on the rise. 
Dirda, however, quickly alleviated concerns.
"Wellness Wednesday will continue to be a remote-learning day with a reverse two-hour delay schedule," she said.
As Wellness Wednesday has been a successful student-development plan, Dirda is open to more ideas from students who see a way to make learning during the pandemic.
"If there are any ideas out there, please reach out to us." Dirda implored. "That is what we are here to do." 
She also wants to remind students to continue to follow all guidelines in order to refrain from a possible shutdown at NASH. That way, all scheduled end of the year activities can still occur, even if NASH is forced to continue with the hybrid learning model.
But like everything else, there will be restrictions.
Prom, scheduled for May 8th, will be for seniors only and will include activities typically reserved for Senior Banquet. All students, however, will be able to join the annual Project Water dodgeball event, scheduled for June 1st on the NASH tennis courts. TigerThon also been modified and will take place outdoors as well. All students will be allowed to attend this event as well. Final plans for TigerThon will be released to the student body in the coming weeks.
Commencement is scheduled for Friday, June 11th in Newman Stadium at 7pm and remains in the planning stages.  As of now, because of the large capacity that Newman Stadium provides, four tickets per graduate will be sold. Should restrictions continue to be lifted, more tickets may be available for purchase. 
Believe it or not, Dirda and her team are actively planning for what is to come for the 2021-2022 school year. For example, NACA will still be an option for students who still do not want to enter the building for learning. For student scheduling, that process is already completed, including what new courses will be offered next year.
"We know that this is still unpredictable, but we are confident that next year we will be able to start in a more traditional way," Dirda explained.
For now, the staff at NASH is determined to take this challenging year and turn it into something positive for all of their students. Principal Dirda has shown a great deal of gratitude and thankfulness towards her students for their hard work and dedication during these troubling times. 
"Just know that we are here to support and help if there is anything that is needed at any time," she said.
Just when hope arose in December of 2020 that the school experience would return to normal, it was swept away quickly. Fast forward three months to the present day, and we are beginning to feel the normality we've been waiting to embrace since March of 2020.
Leave a Comment
About the Writer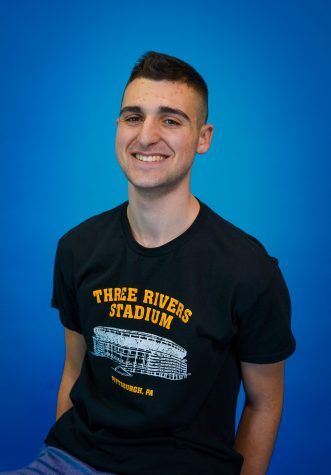 Anthony Durzo, News Editor
Anthony Durzo is a senior at North Allegheny Senior High School. This is his second year writing for The Uproar, although he has previously written for North Allegheny Intermediate's online newspaper, NAEye, for two years as well.  Outside of school, he played hockey at Robert Morris University for eight years and has played piano for six. After tossing his cap into the air and waving goodbye to North...