For the Rest of their Lives
A review of To All The Boys: Always and Forever
Finalizing the installment of the To All The Boys film series, To All The Boys: Always and Forever was released February 12th, 2021 on Netflix. This American teen romantic comedy film based on the 2017 novel Always and Forever, Lara Jean by Jenny Han is the third film in the trilogy. The movie follows the lives of Lara Jean Covey and Peter Kavinsky, played by Lana Condor and Noah Centineo, as they end their high school years and begin to pursue the rest of their lives. 
The movie begins in Seoul, where Lara Jean, her sisters Kitty and Margot, her father Dan, and her neighbor Trina Rothschild traveled for spring break. In memory of their mother, they search for a lock on a bridge that signifies her mother's love for Dan.
The lock, which they later find, bears the inscription "for the rest of my life." This message is carried on with Lara Jean throughout the movie, as she tries to figure out what exactly the rest of her life entails, and whom she will spend it with.
She returns home to her boyfriend Peter as the break ends, as she awaits the results of a college application. She applies to Stanford University, where Kavinsky has already been accepted, in hopes of going to college along with him.
Within the first 20 minutes of the movie, the audience learns that Lara Jean does not get accepted into Stanford University, but Kavinsky does not learn this until later on in the film. Lara Jean covers this up, lying about her acceptance and later celebrating with Peter.
Throughout the remainder of the film, Lara Jean must decide what she will do about her college decision — whether she should base her decision off of Peter or pursue colleges she is more interested in, such as NYU. She must decide where her life will take her, for the rest of her life. 
Michael Fimognari, the director of the film To All The Boys: Always and Forever, as well as the rest of the series, is an American cinematographer and director from our hometown of Pittsburgh, famously known for his collaborations with Mike Flanagan. As a cinematographer, he is known for films such as Fast Color and Before I Fall.
Releasing right around the Valentine's Day season, To All The Boys: Always and Forever was a perfect romantic comedy for viewers everywhere. The To All The Boys series is one of Netflix's most popular and re-watched original movie series, according to HuffPost. With the movie series featuring an Asian-American heroine, it increased Asian-American representation in mainstream pop culture.
The main conflict in this film is something we can all learn from and relate to in some shape or form. Choosing between an independent lifestyle versus a relationship that may cost some personal freedoms is a tough choice that Lara Jean faces throughout the film. Pursuing her dreams and leaving Peter behind, or following the boy she loves at the expense of her own passions, Lara Jean is caught at a crossroads, forced to make one of her biggest decisions yet. This movie entails the story of love as well as heartbreak all in under two hours.
Following its mid- February release in 2021, the film has received a 78% on Rotten Tomatoes as well as 6.3/10 on IMDb. This movie is a great watch when looking for a heartfelt, high school love story that is sure to take you on a rollercoaster of emotions. From happy to sad, exciting to shocking, Peter and Lara Jean will certainly keep you on your toes and have you on the edge of your seat, hanging onto every word as these teens set the stage for the rest of their lives, wherever life may take them. 
About the Writer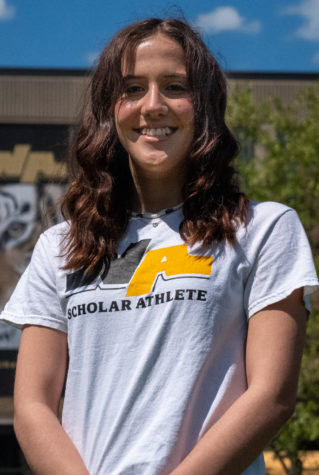 Maddie Harris, Staff Writer
Maddie Harris is a junior at NASH this year; this is her first year writing for The Uproar.  Maddie has a very strong passion for writing, and is ecstatic to be able to share her words and stories with the community. Maddie swims on the North Allegheny Swimming and Diving Team; spending most of her free time in the water. When she is not swimming, Maddie is an avid volunteer at her church, teaching...