A Pittsburgh Wall Crawl
Discovering new mural pathways in our hometown
Whenever I travel, I love to scope out some of the best murals and pieces of public art wherever I go and find them on a wall crawl. However, despite living here my entire life, I have never done a wall crawl of Pittsburgh. Since we can't travel right now, I decided to go on a wall crawl over spring break.
Pittsburgh is rich with culture and arts, but have you ever noticed the numerous murals around the city? My mom and I drove around the city over the weekend to 41 different locations and took photos of around 50 different walls.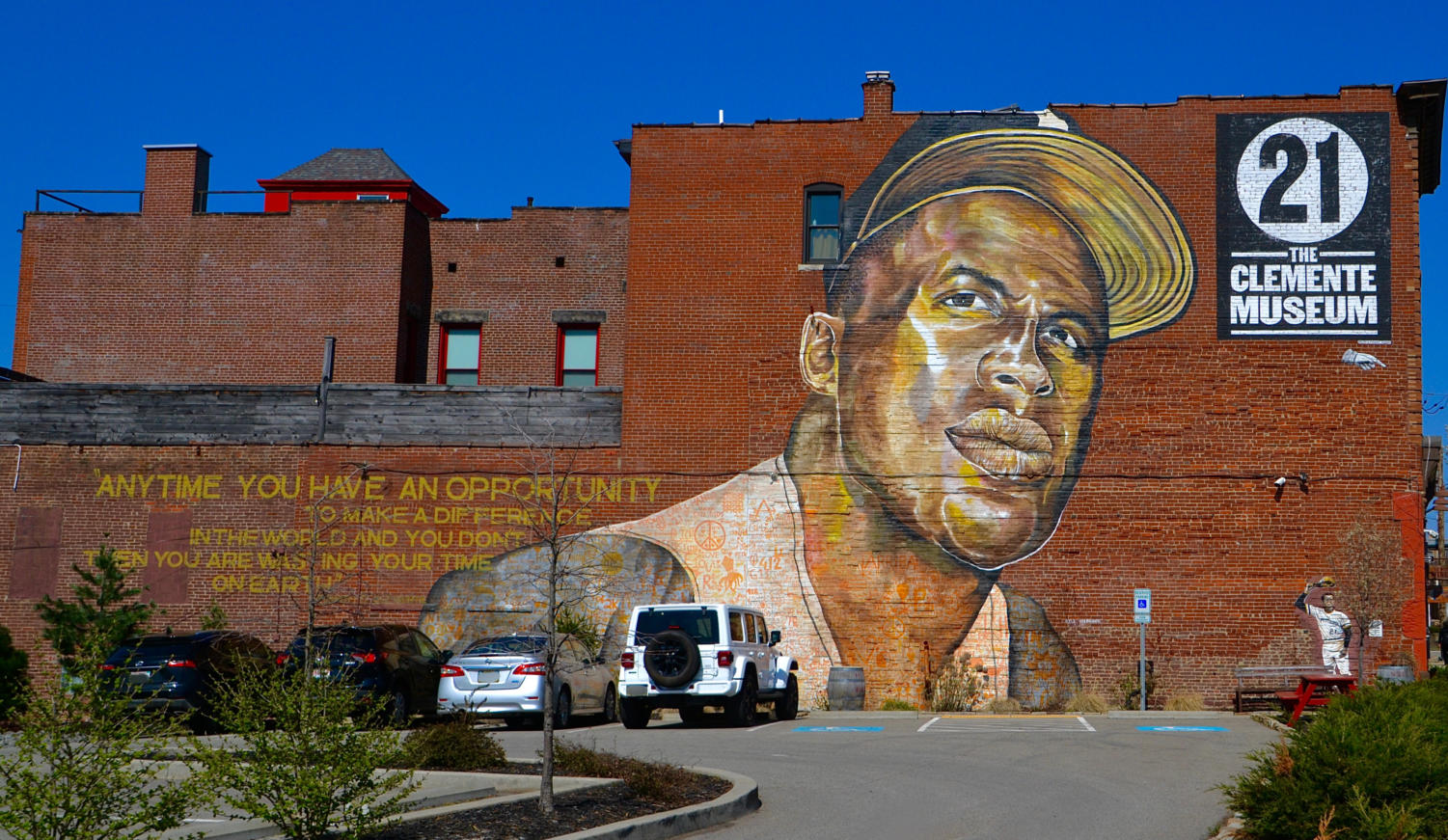 We found a list on Google Maps with addresses of some of the most popular murals in the city to map out which ones we wanted to find and the order in which we would visit them. There were around 25 murals on our original list, but it seemed that everywhere we turned, we spotted another one.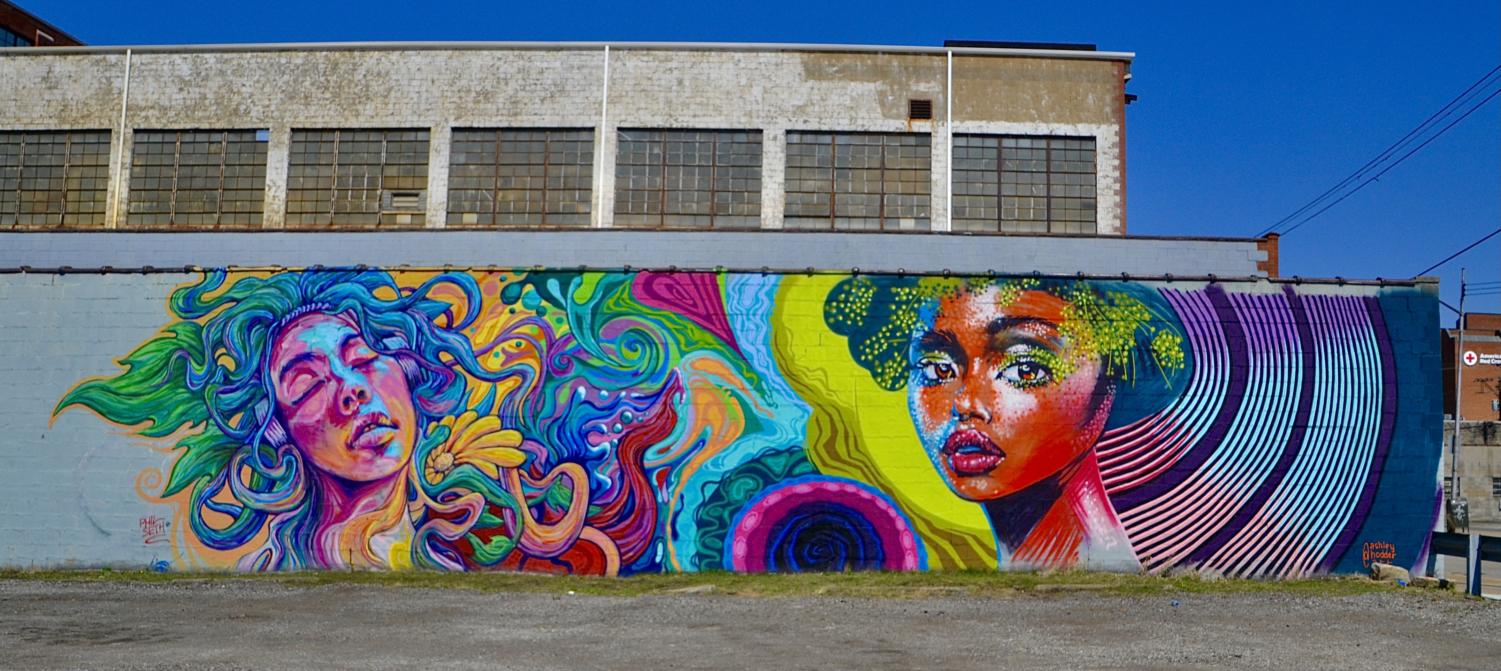 We originally had five walls that had addresses on Penn Avenue which cuts through the Strip District, but each time I turned my head I found more. Most of Penn Avenue is a one-way street, so we would have to turn left and drive back two blocks to catch the ones behind us. But each time we did, there were even more behind those!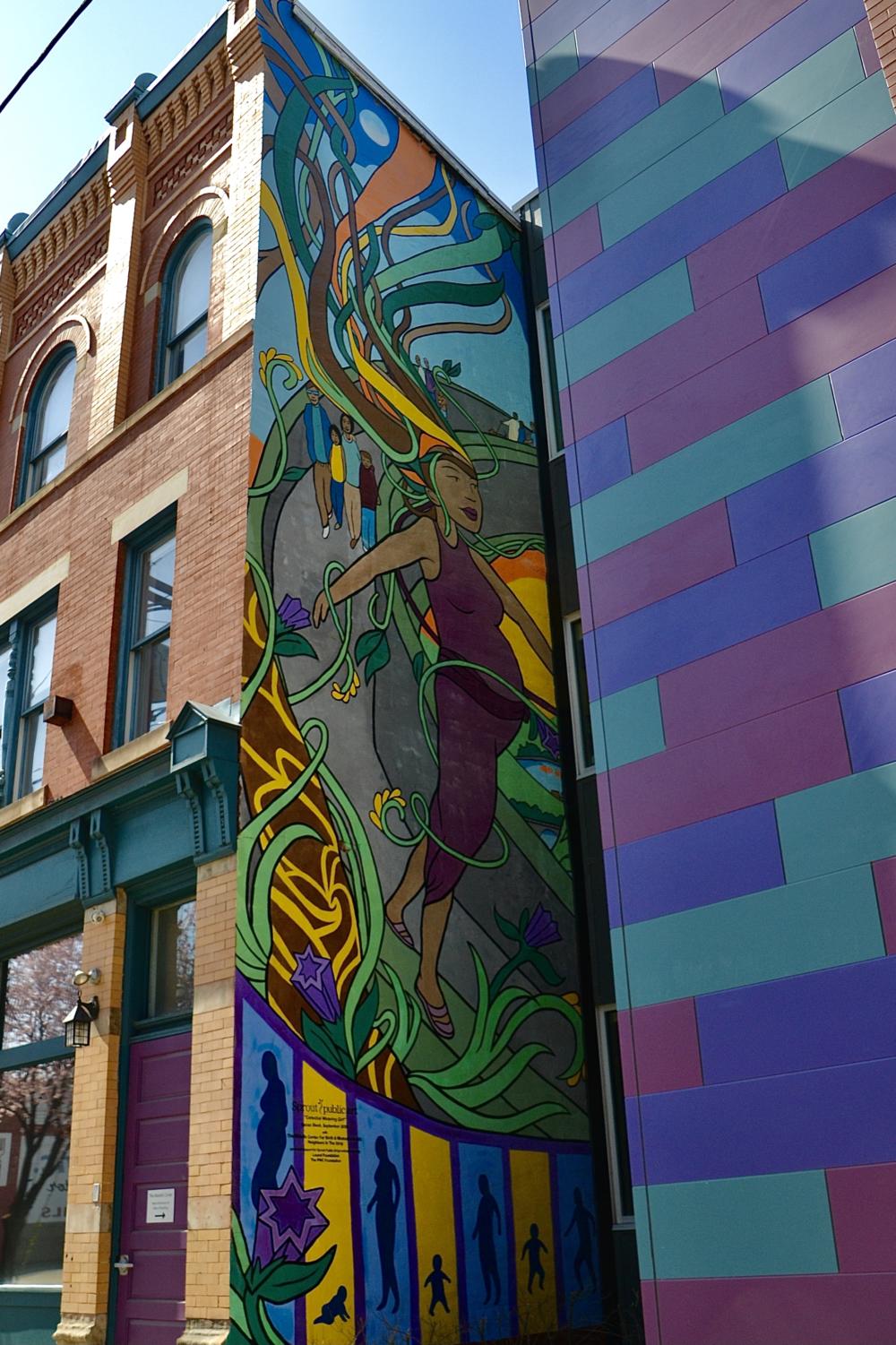 The Sprout Fund was a community service organization that created public art for the city. Their murals were voted "Best Public Art" by the Pittsburgh City Paper in 2006. Many of their murals, such as the one shown to the left that was tucked in between two buildings in the Strip District, are very bright and lively, depicting images of caring and nurturing characters. 
↠ ↞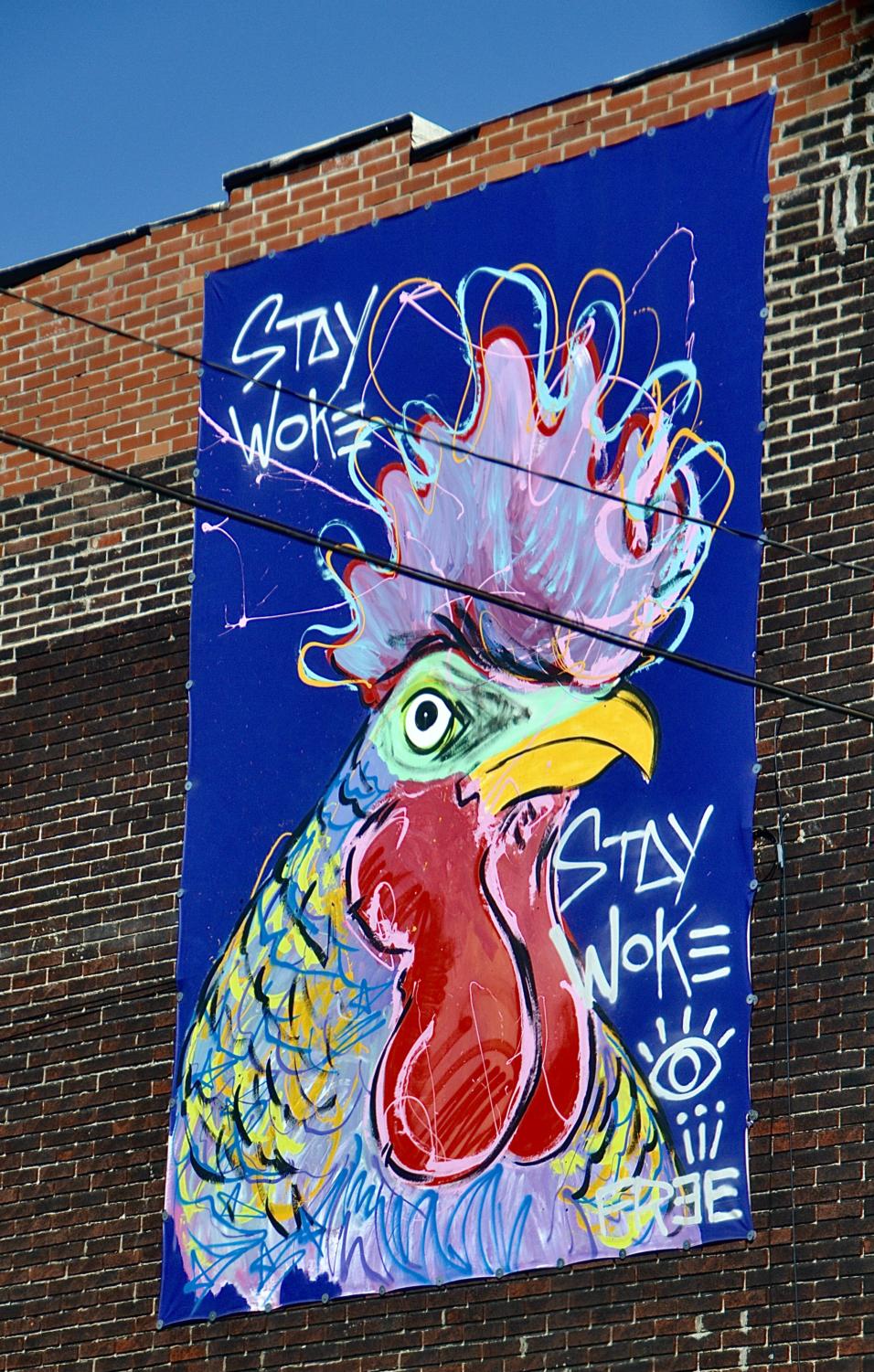 Former Steeler Baron Batch has made a name for himself as a Pittsburgh artist. He has a very recognizable style–so much so that his signature is simply an eye with five eyelashes and/or the word "free." He is also the creator of the Color Park, a graffiti park located along the Three Rivers Heritage Trail in the South Side.
↠ ↞
In the heart of the North Side lies a colorful oasis called Randyland. This corner lot, owned by artist Randy Gilson, is often referred to as the "happiest place in Pennsylvania." It is full of artwork, murals, wooden signs, repurposed furniture, and is home to the largest international welcome wall in the country. The sandy garden is surrounded by three buildings, each with their own colorful murals, although just walking into the garden feels like you are stepping into a three dimensional mural. Randyland is free to enter and open to the public year-round. They accept donations, though, to keep the art coming.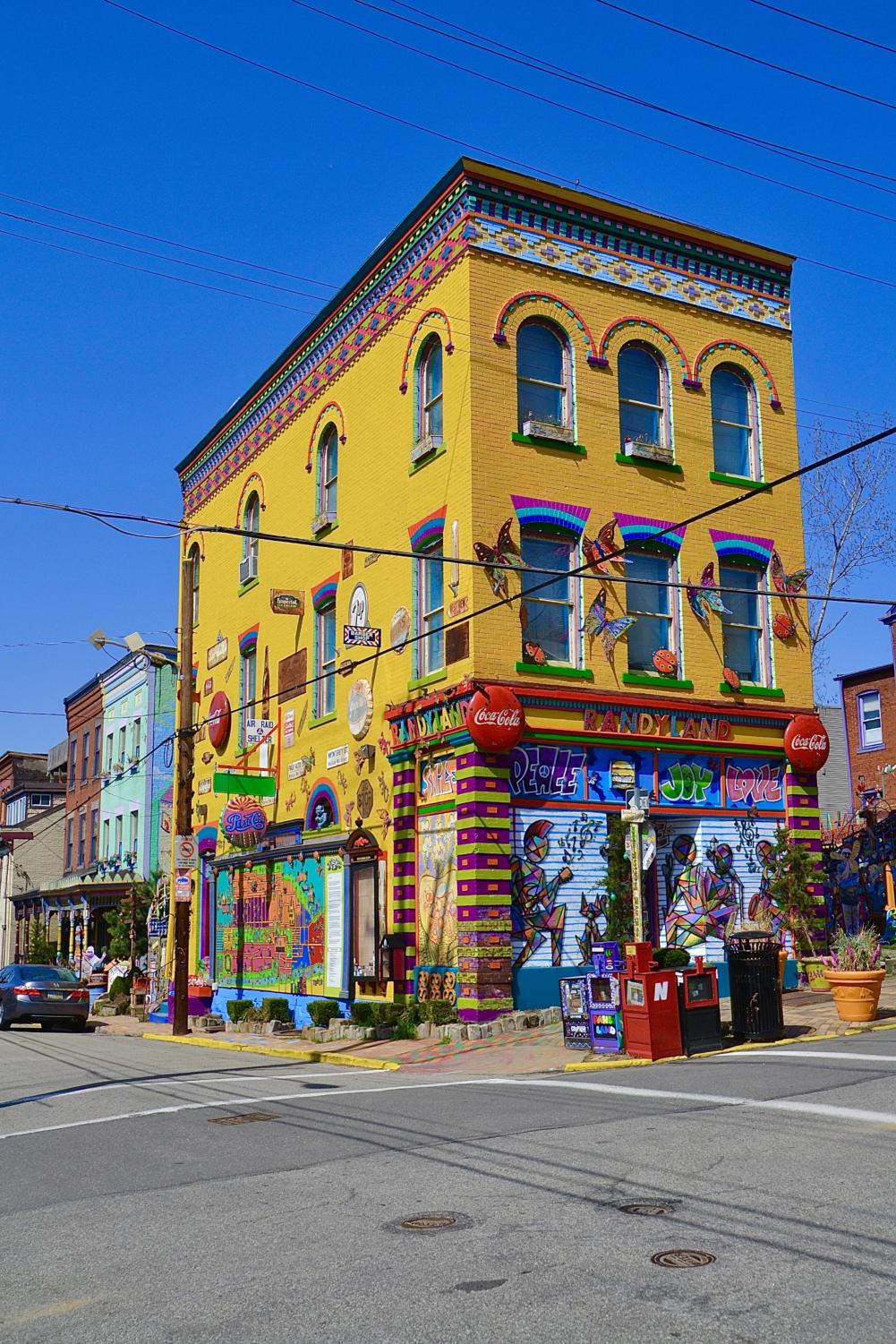 If you are familiar with that area, you may know that the Mattress Factory art museum is right down the street from Randyland. One of the entrances to the museum can be found on Sampsonia Way. In Pittsburgh, every street name that ends in "Way" is an alley. Sampsonia Way is full of hidden murals–none of which were on our original list. You can take a lovely walk down the whole street to see them all.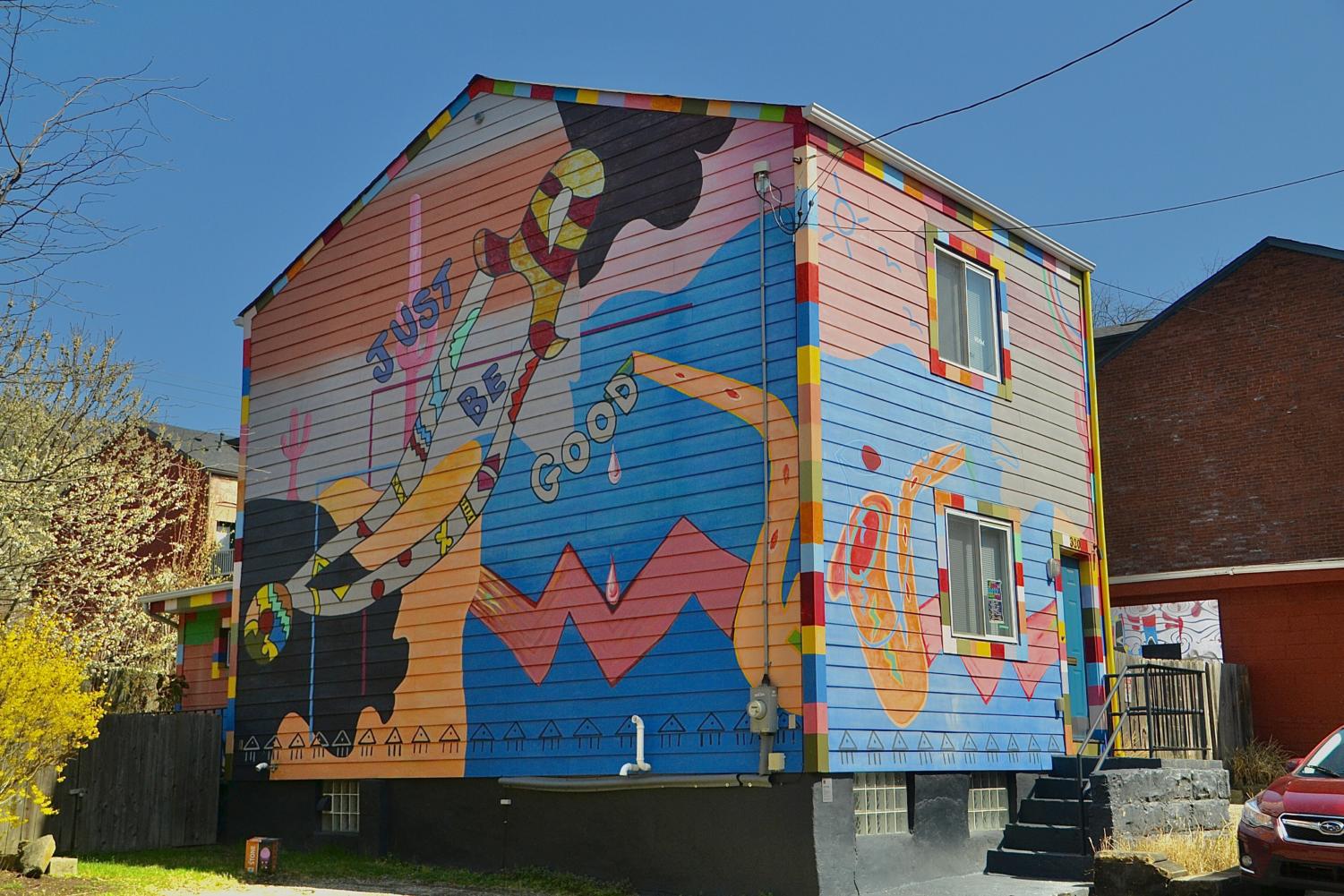 Sampsonia Way is also part of an organization called City of Asylum. They are community builders that encourage the freedom of expression and give a sanctuary to endangered literary writers. This alleyway is a safe place for these writers to continue to use their voices. Some of the writing created there is actually part of the houses, such as on the Jazz House, House Poem, and the Pittsburgh-Burma House.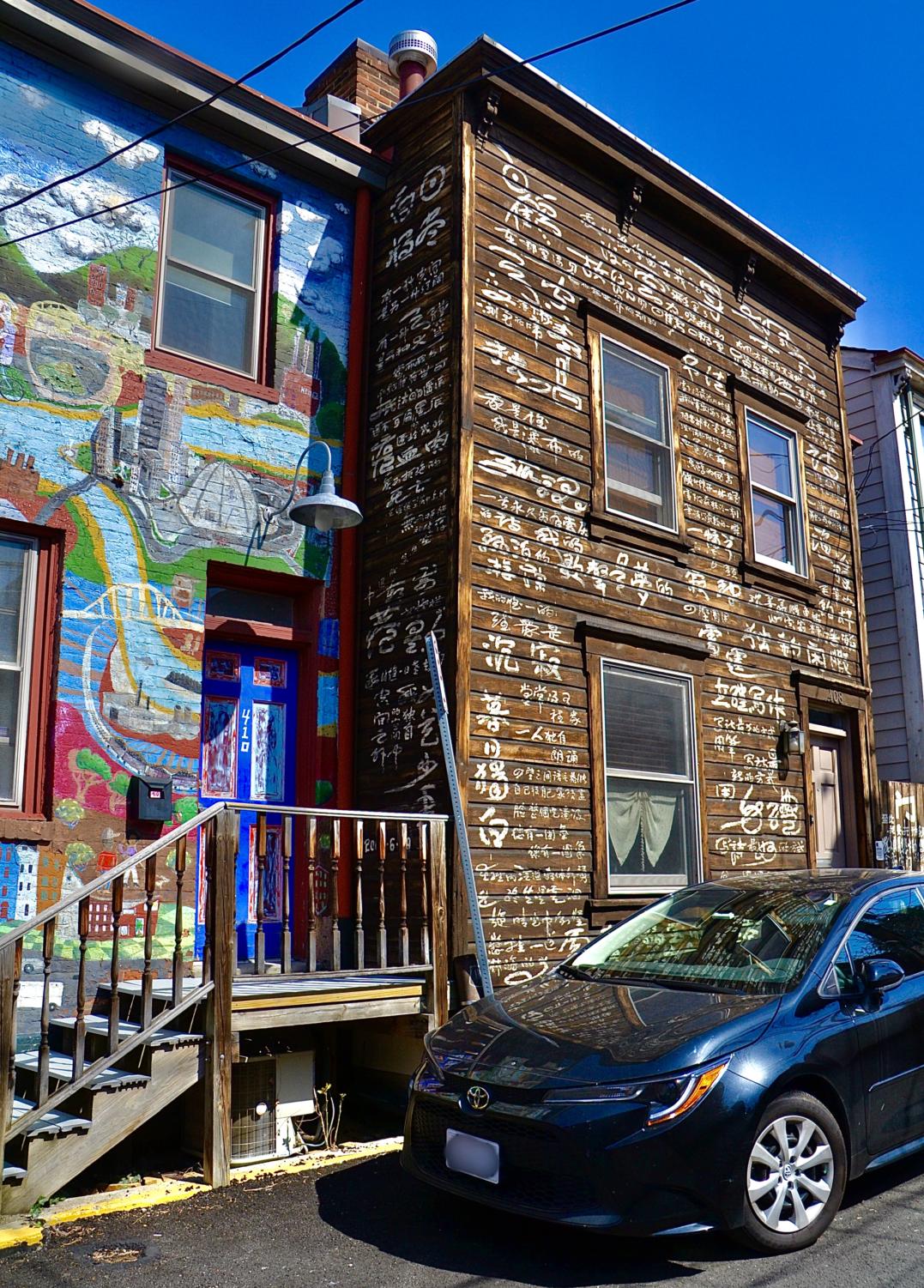 There is even a literary magazine named after the street. They are partners with City of Asylum, and they provide writers who come from exiled marginalized ethnic communities spaces to share their work. Their mission is to defend free speech and social justice.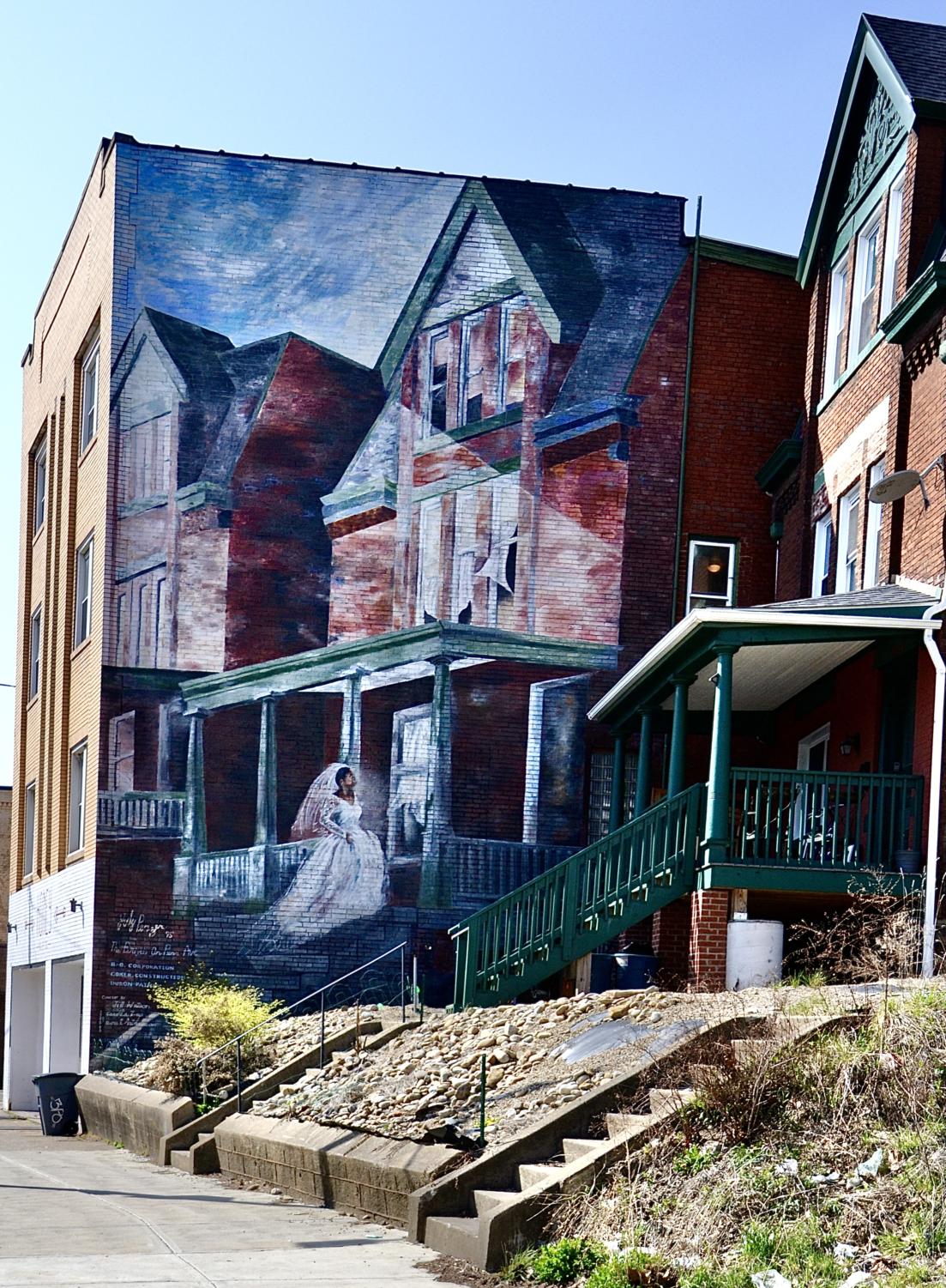 Possibly the most famous mural in all of Pittsburgh is the "Bride on Penn Avenue." This mural is an optical illusion; a recreation and continuation of the house next door painted onto the back of the adjacent building. Walking up the steps of the painted house is a young bride. Unfortunately, the real line of identical houses has since been torn down, but the last one is still intact to keep the illusion of the mural visible. There are many rumors surrounding the bride's story, such as "she's getting one last look at the life she is about to leave behind," "she is running home and hiding from her own wedding," or even "she is a ghost who died on her wedding night."  The artist, however, said that her story is "whatever you think it is."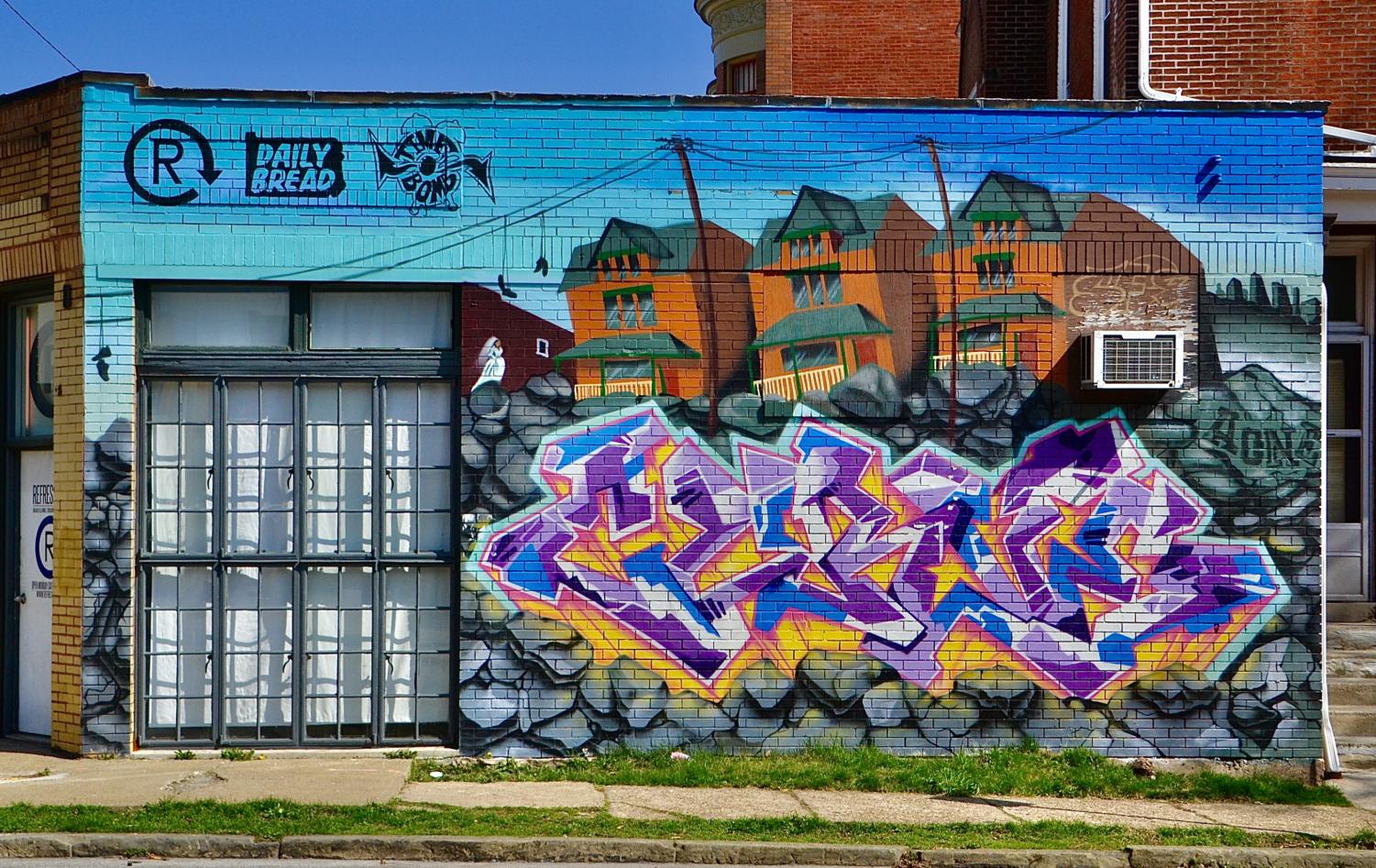 Right across the street is a wall entitled "Refresh PGH Mural" by Thee Soviet, Curvazoid. It was only after I had uploaded all of my photos that I noticed that within this mural is a painting of the house (or rather, three houses) across the street and the bride from the other mural off to the side.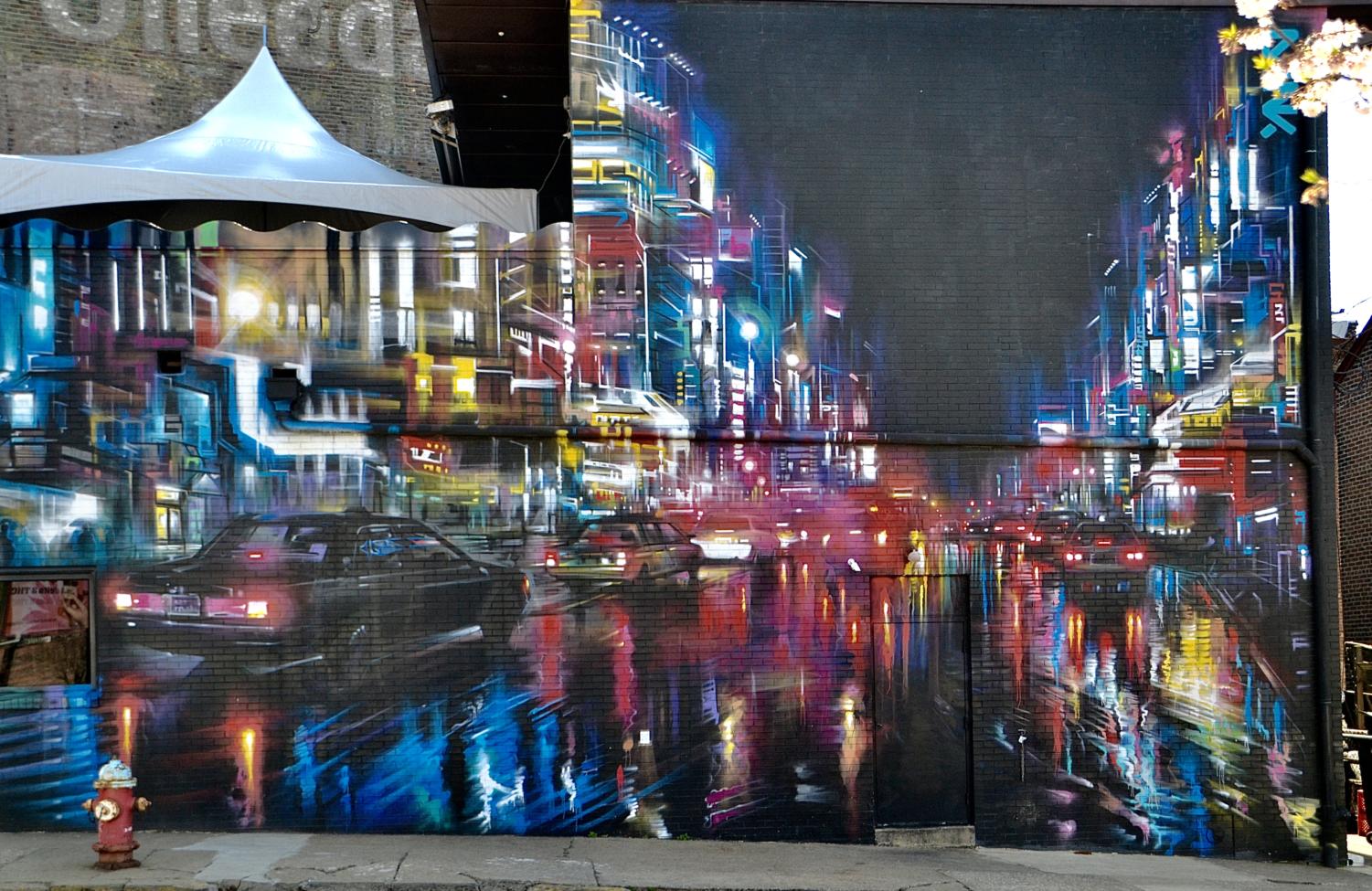 One of the most impressive murals we saw is "Rainy Night Traffic" by artist Dan Kitchener in Lawrenceville. The ability to paint refracted lights and a vanishing point such as this on any canvas is impressive, but painting it on a humongous wall is a major feat. The neon colors and cozy mood contribute to the vibrant, revitalized neighborhood of Lawrenceville.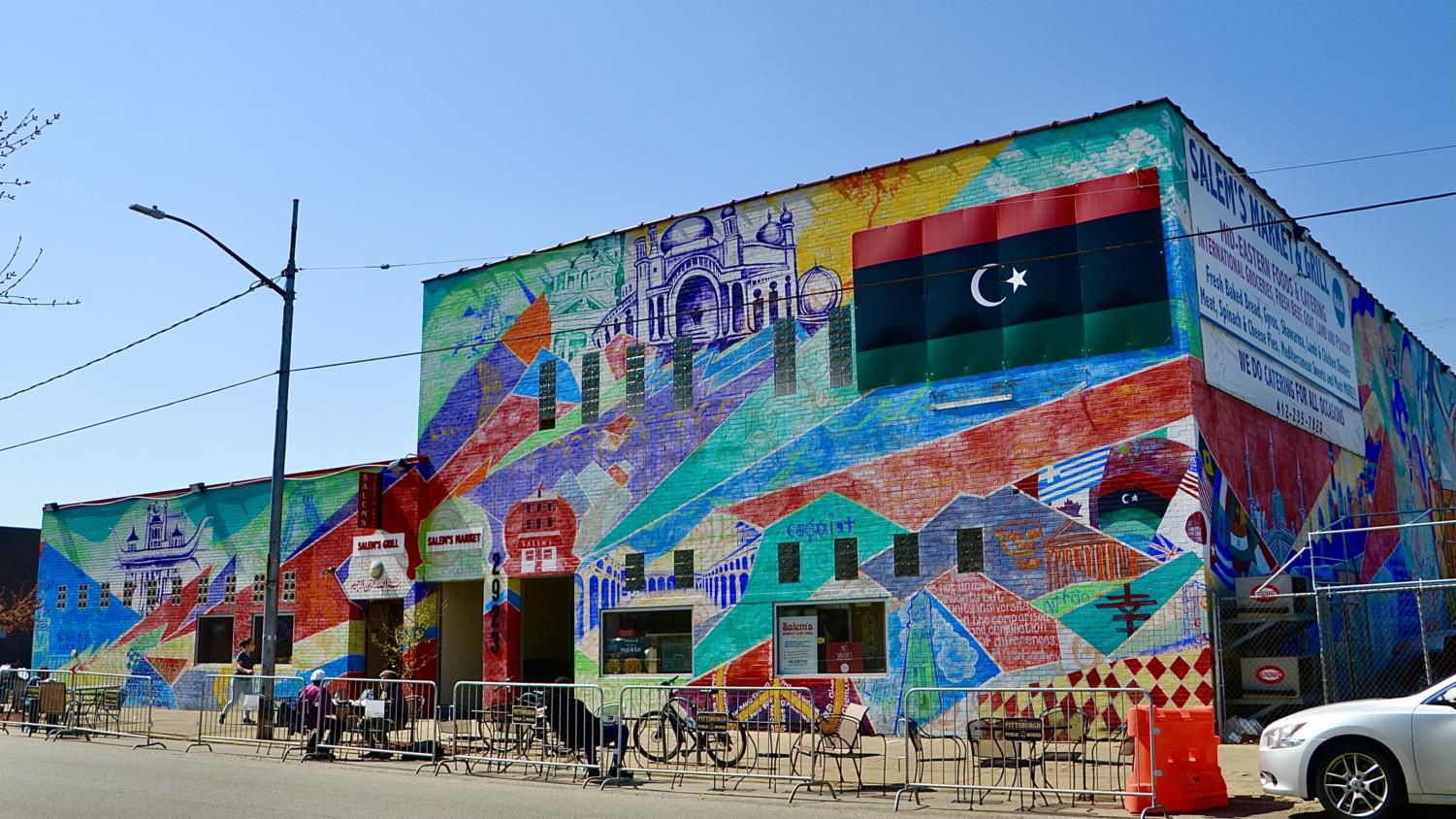 Salem's Market & Grill on Penn Avenue is entirely covered in murals by multiple artists. The owners of the restaurant are strong believers in peace and brotherhood, so artist Kyle Holbrook designed the front and partial side of the building with those sentiments in mind. There are two other murals on both sides of the building with similar sentiments, featuring hidden inspirational quotes, names of inspiring people, and bright, happy colors. In addition to admiring the beautiful artwork, you can smell the delicious food wafting from the kitchen while walking past.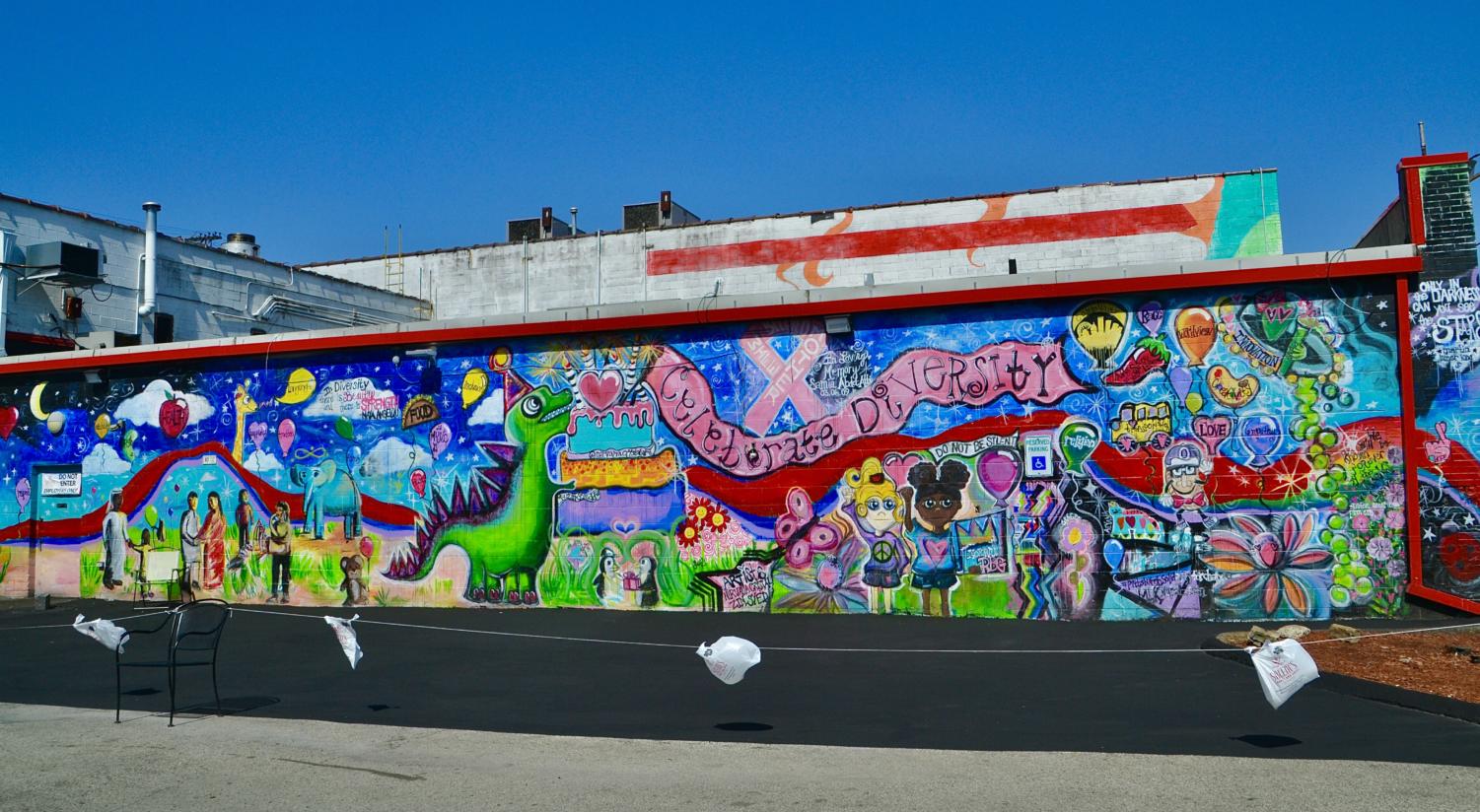 One of the most special murals in Pittsburgh is of the late rapper Mac Miller, a Pittsburgh native. Painted on the one year anniversary of his passing by artist Kyle Holbrook, this East Liberty mural is full of his lyrics and sentimental messages from visitors.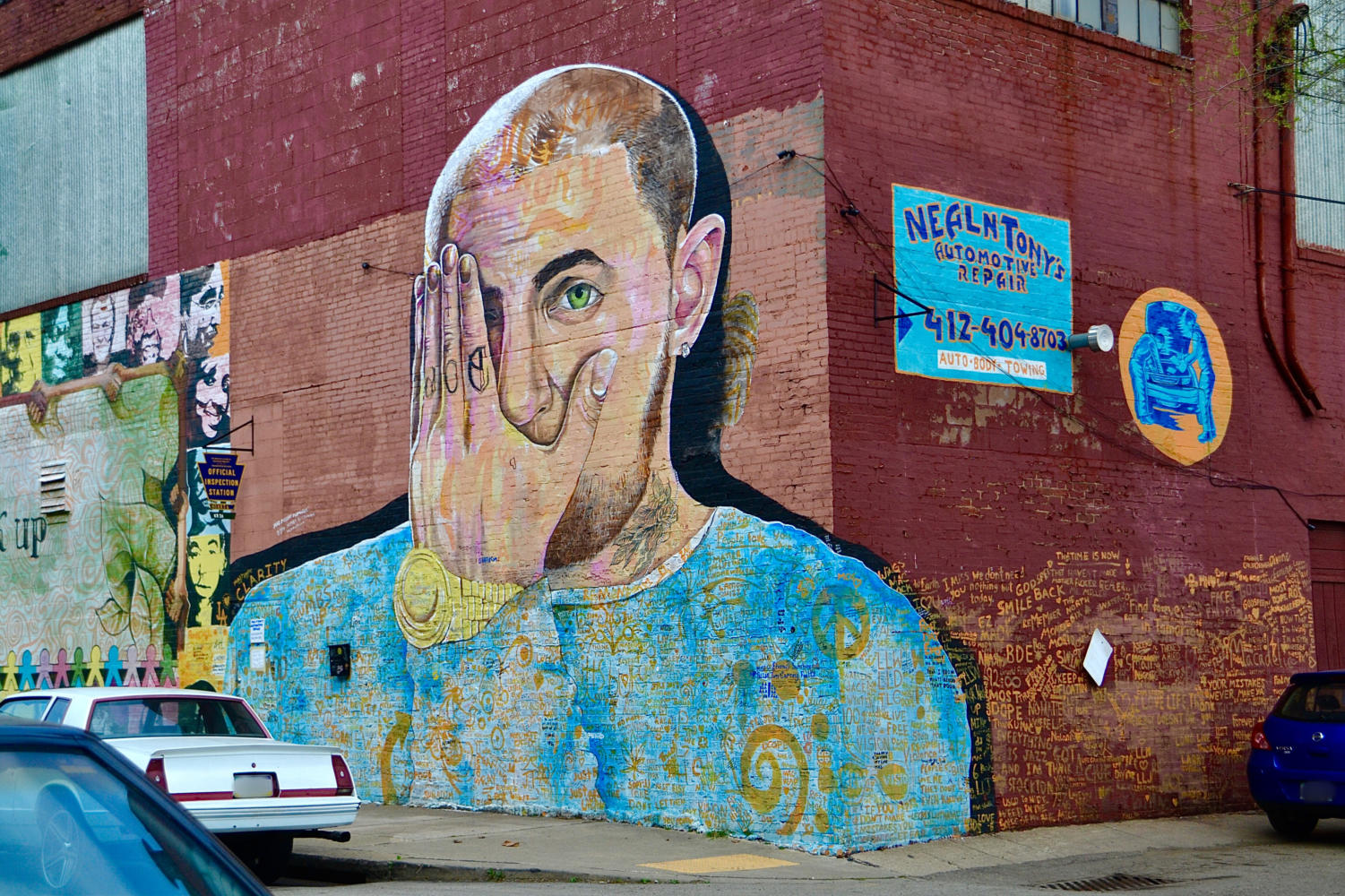 Numerous Pittsburgh neighborhoods have been revitalized over recent years, and a large part of their newfound charm comes from public art. Once you purposefully set out in search of a mural, you won't be able to stop seeing them wherever you go. Artwork can be found everywhere, you just have to know where to look.
Scroll through the gallery below to see more–although just a small portion–of Pittsburgh's stunning murals.
View Comments (2)
About the Writer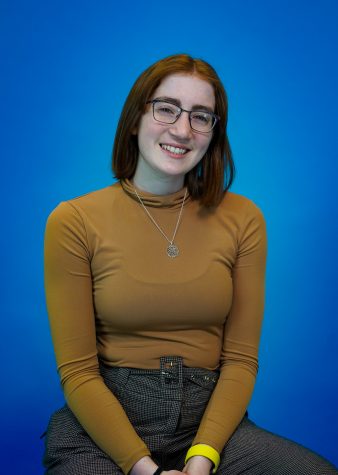 Jess Daninhirsch, Photography Editor
Following her stint as the Co-Editor-in-Chief of the NAEye sophomore year and Junior Photography Editor last year for the Uproar, Jess Daninhirsch is ecstatic about being the Photography Editor and a staff writer this year on The Uproar. Jess dreams of becoming a journalist and a photographer one day and documenting the world. Outside of school, Jess actively participates in BBYO, an international...