London Calling
Senior Réka Götz will be taking her artistic talent to the UK in the fall.
Where will you be attending college?
I will be going to Central Saint Martins at the University of the Arts London.
What made you want to go abroad to study?
I have a passion for exploring new places and immersing myself in different cultures. Both of my parents urged me to look into European universities during my junior year, and University of the Arts London quickly became my favorite option. It felt like a really exciting opportunity to become a global citizen while studying what I love! 
Are you nervous at all?
Not really. To be honest, I'm mostly thrilled about the new environment. My mom studied abroad in high school and college, so she has been incredibly helpful. It's nice to hear advice and encouragement from someone who has gone through the same thing. Also, my dad is Hungarian, so I have family in Budapest (just a short flight away from London)! I am fully expecting a period of culture shock, though.
What is the most exciting thing about London?
I chose the city for its networking ability and abundance of creative opportunities. As one of the world's leading creative hubs, London offers its community a breadth of culture and activities. The intersection of diverse perspectives is where cutting-edge ideas emerge, and I am so excited about working with a varied set of minds from unique backgrounds to cultivate innovation! London is also the performing arts capital of the world, which I plan on taking full advantage of, COVID permitting.
What is your favorite British food?
Shepherd's Pie is really good. I don't think I've eaten a lot of English food, though. I also love a cup of Earl Grey tea!
What will you be majoring in?
I don't have a major picked out yet. Next year, I will be doing a Foundation Diploma in Art & Design. This allows me to explore fashion and textiles, 3D design and architecture, fine art, and graphic communication design in depth. Once I finish my first year, I will choose a major that matches my specific interests. Right now I'm considering Fashion Communication and Promotion, Visual Merchandising and Branding, Creative Direction, or Design for Branded Spaces.
How long have you been doing art?
I've been creating art my entire life. I know that's corny, but I literally cannot recall a period of time before I loved to paint and doodle. Creativity was always encouraged by my parents!
What kind of career do you most dream of?
One day, I would love to be a creative director for a well-established fashion label. However, I also dream about doing spatial design and branding. I think it would be so cool to design pop-up shops, exhibitions, and fashion shows. 
Who is your favorite artist?
Olafur Eliasson, one of my greatest inspirations to date, consistently furthers the impact of design through his installation art and architectural endeavors. Eliasson uses his creativity as a tool to raise awareness and explore answers to global issues within the context of natural and built environments. In his artwork, he will often utilize light, shape, and sustainable materials to construct exhibitions that transcend the viewer into distinct, immersive realities. I have discovered within myself the same passion for understanding the interplay of humans and their surroundings that Olafur Eliasson emphasizes throughout his work.
What will you miss most about the US?
Eat'n Park, Keurigs, Black Friday, and driving on the right side of the road.
About the Writer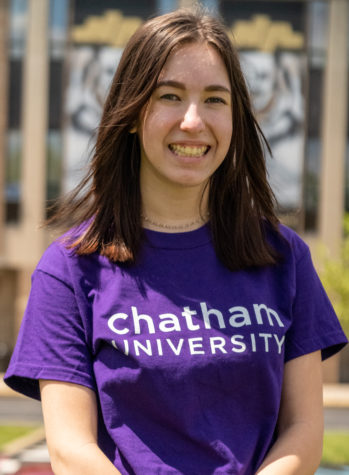 Alyssa Bruce, Copy Editor
Alyssa Bruce is currently in her senior year of high school and is excited to write for her fourth year on the school newspaper staff. She participates in NHS, Key Club, Tiger Thon & Project Water Committees, and NEHS.  For the school year, she runs on vanilla lattes and power naps.