10 Facts About Cinco de Mayo
Here's what you may not know about the holiday
Cinco de Mayo, which is a traditional Mexican holiday, is largely celebrated in America as well. Although it is briefly discussed in Spanish classes and some attend parties with Mexican dishes, many Americans don't know much about the significance or origin of the holiday. Here are ten fun facts about Cinco de Mayo that you can impress your friends and family with.
1. The Battle of Puebla
Cinco de Mayo celebrates the Mexican army's victory over France in the Battle of Puebla during the French-Mexican war. Many people have the misconception that Cinco de Mayo is Mexico's independence day, but that is false. Cinco de Mayo simply celebrates and honors the win at the Battle of Puebla because they were seen as the underdogs against the French. They were outnumbered with poor supplies but still managed to emerge victoriously.  
2. Celebratory Traditions
 The celebration of Cinco de Mayo throughout Mexico consists of traditions including military parades, recreations of the Battle of Puebla, and other festive events. But in America, it is all about celebrating Mexican culture. All across the United States, there are street festivals with large amounts of people coming together to celebrate. Depending on where you're celebrating in the US, there are big parades, live music, dancing, food, and drinking all throughout the day. 
3. A Minor Holiday
Not every Mexican state celebrates Cinco de Mayo. In Mexico, it really isn't considered a major holiday. The city of Puebla marks the occasion with a parade and some other festivities, but in other places in Mexico, it's a minor civic holiday. In fact, in Mexico, Cinco de Mayo isn't even a federal holiday. Cinco de Mayo is much bigger in the United States than it is in Mexico. 
4. The Booziest Holiday
Cinco de Mayo became a "drinking" holiday in the U.S. in the 1980s, when beer companies targeted the Spanish-speaking population in marketing campaigns. In fact, it is considered one of the "booziest" holidays in America, as Americans drink an average of three and a half alcoholic beverages each. About $2.9 billion is spent on margaritas every year, which accounts for 14% of U.S. cocktail sales per year. Tequila and beer are also other popular consumption choices for alcohol on Cinco de Mayo. The drinking age in the U.S. is 21, but in Mexico it is 18.
5. Avocado Craze
In the past couple of years, Americans have consumed over 81 million pounds of avocados on Cinco de Mayo. The holiday is a boon to avocado growers, as guacamole is usually a main dish at Cinco de Mayo celebrations. There are many types of guacamole including tequila, authentic, fiesta, classic Mexican, and more.
6. Chihuahua Race
In the town of Chandler, Arizona, Cinco de Mayo is celebrated with famous Chihuahua races. Yes, you read that right—Chihuahua races. It's a huge deal in Chandler. People enter their dogs into the race, and the person with the fastest Chihuahua will receive a large cash reward. These dogs are often dressed in colorful Cinco de Mayo attire, including mini sombreros. It may be strange, but it's a huge part of the town's celebration and the community always comes together for it. 
7. Mole Poblano
Mole Poblano is the official food of Cinco de Mayo, and it originated in the Mexican city of Puebla. This traditional dish has been passed down from generation to generation. There are a number of legends surrounding the creation of Mole Puebla. The best known one claims that the archbishop made an unannounced visit to the Convent of Santa Rosa in Puebla de Los Ángeles. The nuns prayed to the angels to help them inspire a dish for him. They mixed chiles with many spices, day-old bread, nuts, chocolate, and many other ingredients. They then killed a turkey to put the sauce over, and the archbishop fawned over it. Mole is a dark red-brown sauce consisting of over twenty-five ingredients and is usually served over turkey or chicken. 
8. Skydiving Boogie
Vancouver, Canada celebrates Cinco de Mayo a little different than the rest of the world. Instead of festivals, parades, dancing, and more common ways to celebrate, many individuals go skydiving. The tradition is called "skydiving boogie" and involves aerial acrobatics and an annual air show. The event is hosted by Abbotsford Skydiving Center. Many go to watch, eat, and enjoy themselves, while others participate in the skydiving event. 
9. The Aztec Legend of the Agave Plant and Tequila
Tequila, which stems from the agave plant, was once thought to be a gift from the gods. There are many versions of the story, but the most popular claim is the result of an ill-fated love between Quetzalcoatl and Mayahuel, who is sometimes referred to as the Goddess of Agave. A quick rundown of the legend is Quetzalcoatl, the "Feathered Serpent," was tired of the evil goddess, Tzitzimitl, devouring the earth's light. He went to the sky to fight and kill her but discovered her granddaughter that she had kidnapped, Mayahuel (one of the Goddesses of Fertility). They fell in love and went back to earth. However, Tzitzimitl got mad and soon found the two lovebirds. Tzitzimitl and Quetzalcoatl fought, but while fighting, Mayahuel was killed. This resulted in Quetzalcoatl killing Tzitzimitl. As a way to ease Quetzalcoatl's pain of losing Mayahuel, the gods gave him an agave plant. This plant has minor hallucinogenic properties which would comfort the soul of Quetzalcoatl for loosing the love of his life.
10. Street Festivals
The city of Los Angeles, California has some of the largest Cinco de Mayo street festivals in the world. There are many different individual festivals to attend, such as the Fiesta Broadway. Fiesta Broadway is a multi-block street fair with games, food, and vendor booths in downtown Los Angeles. The festivities typically take place on Broadway from Temple to 4th Street, including Grand Park, and are free to attend. More than 200,000 people typically attend Fiesta Broadway each year.
It's always important to engage ourselves with different cultures from around the world. By learning more about these cultures, especially through the celebration of Cinco de Mayo, we can broaden our minds and create a more accepting environment.
About the Writer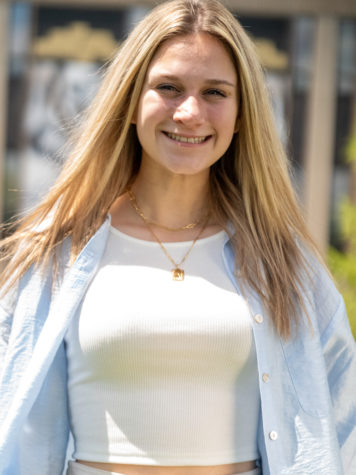 Mia Dudek, Staff Writer
Mia is a senior at NASH. This is her first year writing for the newspaper. When she's not in school, she is most likely playing soccer. She also loves drinking coffee.