No Child Fights Alone (even during a pandemic)
TigerThon was able to hold an altered version of their annual dance-a-thon on Saturday.
Senior TigerThon captains Jordan Richards and Matt Turzai spent last Saturday pulling together an event that they weren't even sure would happen just two weeks ago. 
"Despite the short amount of time [we had] to plan the event, Jordan and I are so proud of how our team came together to help out and get what was necessary accomplished," Turzai said.
Since North Allegheny's dance-a-thon for pediatric cancer was cancelled last year due to coronavirus, Richards and Turzai have spent the last nine months tirelessly planning COVID-safe events and thinking of new ways to raise money. With help from over 100 committee members in both the senior and junior class, $66,160.70 was raised in a year that was characterized by restrictions and setbacks.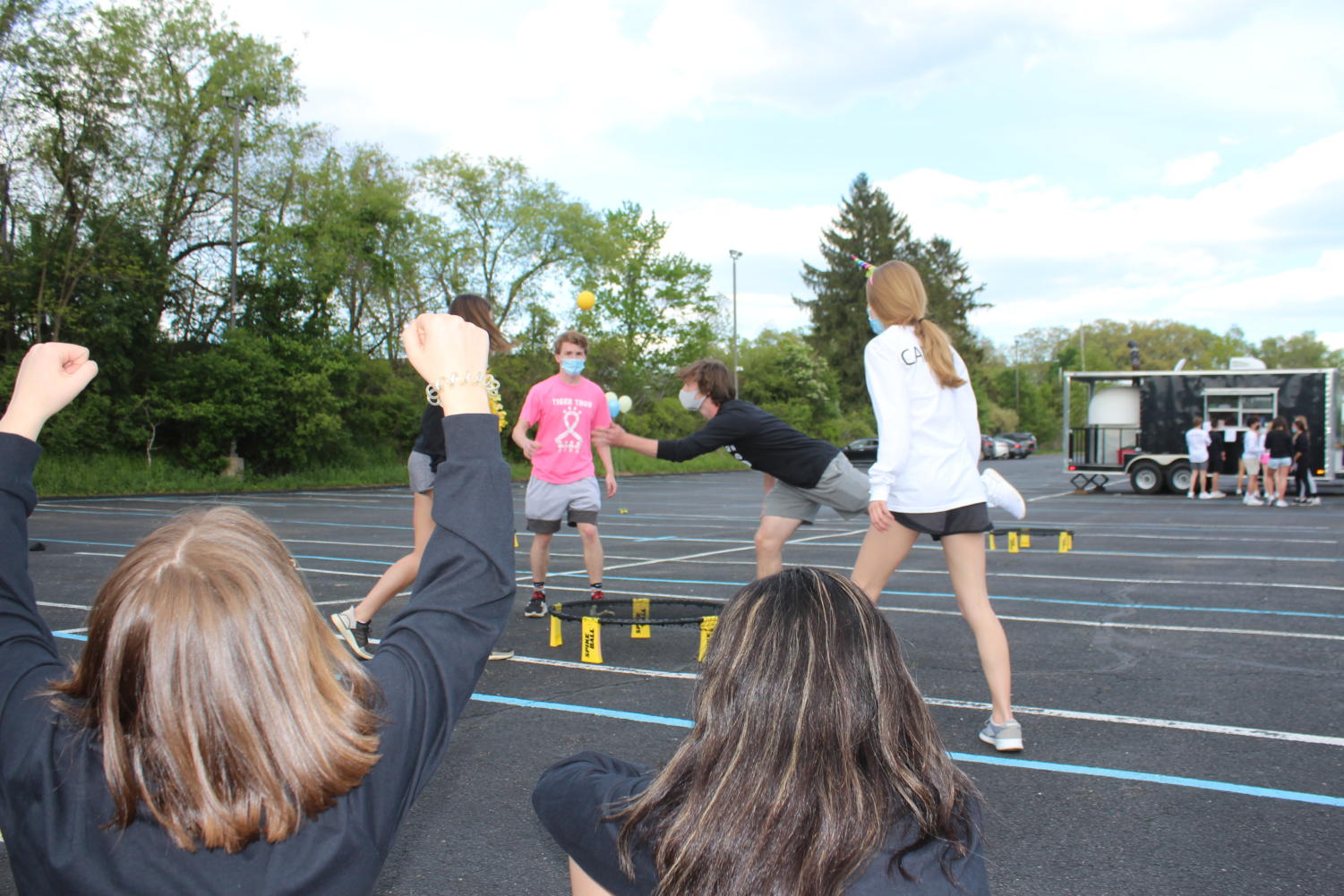 The money raised is donated to Children's Hospital of UPMC and partner fund Pennies from Heaven as they strive to help any child fighting cancer feel like a kid again. 
This year, the usual dance event was not able to happen. Instead, only committee members and students of NASH were given the opportunity to go.
"In years past, TigerThon has been a community-wide event with about 400 to 600 people in attendance from parents to committee members to ten-year-olds running around," Richards said. "This year, we were only able to have about 100 people in attendance."
Additionally, the gym inside of the school remained empty as the event had to take place outside. Spikeball nets, cornhole, photo areas, and a pizza truck littered the parking lot across from the tennis courts. 
"Being outside allowed us to get competitive spikeball tournaments going. The weather was perfect for an outdoor location," said junior Abbey Hahn.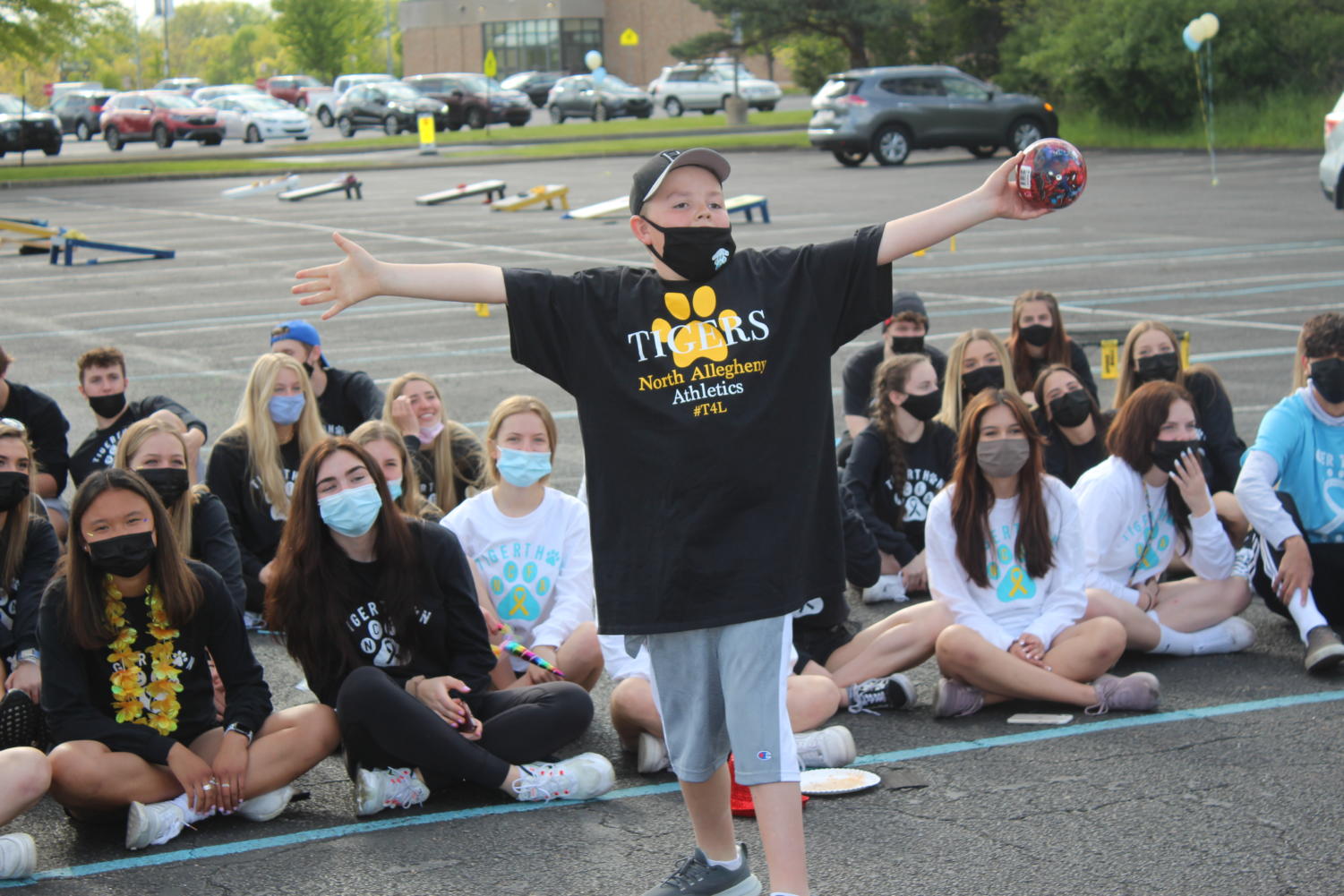 This year's TigerThon representative, eleven-year-old Jimmy Spagnolo arrived with his mother and sister and lit up the night with his contagious energy. His appearance at the event reminded each and every committee member of why they do what they do.
"Seeing Jimmy at the event brought a smile to everyone who was there. His positivity radiated through the crowd," junior Halle Marsalis said. "You could not tell at all that he was fighting such an awful disease."
After being diagnosed with an inoperable brain tumor at four months old, Spagnolo was given less than eight months to live. With the money raised by pediatric cancer groups like TigerThon, continual research has now resulted in a therapy that has contributed to Spagnola surviving long beyond his prognosis.
At Saturday's event, Spagnola's mom told the crowd that on top of the money that goes into research, donations are also given to help kids during their trips to the hospital.
Spagnola said that his favorite parts about going to the hospital include "music therapy and stickers."
Both of these programs are funded by donation money raised by events like dance-a-thons.
As Richards and Turzai cleaned up the parking lot after the event, they were overtaken with relief as they realized that, despite all of the obstacles and setbacks, they were able to accomplish their goal of ensuring that no child fights cancer alone.