A Bitter Exit
The Penguins' disappointing playoff exit raises questions about the team's future.
I tried really hard not to get my hopes up, but as soon as the puck dropped for the first round of the Stanley Cup playoffs, I couldn't help but feel excited about the Pittsburgh Penguins' chances. I thought we had the depth and talent to make a good playoff run.
But I should have known that lately, things haven't come so easily for the Penguins. Even though they finished the regular season first place in the East Division, their recent playoff appearances have been shaky at best. In 2019, they were swept in the first round by the New York Islanders. They only won one game against the Canadians in the 2020 Stanley Cup Qualifiers. And on Wednesday night, they were eliminated in Game 6 of the first round, once again, by the Islanders.
Something felt different about this year, though. Maybe it was the fact this series felt completely winnable. The Penguins lost the first game in overtime, came back strong, and won Games 2 and 3. They had a rather disappointing performance in Game 4 and lost. In Game 5, they outplayed the Islanders, controlled the puck for much of the game, and outshot their opponent 50-28. However, they lost in double OT when goaltender Tristan Jarry passed the puck to an Islander right in front of the net.
They entered Game 6 facing elimination and played a great first period. In the second period, they blew their 3-2 lead by allowing the Islanders to score 3 goals in 2 minutes and 59 seconds. The Penguins never recovered and, although they once again outshot the Islanders, lost 5-3.
I'm not saying this playoff series was good by most means, but it felt like the Penguins were in it. It felt like they deserved to win the majority of the games, especially with the way they dominated the puck in their offensive end. That's why their elimination stings so much.
So, why can't a team that won two Stanley Cups in the past five years and has several star players and offensive depth find any playoff success? How can you have players like Sidney Crosby, Evgeni Malkin, Jake Guentzel, Bryan Rust, and Kris Letang and not make it past the first round?
I obviously don't know the answer, and neither do the best minds in hockey. If any executive, general manager, or coach knew how to fix the Penguins, we wouldn't be in this position.
"
With Crosby, Malkin, and Letang all getting older, every playoff exit feels like a wasted opportunity."
The one thing I am fairly certain isn't going to fix our playoff woes is getting rid of the three core players, Crosby, Malkin, or Letang, like some members of the media are proposing.
No one in their right mind is suggesting the Penguins trade Crosby, but it's likely that this summer, like every year, rumors will circulate about possible Malkin or Letang trades. Trading one of these alternative captains seems like an easy enough way to shake the team up and perhaps give them a new start. However, the talent we'd lose would not be worth it.
I'll be honest — I have not been Malkin's biggest fan recently. His skills are undeniable, but he has offered the Penguins no consistency over the past few years. It seems like he only ever plays extraordinary when Crosby is injured. He gives away the puck a lot and often looks lackluster or even lazy on defense.
But he's a core part of the Penguins, and when he's on, he's an incredibly valuable player. Trading him would be idiotic, simply because we are not going to find a more talented center for our second line. He's especially effective when head coach Mike Sullivan can find him the right linemates. In the 2019-2020 season when Crosby was injured, Malkin played with Rust and Guentzel, and they were one of the best lines in the NHL.
And any talks of trading Letang should be immediately dismissed after the season he's had. He played some of the best hockey he ever has, rivaling his insane performance in the 2016 playoffs. He played an excessive amount of minutes almost every game, and he has been a sound, reliable defensemen. For perhaps the first time in his career, he is consistently playing a smart game, as he no longer takes a lot of unnecessary penalties or offensive risks. He's also managed to contribute to the Penguins' score sheet this season, all while maintaining the blue line.
Not to mention, trading any of these core players would crush team morale. They've been pillars of the Penguins organization for the past fifteen years. You can't just trade them and expect other players and fans to happily go along with it. 
"
The Penguins might have had a disappointing playoff run once again, but not everything about the team needs to change this summer."
When asked on Wednesday to respond to comments that the Penguins should break up him, Malkin, and Letang, Crosby said, "They've been saying that for four years, right? I know that the three of us want to win, and we'll do whatever it takes to compete [and] do that every year."
While the Penguins' leaders put up mediocre numbers, they weren't the team's downfall in this series. Goaltending was.
Jarry played well through much of the regular season, and personally, I think he's a talented netminder. I don't want to blame the Penguins' entire elimination on him, but he just wasn't ready for the pressure of the playoffs. He got in his own head, he played sloppy, and he let in a lot of shots he shouldn't have. His save percentage in the playoffs was .888, and he let in five goals in only 24 shots in Game 6. The Penguins' typical backup goalie, Casey DeSmith, was injured, so Sullivan was hesitant to pull Jarry, despite his poor performance. That's why, although the Penguins usually outshot the Islanders, they couldn't pull off many wins. 
If there was a way to guarantee that Jarry would come back in September mentally unscathed from this playoff series, I'd be content having him as our starting goalie again. With some more experience under his belt, he has the potential to be a reliable netminder.
Unfortunately, I don't think that's going to happen. His performance was so disappointing that I doubt he will have much confidence heading into next season, just as I doubt many fans will welcome him back. That means he needs to be traded, or the Penguins at least need to find someone else who could be the starting goalie so Jarry can serve as a backup.
Sullivan's future in Pittsburgh should also be examined. Though he has led the team to two Stanley Cup victories and is one of the only four coaches in Penguins history to record 100 wins with the organization, it's clear that something hasn't been working for the past few years. I'm not blaming all of the team's faults on Sullivan, but when nothing else seems to solve the problem, sometimes a new coach is able to jumpstart the team.
Last August, after the Penguins were eliminated by the Canadiens, the Penguins fired three of Sullivan's top assistant coaches. When a team doesn't perform well, it's normal for the coaches to be on the chopping block. At the very least, Sullivan's job should be in jeopardy.
The Penguins might have had a disappointing playoff run once again, but not everything about the team needs to change this summer. This group had incredible depth and chemistry, and they mostly outplayed their opponents. Brian Dumoulin and Cody Ceci played strong defense, Brandon Tanev was all over the ice in all the best ways, and Jeff Carter led the team in playoff goals.
It's unreasonable to expect the Penguins to win the Stanley Cup every year, but there are things they can do to give them a chance at a better run next season. With Crosby, Malkin, and Letang all getting older, every playoff exit feels like a wasted opportunity, and the Penguins need to capitalize on the talent they have while they still can.
About the Writer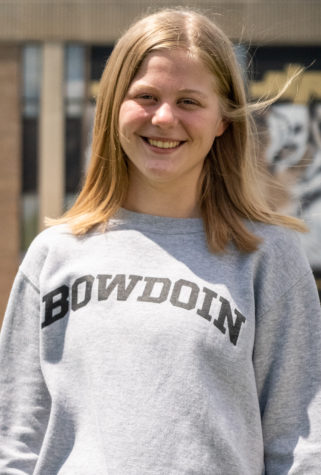 Kristen Kinzler, Co-Editor-in-Chief
Kristen Kinzler is a senior at NASH who loves expressing her opinions and drinking excessive amounts of coffee and tea. When she's not writing or rewatching Supernatural for the fourteenth time, she can probably be found playing lacrosse, reading, or watching hockey. She plans to attend Bowdoin College next fall.