The History of North Allegheny
The district's history began over 150 years ago in a one-room log cabin that is now Peebles Elementary School.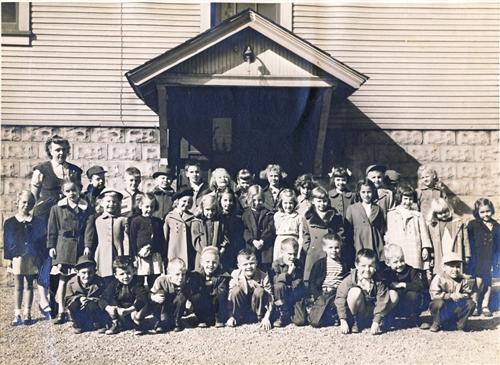 Today, the North Allegheny School District consists of seven elementary schools, three middle schools, and two high schools. The district has been presented with 20 awards and distinctions for their performance in educating children and athletic skill. It took North Allegheny over 150 years to get to this groundbreaking point, and it all started in a log cabin called Peebles.
It was 1860 when McCandless's first schoolhouse was built on land owned by the Peebles family. It consisted of only two rooms and was used for 92 years until the new building that still stands today was built in 1952 with only six rooms. The original two-room building is now Colaizzi's Hair Salon along Peebles Road. 
Peebles School was the only school in McCandless for 50 years until Ingomar School was built in the same lot it is situated today along West Ingomar Road. The one-room building was filled with students from eight grades instructed by one teacher. 
Throughout the next 50 years, more and more rooms were added to Ingomar's original structure due to the increased population in the area. Tragically, in December of 1960, a fire broke out in the oldest portion of the school and the frame of that portion of the building was destroyed. 
According to former Ingomar Elementary principal Dr. Paul Chmara, the surrounding community sought to rebuild the school immediately where 12 new rooms were put in place.
Around this time in 1956, a one-room school located in Bradford Woods, built in 1916, was declared Bradford Woods Elementary School. The construction of the original building came just one year after Bradford Woods separated from Marshall Township and became its own municipality in 1915. 
Some alumni from the twentieth century may remember Espe Elementary, which was located along Highland Road near CCAC in McCandless. The school opened in 1936 but was shut down in 1999 when new redistricting orders were added due to increasing student enrollment from Franklin Park.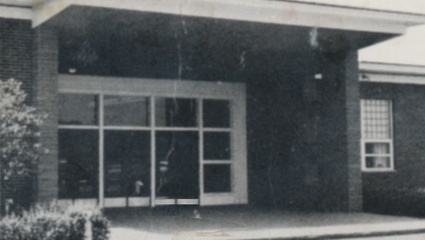 At the time, Franklin Park only had one school, Franklin School, which was a building constructed out of brick in 1936 with just six rooms.
Nine years later, McCandless bought a 150 acre lot known as Cole Farms for $30,000. This is where McKnight Elementary, Carson Middle, and North Allegheny Intermediate High School stand today along or just off of Cumberland Road. This is also where the Transportation and Facilities and Central Administration buildings sit. 
In 1948 , the five districts, Bradford Woods, Franklin, Marshall, McCandless, and even Pine, signed a ten-year joint agreement to become one school district. This is when North Allegheny was established. However, Pine did not stay with the agreement for long. In 1950, Pine decided to leave the collaboration of schools to form what is now the Pine-Richland School District.
The remaining four municipalities stayed together and decided to build North Allegheny's first high school on the ground where North Allegheny Intermediate High School currently sits. The construction of the North Allegheny Junior-Senior High School began in 1952 and the grand opening came in 1954.
The building consisted of 33 rooms for grades 7-12. Then, in 1958, Franklin Park received another school but for junior-high students in grades 7-9. It was known as Ingomar Junior High School, which is now Ingomar Middle School. 
"
That one log cabin is the foundation of North Allegheny, now one of the strongest school districts in the country."
However, this was not enough for gradual growth in the student population. Therefore, Carson Intermediate High School, which is now Carson Middle School, was built upon the hill of Cole Farms and it opened its doors to freshman and sophomore students in 1969. 
Just across McKnight Road from Cole Farms is where Peebles Elementary stands, and just a few miles down Peebles Road is where Hosack Elementary is located, having been built in 1972.
It was 1974 when North Allegheny Senior High School was built along Perry Highway, or US-Country Route 19, for juniors and seniors.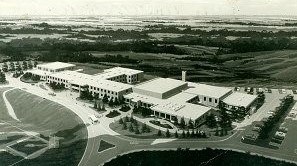 Because of the newly constructed high school, Ingomar Junior High and Carson Intermediate were converted to middle schools, housing students in grades 6-8. This was also when North Allegheny Junior High School became North Allegheny Intermediate High School for freshmen and sophomore students. 
At this point, North Allegheny consisted of five elementary schools and two middle and high schools. But it still wasn't enough.
In 1987, McKnight Elementary was built also on Cole Farms neighboring North Allegheny Intermediate High School along Cumberland Road. 
The latest schools to be built are located in the Marshall Township area of Allegheny County. In 1992, Marshall Elementary was built on the Shenot farms site followed by the opening of Marshall Middle School in 1993 on the same ground. 
The construction of the two schools created a 93-acre campus for students residing in Marshall Township to attend schools for Kindergarten through 8th grade learning. 
Since then, all schools within the school district have gone under major renovations. The latest of those renovations was put in place at McKnight Elementary two years ago when an art wing was added to the building. 
It's hard to believe that over the course of 150 years, one log cabin became the #29 ranked school district in the state of Pennsylvania. That one log cabin is the foundation of North Allegheny, now one of the strongest school districts in the country.  
View Comments (1)
About the Writer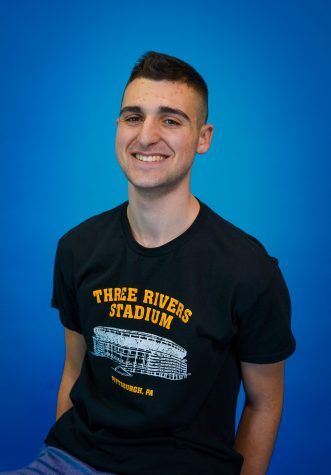 Anthony Durzo, News Editor
Anthony Durzo is a senior at North Allegheny Senior High School. This is his second year writing for The Uproar, although he has previously written for North Allegheny Intermediate's online newspaper, NAEye, for two years as well.  Outside of school, he played hockey at Robert Morris University for eight years and has played piano for six. After tossing his cap into the air and waving goodbye to North...