"Love on Tour" visits Pittsburgh
Music sensation and pop icon Harry Styles left no dry eyes after his performance last Thursday at PPG Paints Arena.
Kara Mihm, Co-Editor-in-Chief
October 18, 2021
The best things come in small packages. A compact black box labeled "soft goods," to be exact. Crouched inside was a six-foot, suspender-clad British man, who emerged on stage last Thursday evening to a sold-out PPG Paints Arena.
The deafening volume was the least of my concerns as 20,000 fans shrieked at the sight of his floppy brown hair suddenly coming into view. Although I am not wait-in-line-since-9am obsessed, I did feel like I went to Heaven when Styles rose from the center of the stage. Sparkling like his shimmering gold button-up, he flashed his cheeky smile as the decibels increased. The audience was captivated by his entrance, serenading him in return with their off-pitched singing of his opening song, "Golden." 
Performing on a 360-degree stage in the middle of the arena, Styles had to have trained cardio during quarantine, for his energy never wavered throughout the show. Dancing around the entirety of the stage, including the two catwalks that extended from the center.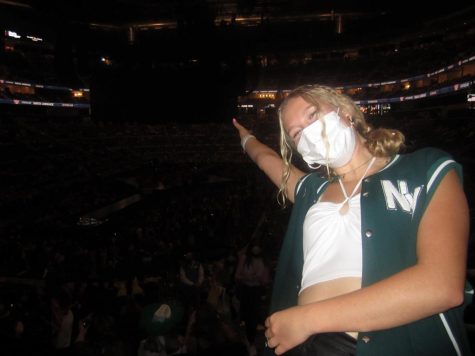 Accompanied by only six band members and a wired microphone, Styles had the arena on their feet for 90 minutes– chunky boots, heels, and all. His was the sole performance, not needing any additional outfit changes or props to make the show better than it already was.
The lucky fans in the Watermelon and Cherry pit, whom I desperately envied from the nosebleeds, angled for Harry's attention by throwing hats, boas, and flags on stage. Occasionally reaching for the items that fell to his feet, he specifically adored the bright yellow sunflower, placing it behind his left ear during the rendition of "Sunflower, Vol. 6". 
Not everyone was as fortunate, though, as the laughter could be heard even from my seat in section 204 when a fan's item was rejected. Upon one fan throwing an article of clothing on stage, Harry snorted a laugh as he cackled, "Uh-oh, not grabbing that one!" 
Between every few songs, Styles initiated commentary between himself and the crowd, singing happy birthday to an emergency room nurse named Madeline and wishing congratulations to a cancer survivor. Revealing that the internet is always right, he took on the role of a school teacher as he recited that there are 446 bridges in Pittsburgh.
From the lines of entry that wrapped around the entire arena to the crowded escalators inside, the atmosphere was overflowing with warmth and affection, in keeping with Styles' motto, "treat people with kindness." The requirement of masks, which led to the muffling of voices, simply resulted in attendees tapping on other fans' shoulders to exclaim their excitement about their outfit.
And on the note of attire, let me tell you, the PPG paints arena turned into a glam portal. Critics claim that Styles' concerts have suddenly become the "new Coachella of fashion," and they could not be more right. The postponement of the concert, originally scheduled for the summer of 2020, allotted fans more time to plan out their extravagant ensembles. Everyone came to play. 
The show was a clear example of how Harry Styles has become a fashion icon for Gen Z. Encouraging his supporters to live by his philosophy, he urged the crowd to not limit themselves but to instead "be who it is you've always wanted to be." 
Last Thursday, one specific phrase in Harry's song "Cherry" clearly resonated with the crowd as they screamed, "There is a piece of you in how I dress." Bold 70's prints, brightly colored two-piece suits, and feathered boas adorned the arena, turning the concert hall into a sea of Harry clones. 
During the final song, "Kiwi," neither fans nor Harry showed any signs of exhaustion as the floor shook, tears fell, and ears rang. The concert was a certified head-banger, and the high from that night fueled me through my next day in school, even on only four hours of sleep.