Hidden Gems: Pittsburgh's Most Unique Independent Bookstores
A select list of the most extraordinary local and independent bookshops in and around Pittsburgh
One of my favorite things to do in the winter and over the holiday break is curl up by the fireplace with a good book. I rarely wish to leave the house in this state, but if I do, I would want to wander around local bookstores because they're so cozy and comforting. And with the spirit of giving going around, I always love supporting independent bookstores, but particularly this year. The pandemic has taken a toll on non-essential businesses such as bookstores — many of them are struggling to stay open.
Luckily for us, Pittsburgh has a plethora of independent bookstores to explore and support. On the first official installment of the "Hidden Gems" series where we explore unique components of Pittsburgh life, I will share some of the best local and independent bookstores in and around Pittsburgh, listed in order of proximity to NASH. Small businesses such as independent bookstores are great places to support during the holiday season, especially during a pandemic.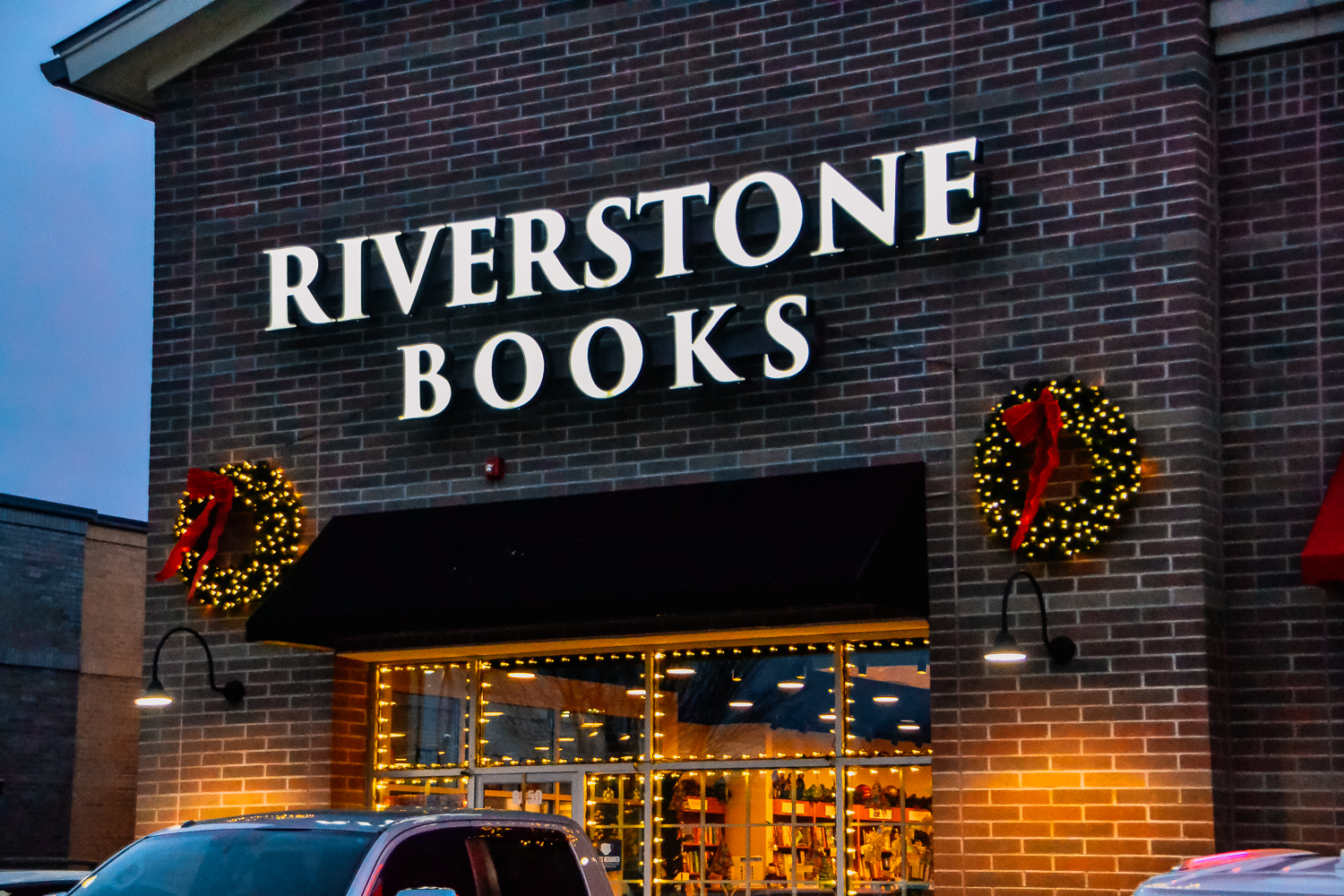 Riverstone Books
8850 Covenant Avenue, Pittsburgh, PA 15237
Located in both McCandless Crossing and on Forbes Avenue in Squirrel Hill, Riverstone is a quaint bookstore that houses all your favorite books. They often host events for people of all ages, too, including toddler yoga and story time as well as readings from published authors. Riverstone also has a delivery service that can deliver books right to your front door.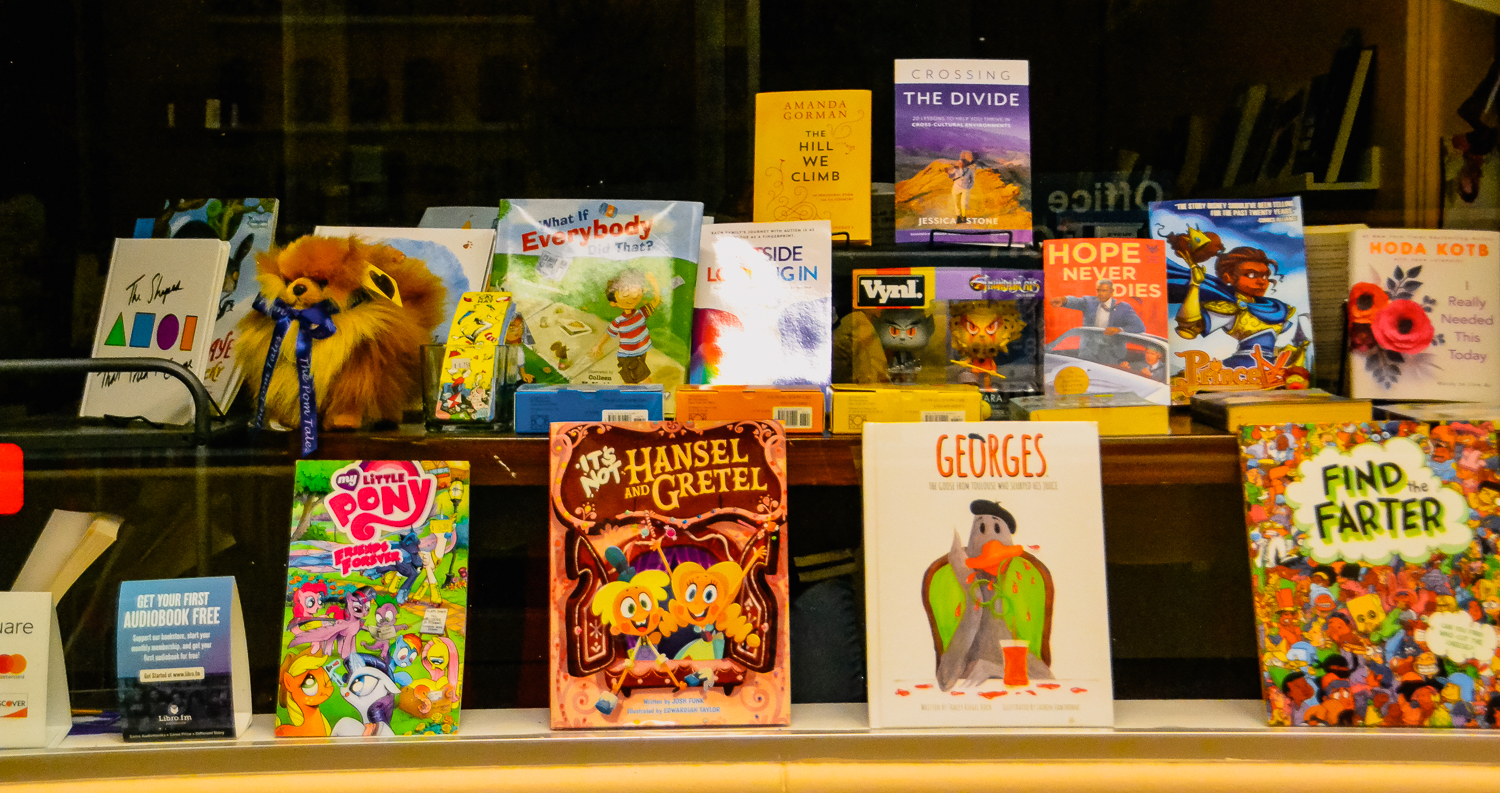 The Tiny Bookstore
1130 Perry Hwy Suite 106, Pittsburgh, PA 15237
Properly named, the Tiny Bookstore is in fact the smallest independent bookstore in Pittsburgh. Hidden inside the Pines Plaza on Perry Highway, Tiny Bookstore sports a variety of children's books, fiction, and nonfiction for all ages. However, the shop has been struggling due to the pandemic, so the storefront is closed indefinitely. But on their website, hyperlinked above, they are selling products online to stay afloat.
City of Asylum Bookstore
40 W. North Avenue, Pittsburgh, PA 15212
Located in the Northside, the City of Asylum Bookstore, also known as Alphabet City, is part of the City of Asylum program for exiled writers and artists who have had their voices silenced. This bookstore raises these authors' voices while protecting and celebrating creative expression. It is one of the most unique independent bookstores in all of Pittsburgh, and its mission is an important reminder of why we need to support local bookstores.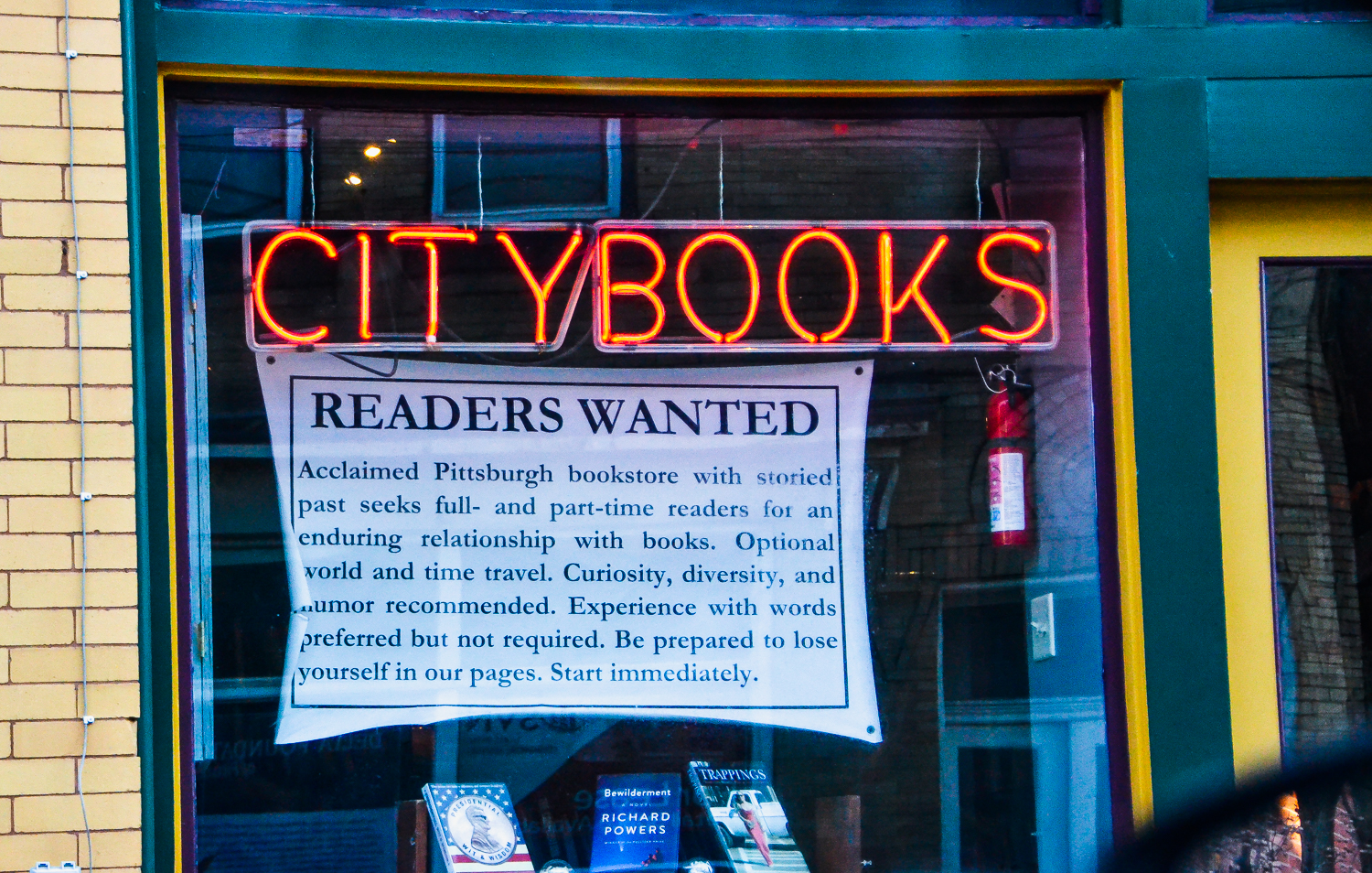 City Books
908 Galveston Avenue, Pittsburgh, PA 15233
Around the corner from Alphabet City is Pittsburgh's oldest standing bookstore, City Books. Founded in 1984, City Books strives to keep up with modern social justice issues while maintaining an "old world charm." They also offer a Writer's Residency, in which writers can have access to a space where they can flex their creative muscles and write "without the expectation of a page count or publication." It's a perfect reading and writing oasis in the middle of a residential neighborhood.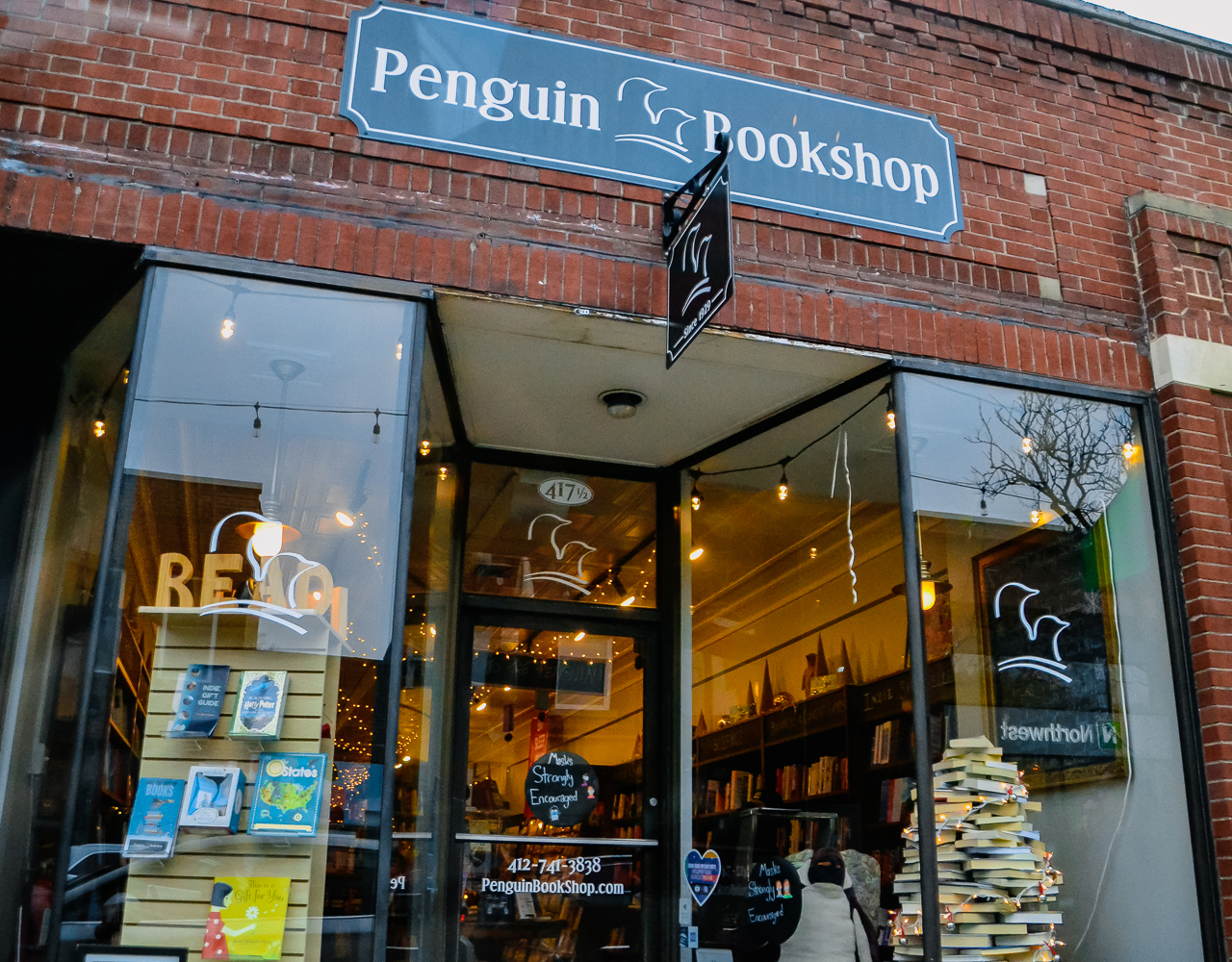 Penguin Bookshop
417 Beaver Street, Sewickley, PA 15143
Though Penguin has been in many locations throughout Sewickley over the years, it has remained the oldest independent bookseller in Pittsburgh. Founded in 1929, Penguin now resides in the heart of Sewickley on Beaver Street. This quaint and vibrant bookshop sells new fiction and nonfiction books for people of all ages. The bookshop is a 92-year-old institution in Pittsburgh, but it has no relation to the Penguin Publishing Group (however, they certainly sell books from this British publishing house!).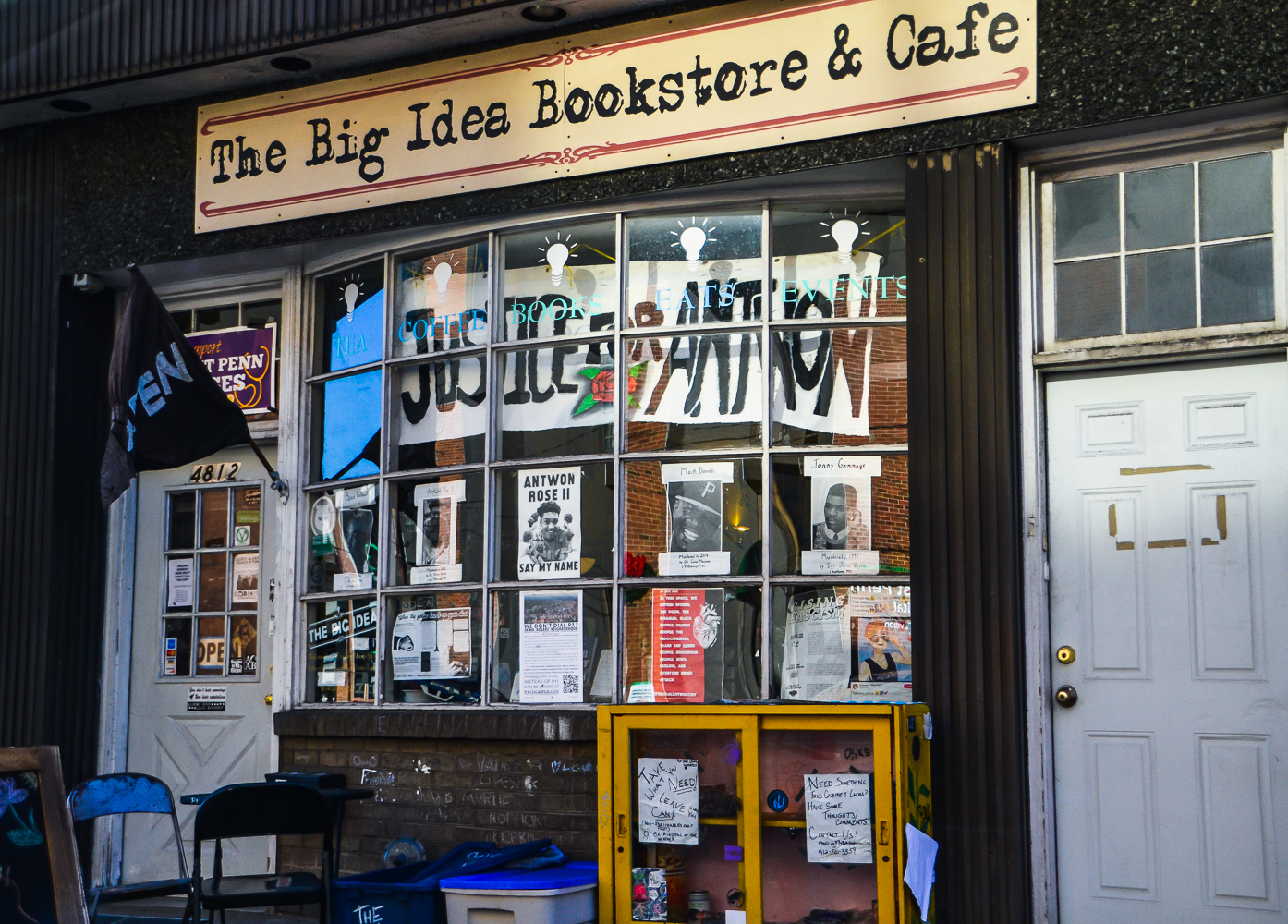 ​​The Big Idea Cooperative Bookstore & Cafe
4812 Liberty Avenue, Pittsburgh, PA 15224
This is probably one of the most unique bookstores in the city, and one with a powerful mission. The Big Idea, the "antiprofit bookstore," calls themselves an "anarchist collective" where activists, leaders, and community members can come together to create radical ideas into globe-changing actions. All of their progressive and liberal ideas are displayed through the books they sell. Additionally, their café only serves locally sourced vegetarian and vegan foods. Unfortunately, The Big Idea is closed due to the pandemic, but they are accepting donations to help pay their rent.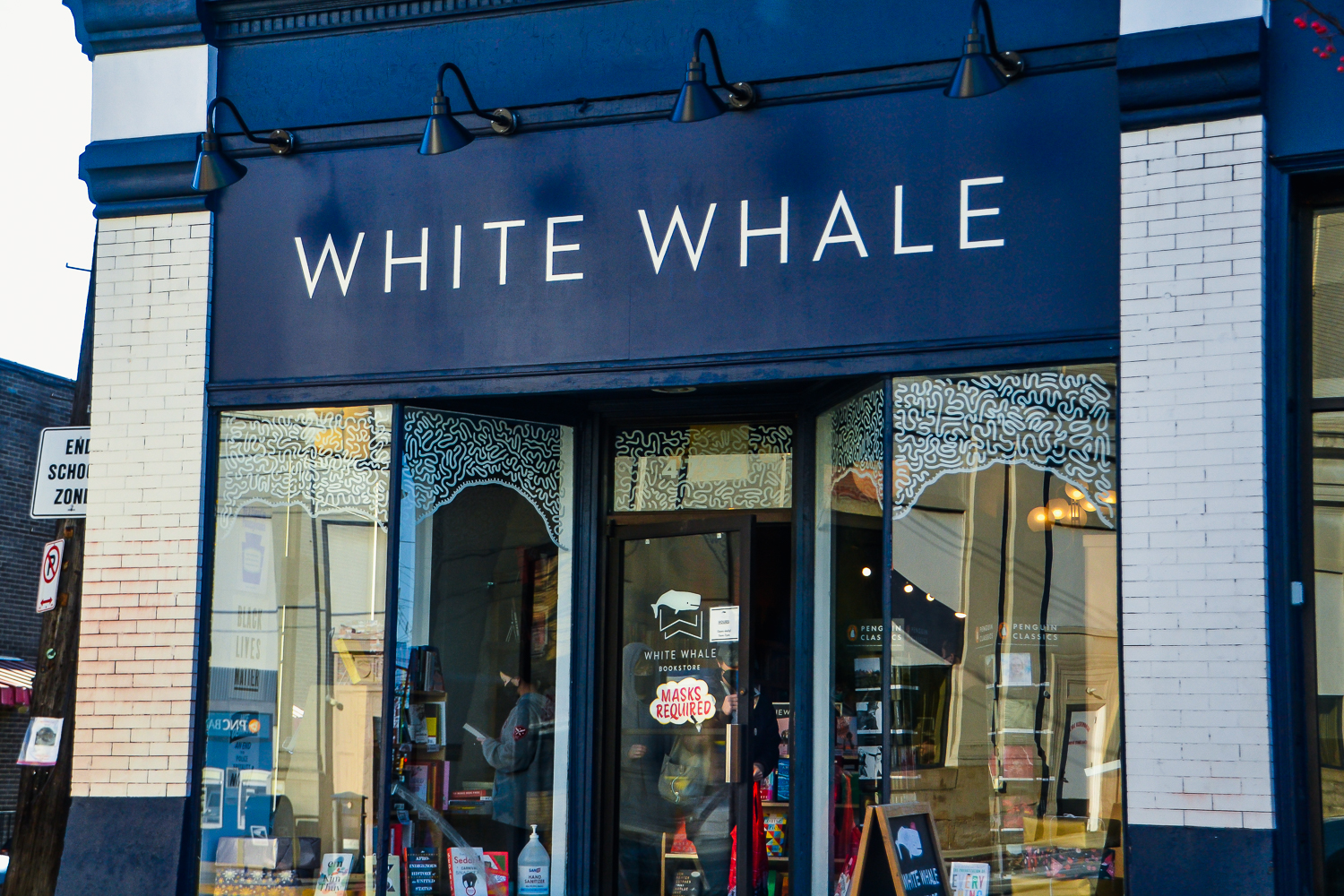 White Whale Bookstore
4754 Liberty Avenue, Pittsburgh, PA 15224
Named after the infamous Moby Dick, the White Whale Bookstore provides a wide selection of contemporary and literary fiction and nonfiction for all ages. They host a variety of events, both virtual and in person, that engage the community in conversation and idea development, such as book readings, poetry slams, writing workshops, children's reading workshops, and book clubs.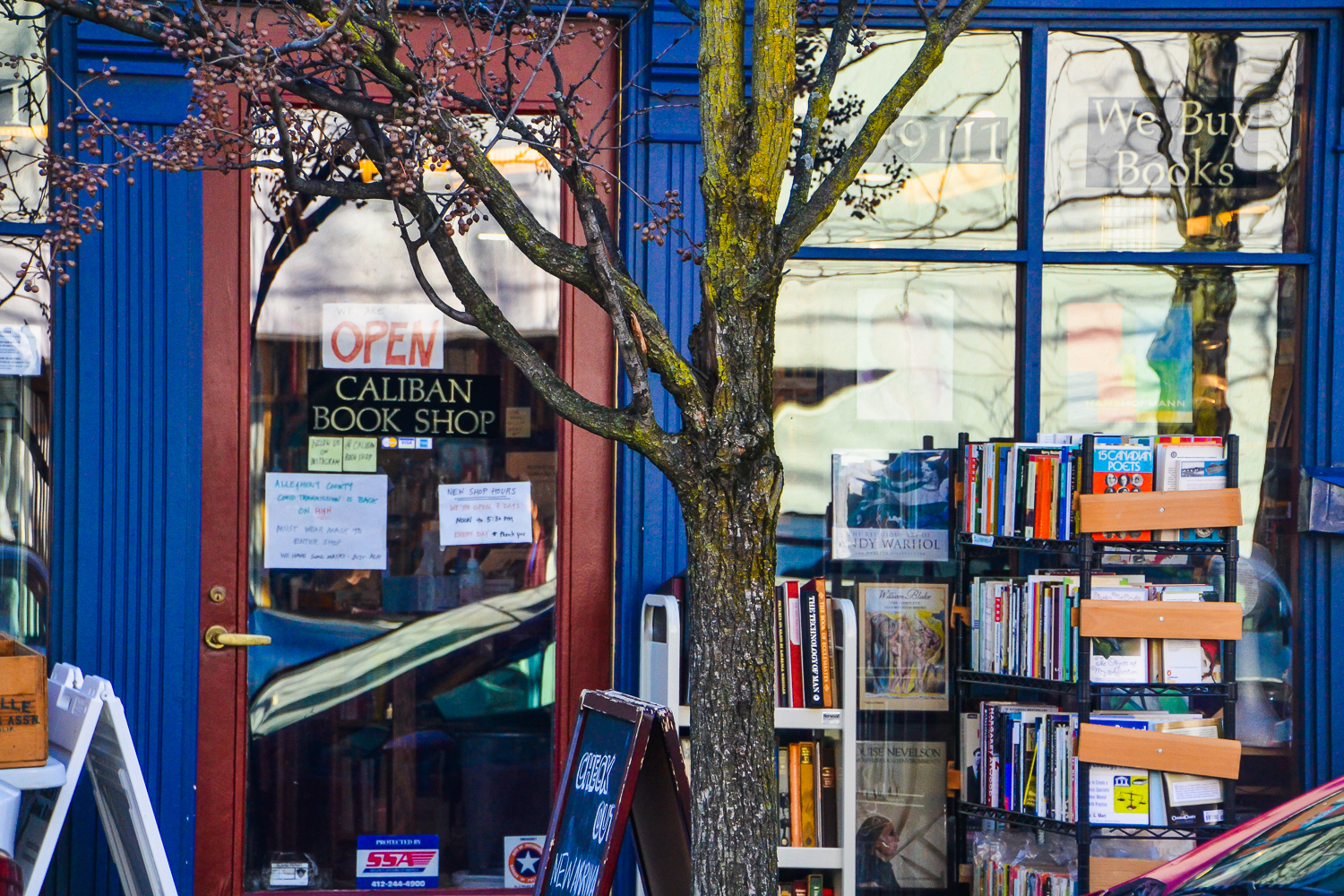 Caliban Books
410 S. Craig Street, Pittsburgh, PA 15213
Tucked beneath a tree on Craig Street lies Caliban Book Shop, a collector and seller of used and rare books. If you're looking for the hottest YA that are fresh off the presses, you won't find them here, but you'll be sure to uncover some fascinating mysteries, science fiction, and classics that were lost to time. A section of the shop is also devoted to records and CDs, specifically indie rock, sixties pop, punk, americana, folk, blues, and jazz (and occasionally classical music and even spoken word). Additionally, they sell books and zines created by local authors. Fun fact, "Caliban" is actually the name of a Shakespearean half-human half-monster from The Tempest.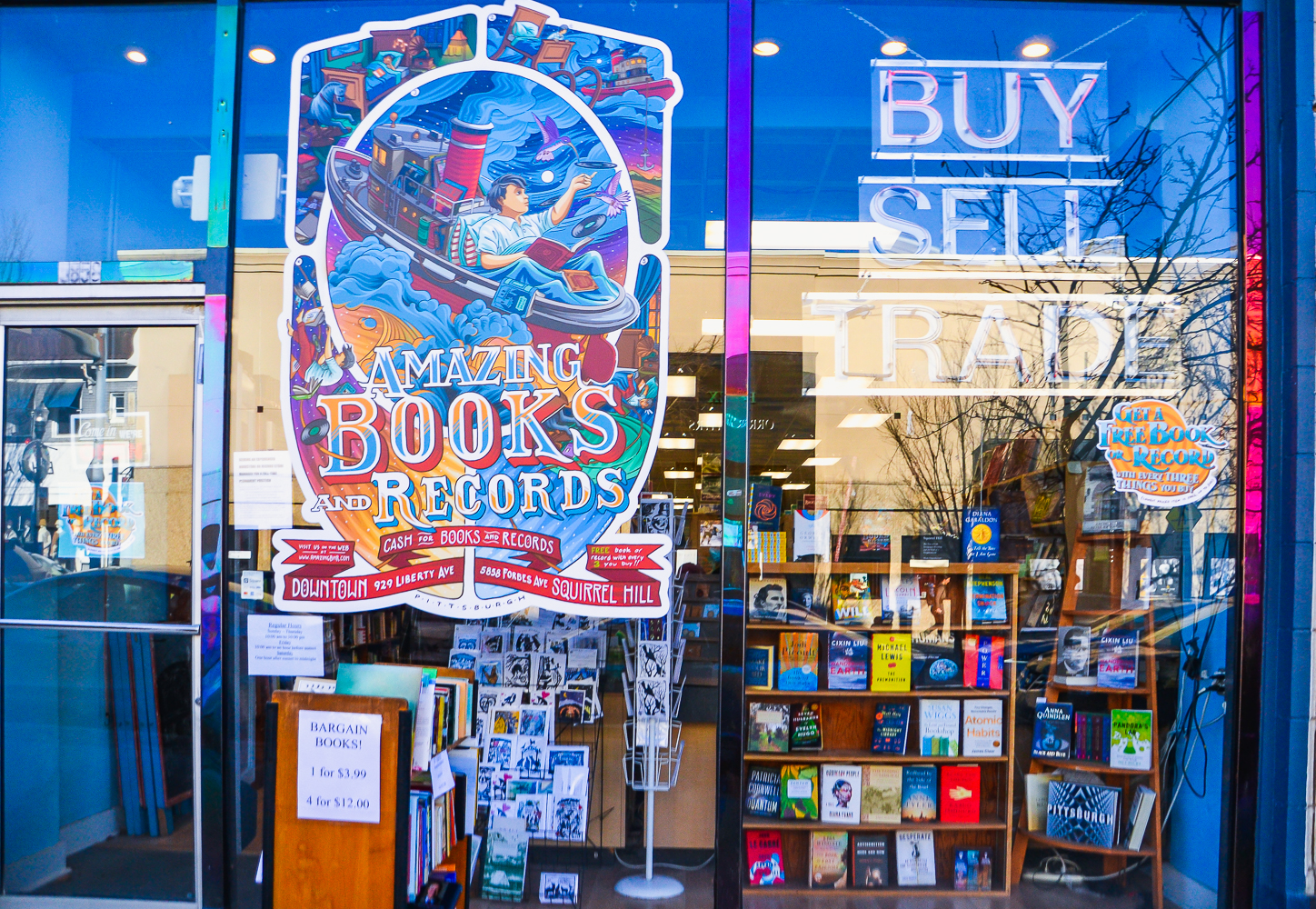 Amazing Books & Records 
5858 Forbes Avenue, Pittsburgh, PA 15217
Right in the heart of Squirrel Hill is the bookstore with the most beautiful façade, in my opinion. The floor-to-ceiling window of Amazing Books & Records has a stunning poster created by Joe Mruk. The poster perfectly encapsulates what it feels like to be engrossed in a really amazing book. But the poster is just a preface to all the amazing things inside the store. ABR houses the newest books, hot off the presses.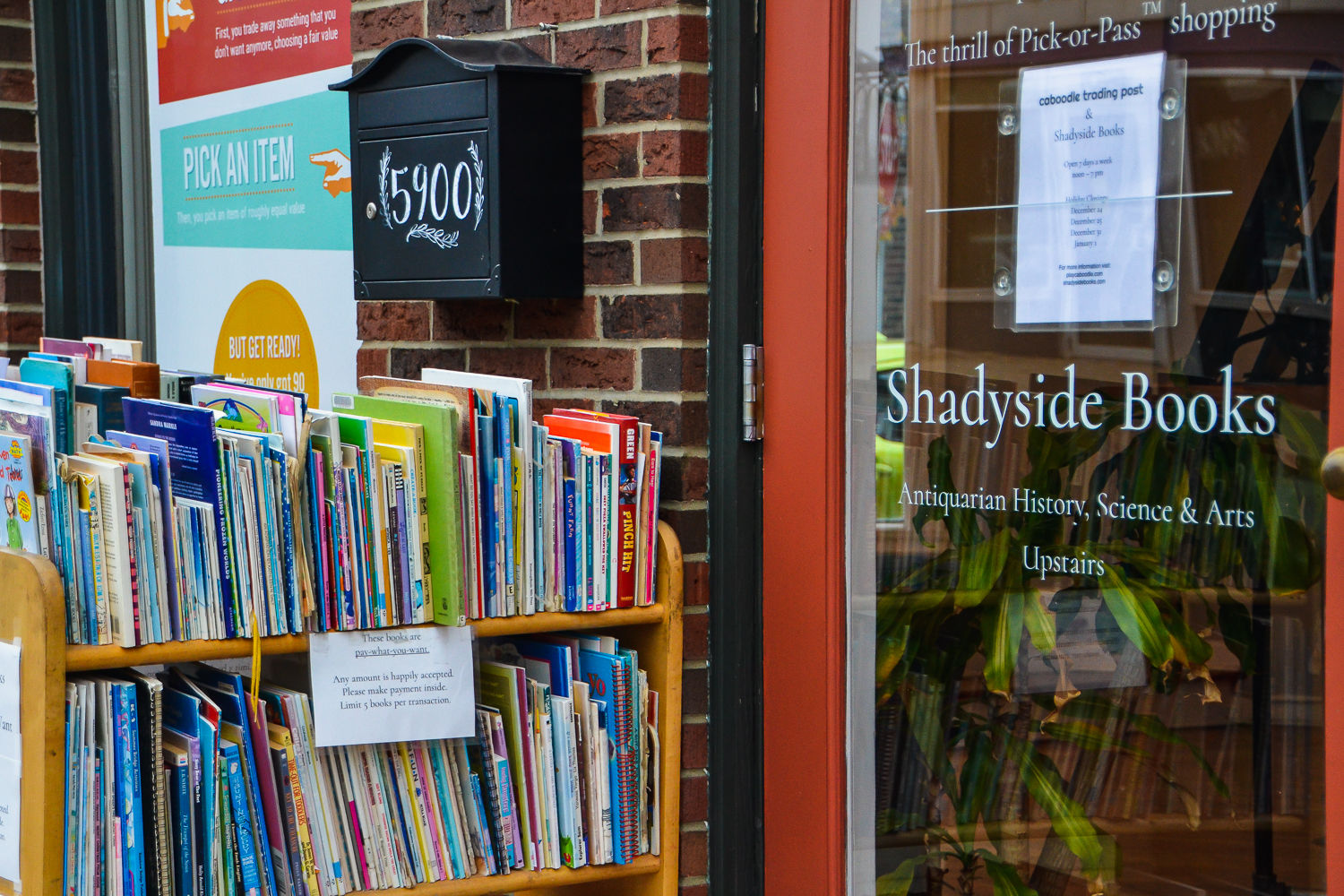 Shadyside Books
5900 Ellsworth Avenue, Pittsburgh, PA 15232
Shadyside Books, located at the end of Ellsworth Avenue, is "Pittsburgh's newest used bookstore." Outside of this adorable shop are a few carts full of books that people donate. If you bring the book inside to the shop, it's pay-what-you-want. The upstairs section is the main part of the bookstore, complete with shelves of comforting books, both new and salvaged, in a variety of languages. Downstairs, as you enter the shop, you will see numerous tablets. These tablets are part of the Caboodle Trading Post startup, and they are creating an app to make trading books and other items easier.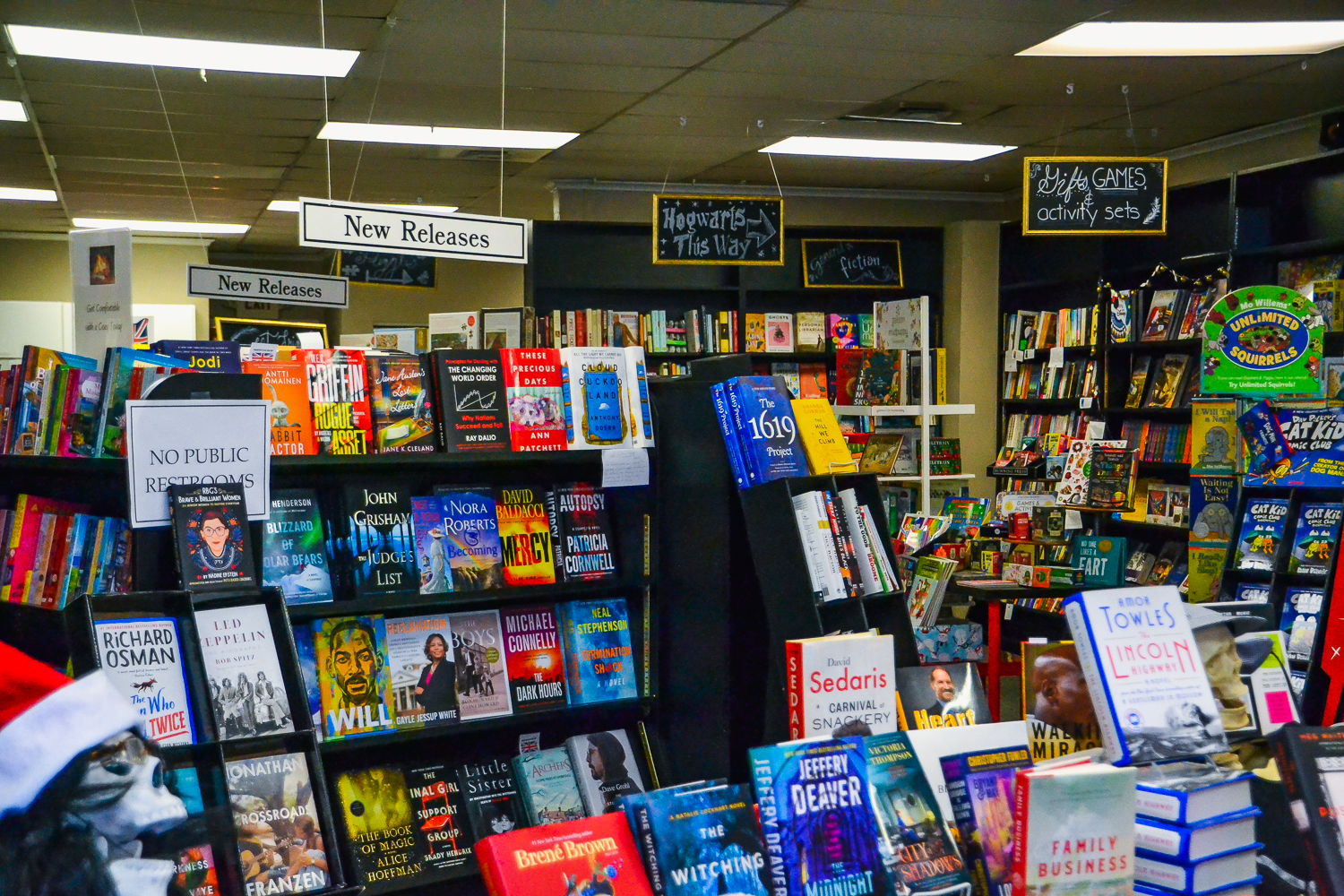 Mystery Lovers Bookshop
514 Allegheny River Boulevard, Oakmont, PA 15139
If you love a good mystery, then Mystery Lovers Bookshop is the place for you! This specialized bookshop, located in the charming neighborhood of Oakmont, is filled to the brim with mysterious novels for all ages. They host a variety of events, workshops, and book clubs that make it feel like a community.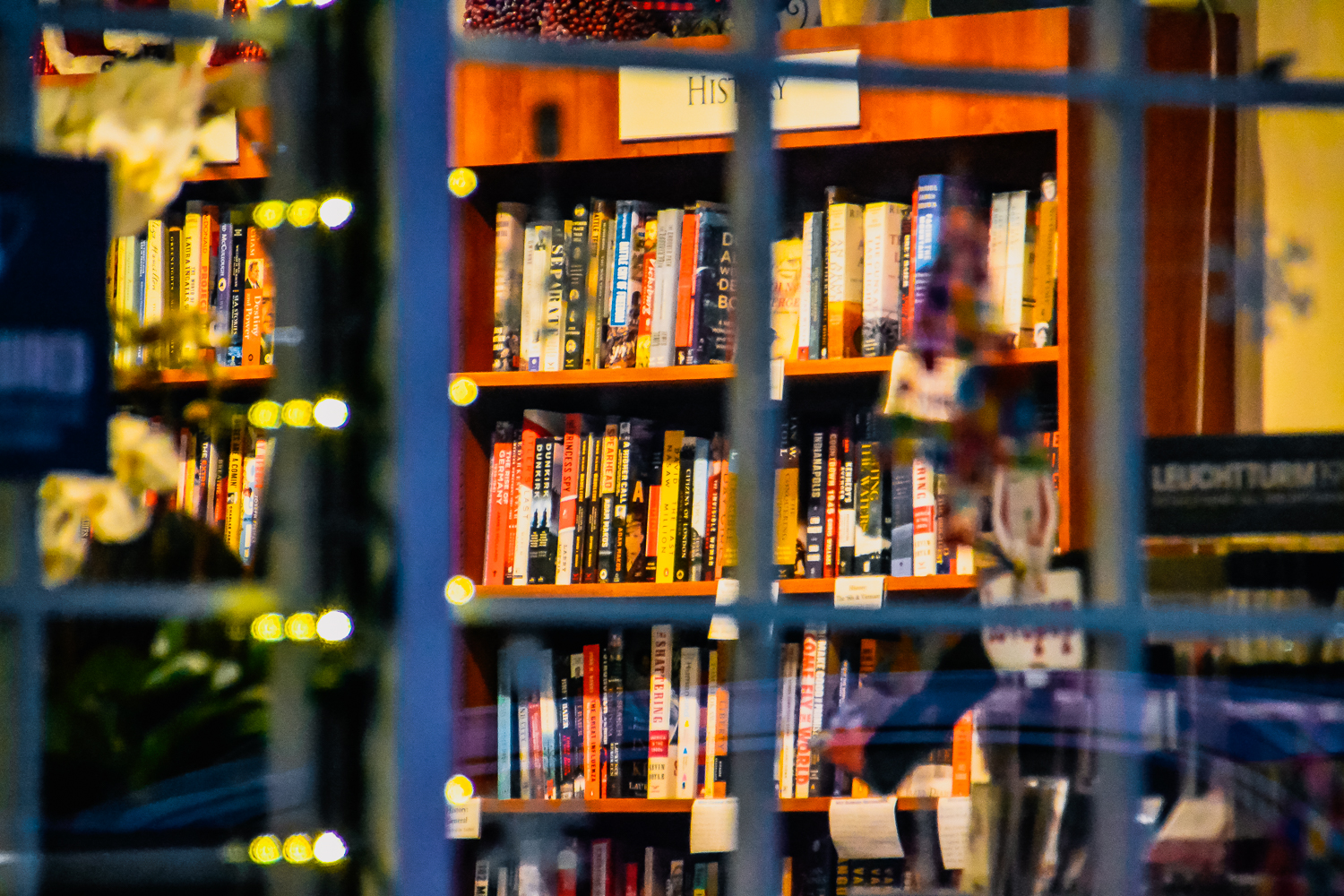 Not Pictured but Equally Notable: 
The Little Green Bookstore (258 Main St., Harmony, PA 16037)
Beyond Bedtime Books (1453 Potomac Avenue, Pittsburgh, PA 15216)
Spark Books (14 Brilliant Avenue, Aspinwall, PA 15215)