Back Where He Started
John Gallant, new to the coaching staff on the Swimming Team, was an All-American during his high school years at NA
As December approaches, North Allegheny coaches prepare for winter sports. This year, Corky Semler, who is the head coach of North Allegheny swimming, decided to add a new addition to the swim staff.
Semler was looking for additional help because two coaches did not return to coach this season. John Gallant, the new coach hired by Semler, came to North Allegheny in his sophomore year, and he graduated in 1978. During his time at NA, he was a swimmer for the North Allegheny Tigers. 
During these three years of his swimming career, he qualified in the top heat for the 100-yard butterfly at the PIAA championship meet. During his senior year, he got second place in the 100 butterfly, which also made him an All-American in that event.  He was also in the 400 freestyle relay, which earned him second place and another All-American award.
Today, Gallant is 62 years old and swims on a Masters team. He is a father of three and interacts well with kids, especially high school students.  
Coach Semler said he got the idea to ask John to coach when they were both competing at the Ohio State Senior Games. Coach Gallant said it feels surreal being back on the pool deck.
"It has been quite a long time, but in many ways, it feels like it was just yesterday I was the one getting in the pool," said Gallant.  "Many things are the same.  Same pool, same school, just the faces have changed." 
Gallant thrives on being able to show up and learn from the team and his fellow coaches. He is grateful to have been offered the opportunity, saying that accepting the job was a no-brainer and that he is excited to get to know all the kids. He is also looking forward to learning more about swimming through Coach Semler.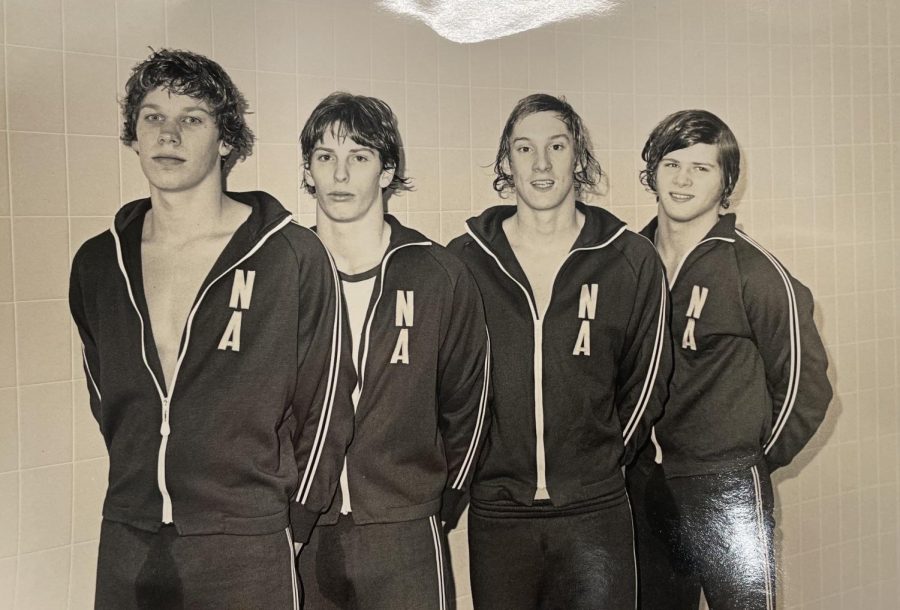 Although Gallant has been surrounded by swimming his whole life, this is his first time coaching. As a youth, Gallant considered coaching as a future career. As he got older, the idea of coaching fell behind as different opportunities came up, such as his career in corporate real estate and family. 
 Although his main focus was elsewhere, swimming always kept him hooked.
"I am a swim geek and have always kept up with the sport," said Gallant.
Gallant hopes to be able to provide aspiring athletes with the wisdom he has gained over the years.
After coaching for 36 years, Corky Semler has only positive things to say about Gallant's return to the NA pool.
"He watches and listens very well," said Semler.  "He surveys situations and proceeds slowly, which is what a 'swim geek' would do.  Coach Gallant is not impulsive and shows incredible intelligence. The whole swim team and staff are excited to work with Gallant and see how the coming season turns out."