Absolutely Smashing
What started off as a random thought over the summer has quickly turned into a full-fledged club at NASH, a place for some of the biggest Super Smash Bros. fans to socialize and, more importantly, play matches.
Despite being released over four years ago, Super Smash Bros. Ultimate (SSBU) has become one of the most widely competitive video games of all time. Now, thanks to the effort of a single junior, the competition has made its way to NASH.
The club's founder, Jason Ma, has been an avid Super Smash Bros. fan for many years, beginning with the series' third installment, Super Smash Bros. Brawl.
"I've been playing Smash for a long time," Ma stated. "But I only started playing Ultimate competitively around 2020." 
Ma elaborated on the humble beginnings that eventually led to the foundation of the club.
Originally, the club was just "a bit of a random thought over the 2022 summer," Ma explained. But inspiration came when he started going to a few tournaments at CMU and saw a few Smash Bros. clubs at other schools.
The establishment of the club was a series of highs and lows.
"Getting the club started was pretty simple on paper because all I really had to do was find a willing sponsor and then fill out a form," Ma recounted, "but it was a bit harder because I started the process a few months after the beginning of the school year. It would definitely be easier to get started earlier before everyone is already committed to other things."
Eventually, Ma would find a sponsor in the AP Calculus BC and Honors Linear Algebra teacher Mrs. Sharon Volpe. After sending out a Google Form for applications, setting up a schedule–a meeting every Tuesday from 2:15-3:45pm–and being granted a few monitors to borrow, the Super Smash Bros. Club was created.
The club's first meeting saw a small, but significant influx of students, all with varying reasons for signing up.
Sophomore Autumn Wynne, a player with two to three years of experience, stated, "I joined the club to maybe make new friends and to play offline every once in a while."
Sophomore Tommie Helkowski, a player (of the whole series) of eight years, stated, "I decided to join the club because I thought it would be fun and I honestly never thought it would pass to be a club. I've also never really met anyone who plays Super Smash Bros. except for casual players."
Ma 's approach to managing the club is casual.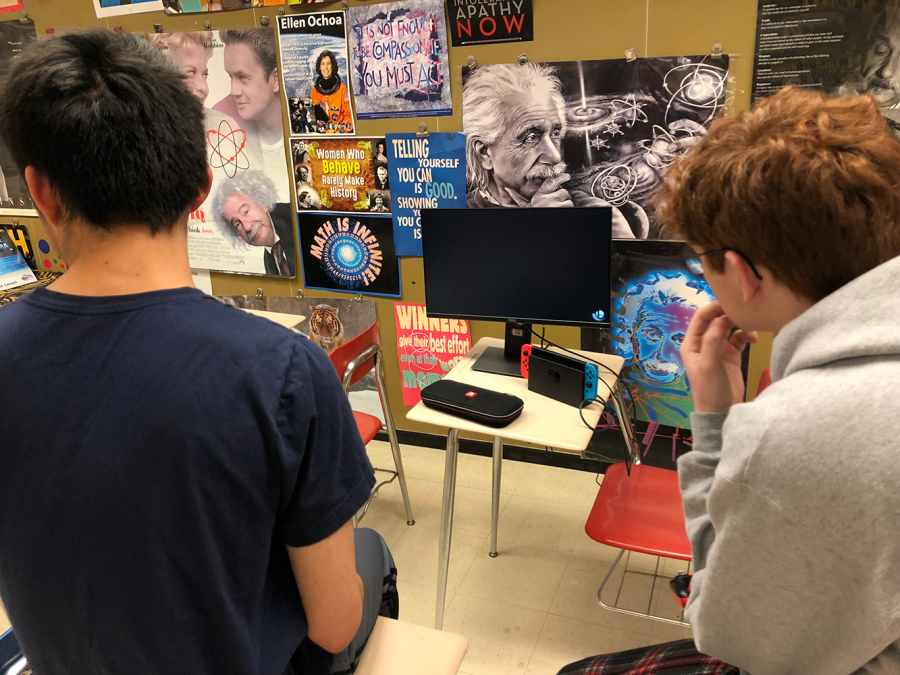 When asked about the members' expectations, Ma simply stated, "Play friendly matches, enter [the club's] tournaments if they're interested, talk about things, and hang out."
After the club's first meeting, members voiced their support for the relaxed, but enjoyable environment.
"I would love to see more of what I saw during the first meeting, which was people having fun, messing around, and making friends," Wynne said.
The success of the club's first meeting was apparent, as some members have been inspired to expand the club.
"A future idea I would like to see in the club is advertising the club because I think it would be fun to have more people," Helkowski stated.
Although designed as an environment for casual gameplay, the Super Smash Bros. Club has encouraged a few to voice a few opinions on the greater SSB competitive scene. 
"I would like to add that, being a female in the gaming world, you are treated slightly differently than guys. I don't understand that because anyone can play a video game," Helkowski stated.  "Just because I get my nails done and like to shop means I can't play?"
The future of the club seems bright, yet ambiguous, but Ma listed a possibility for where the club could go.
"As for future plans, I could see [if club members are] interested in going to the local tournaments in Pittsburgh," he said. 
The Super Smash Bros. Club meets every Tuesday in room 322 from 2:15 to 3:45. Those interested in signing up can fill out this Google Form.