NA Forensics: The Students' Success
Going strong for over 50 years, NA's Speech and Debate Team has not only earned national distinction. It has also impacted the lives of its members for the better.
The Speech and Debate Team is one of North Allegheny's longest running and most prestigious clubs, and with it comes an expansive list of successes and awards spanning over 50 years. 
The exact beginnings of the NA Forensics team are actually quite ambiguous. 
"The earliest records I have ever found were from 1967 to 1983," said NASH math teacher Sharon Volpe, who coached the team for 20 years.
However, since the NA charter was reinstated in 1992, it is impossible to determine an exact date of the team's origin. But in contrast to its popularity at NA today, the team started off very small.
Volpe recalled "competing against NA kids" when she was on the forensics team for Mercer from 1978 to 1984. At the time, the NA team only had six members. The team would become "more active in 1984, but the years went up and down with sometimes quite a few members, and some years, no students joined."
But the team roster wouldn't remain thin for much longer; a change in leadership was approaching.
"The team really jumped in membership under Ms. Fran Bogos with about 20 on the team every year," Volpe reported, "and then when I took over, we jumped pretty fast with memberships going between 130 and 185 members almost [every] year since."
Since then, the team has remained large and active with six major events, Lincoln-Douglas, Public Forum, Congressional, Extemporaneous, Original Oratory, and Interpretation. Currently, practices are held every Monday, Wednesday, and Friday, all to prepare students for upcoming tournaments.
"NA attends 'local' tournaments almost every Saturday between October and April. 'Local' is schools as far north as Erie and as far south as Peters Township," Volpe explained, "Many of our students [also] attend national-level tournaments – everywhere from Stanford to Harvard and many places in between."
Regardless of their weekend destinations, the team rarely fails to bring back impressive results.
"One of our former mottos was 'There's safety in numbers,'" Volpe stated, "As the team got larger, the level of competition went up, and it went up fast, and in all areas of competition."
This high standard of competition has led to trophy cases packed with awards.
In terms of the quantity of awards, Volpe estimated, "Thousands? Honestly, [I] could not even count this. We are one of the most competitive teams in the country, so this is pretty hard to measure."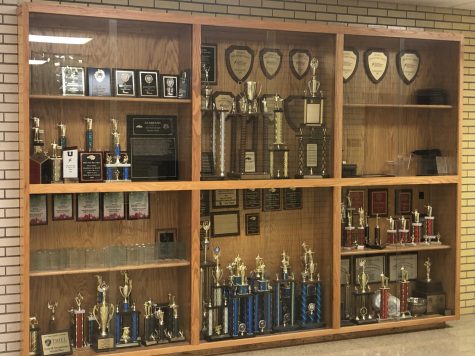 "We won the state championship in 2014, 2015, 2018 and 2021," Volpe continued. "North Allegheny has [also] attended the NSDA / NFL National Tournament 29 times since 1985. In the past ten years alone, we have taken about 150 kids to nationals. Before that, there were about 40."
In its history, the NA team has given rise to some of the most successful competitors at the national level.
"We have had quite a few students in the top ten," Volpe reported, "We have had a national champion in International Extemporaneous speaking (Stacey Chen, NA '09)). Our other top places are Katherine Zhou (NA '13) and Lily Zhang (NA '13) who finished in 2nd place both in their junior and senior years in Duo Dramatic Interpretation. Dan Boada (NA '04) finished third in Lincoln-Douglas Debate."
In addition to the standard tournaments, the team also competes in two yearly competitions: the International Public Policy Forum (IPPF) event and the one-act play competition known as Dramafest. 
According to Volpe, Dramafest "is iffy every year" for NA, due to the fact that they "use an entirely student-produced and directed performance," while other schools "who attend use their fall play." 
Ultimately however, it isn't the victories that Volpe remains the most proud of. It's how the team has shaped its students to improve themselves and hone their passions. 
"I'm most proud when teachers come to me to say, 'Hey, one of 'your' kids brought this up in class today,'" Volpe said. "I love when teachers can tell which kids are on the team because they are adding so much to the classroom discussion. I love when a kid who is shy or has an impediment with their speech or is just a pain in every teachers' backside comes out later and says 'I am better because of this activity.'"