The Billy Mitchell Saga Continues
After suffering defeat after defeat in his legal battles, the former Pac-Man and Donkey Kong world record holder seems to be on the road to disaster.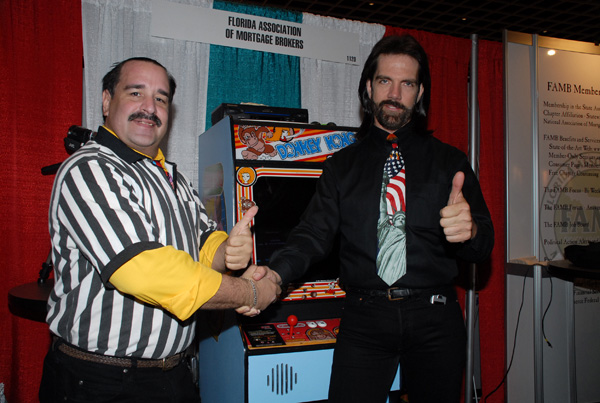 As time goes on, the reputation and popularity of a celebrity can waver between the highs and lows. But very rarely can someone's image plummet to such an extreme level that they actually end up worse than they started. Unfortunately, for Billy Mitchell, his saga appears to be ending in that exact fashion. 
Since the former Pac-Man and Donkey Kong world record holder filed his third lawsuit against YouTuber Karl Jobst on November 5, 2022, Mitchell has only suffered defeat after defeat. 
Throughout his years of Donkey Kong high-score competitions, Mitchell had only ever provided videotapes of his gameplay. No footage or image of him actually playing the game had ever been released until January of 2023.

The photos were released on January 10th by both Pac-Man world record holder David Race and ersatz cats, who has been gathering evidence against Billy Mitchell ever since the initial dispute over the authenticity of his Donkey Kong scores began. These images would be further publicized to a wider audience by Jobst on January 29th. 
As reported by both Jobst and an article written by Ars Technica writer Kyle Orland, the pictures depict Mitchell on the day he supposedly achieved one of his high scores of 1,050,200. However, the joystick he used for that score was not an original, unmodified stick. Using such a joystick was banned under the ruleset of Twin Galaxies–the main authority for keeping track of high scores at the time of the alleged world record.
If these accusations of the modified joystick are true, which is definitely what the photos suggest, Mitchell would stand very little chance of victory in any of his lawsuits, which rely on the argument that Mitchell achieved his high scores legitimately and honestly. But this joystick revelation would destroy not only his trustworthiness but also his chance of winning in court.
Mitchell's situation would somehow worsen even further, as one of his lawsuits was about to be outright dismissed.
Back in 2021, Mitchell sued Race–the same person who released the photos that led to the joystick revelation–for recording and releasing a phone call between him and Mitchell. This phone call–containing evidence of an alleged plan by Mitchell to create a fake Donkey Kong high score–was supposed to be used as evidence to support Twin Galaxies in their current legal battles with Mitchell.
However, unfortunately for Mitchell, Race had originally recorded the phone call in Ohio–a single party consent state–meaning he was not at all obligated to gain Mitchell's consent before recording. It was under these very grounds that the Fourth District Court of Appeal in Florida dismissed the case on March 8, 2023.
The court stated, "It is significant that the conduct that offends the Florida Plaintiff—the recording of phone calls without his consent—is not illegal in Ohio, where the calls were recorded. The recording of the calls is not malum in se, a wrong or evil in itself that is prohibited everywhere."
These losses only seem to be the beginning of a long series of downfalls for Mitchell. Lawsuits can be very costly for both parties, but they will be much more costly for Mitchell if he continues to lose. Considering how overwhelmingly striking the evidence against Mitchell is, his chances of victory seem to be shrinking as time goes on.
But despite having all the odds stacked against him, Mitchell still refuses to back down. As reported by Jobst, Mitchell has attempted to take the case against Race to the Supreme Court. 
However, what Mitchell is seemingly failing to realize are the ramifications of his losses. As predicted by Jobst, Race is now in a very strong position to "file a motion for attorneys fees," which would not only be a great financial loss, but also a sign of what's to come. 
If Mitchell's train of losses continues, the bill for all the damages will come crashing down on him. The gaming community continues to hold its breath, wondering just how much longer Mitchell can stay afloat.