TuneWarp: Savage Messiah
The Metal Band Bound For Glory
Hang on for a minute...we're trying to find some more stories you might like.
In 2007 a metal band was born in the United Kingdom. 11 years later, that band has broken from the pit of the underground scene and has begun to make huge waves on the surface. Their most recent album was loved by fans and influential bands, such as the members of Metallica, all around the world and they are currently headlining their own tour.
So who is this band? If you haven't heard of them yet, you most certainly will very soon.  Savage Messiah is rising to the top of the Metal scene and they are rising fast.
I have been a huge fan of this group since they were still causing rumblings in the underground. Although Insurrection Rising was not my favorite album, the band's sophomore and junior releases completely were unlike anything I had ever heard. With Plague of Conscience, the boys of Savage Messiah sprouted into adulthood and had really found their groove.
One of the most notable differences was the change in drummer, inviting Andrea Gorio into the band in 2012, which was one of the greatest decisions the band could've made. Gorio is a fantastic drummer, really setting the groove and easily adjusting to tempo changes and tough rhythms. His fills are crisp and perfectly implemented, not to mention his utilization of the entire kit will blow you away.
Speaking of blowing you away, Mira Slama, the band's current bassist, will do just that. The man knows how to set into a riff like a seasoned bassist, but he also has an incredible shredding ability. (We follow each other on Instagram, by the way, so we're basically best friends).
The lead singer and guitarist, Dave Silver, made strides in his playing and especially his vocal ability from 2007-2012, and he is still killing it to this day. I can honestly tell you there are few voices like Dave Silver in the game today, as his ability to attack the mic and wail his head off are incredibly impressive and really get the blood flowing in your veins. Both Silver and the other current guitarist, Sam S. Junior, have incredible soloing abilities and they are everpresent on the band's albums.
Let's talk about that for a second: solos. There is nothing wrong with not soloing; there are plenty of metal bands that don't. It is particularly popular in sludge and metalcore to stick to heavy riffs and breakdowns instead of a solo, but it gets old hearing every band on the scene following this formula for headbangers. However, Savage Messiah has changed the game by bringing old school heavy metal and thrash back with a brand new twist. They write heavy riffs that melt your face off, shred like it's nobody's business, and bring a raw power in their main riffs and hypnotic breakdowns that is so refreshing. There is an intensity and grit in their music that is truly unparalleled in Metal today, and it is practically impossible to stop yourself from headbanging to Savage Messiah's songs.
The Fateful Dark really took the scene by storm and got Savage Messiah going. Off their success and positive reviews, they had the opportunity to tour with huge names like Testament and Cradle of Filth. Since then, the band has released, arguably, their best album yet: Hands of Fate.
I was completely floored by the band's performance on their latest album. They noted they were going to change their style a little bit and draw from some other influences to produce a sound that would hypnotize the fanbase and the rest of the world. I was unprepared for how incredible the album would be, and my expectations were shattered. Savage Messiah can and do write some of the heaviest and insane riffs I've ever heard and then kill a solo that makes your eyes roll back and leaves you wanting more. Dave's voice is immaculate and the band's backing vocals, riffs, and overall tone behind him make up the perfect combination for a platinum album.
This progressive act is nothing but exceptional and they are rising to the top extremely fast. Spotify has been putting Savage Messiah in the spotlight and with bands like Metallica taking notice of the talent that oozes out of the group, it's only a matter of time before they blow up. They have a style and an attitude that is classic and unique and I cannot give a more glowing recommendation for Savage Messiah. My neck has been sore many-a-time after a night of listening to this group, but my mind never ceases to spasm at the ability of musicianship of these young guns from the UK.
Check out Savage Messiah on Spotify, iTunes, YouTube, and other platforms to experience the band that will take the Metal scene by brute force. There are simply too many songs to recommend, but just to get you started, take a listen to "Minority of One", "Plague of Conscience", "Six Feet Under the Gun", "Scavengers of Mercy", "Solar Corona", and "The Accuser". Also, check out the video below of the single "Wing and a Prayer" from the new album Hands of Fate!
Stay tuned for more rock and metal news, as well as all current music events right here on The Uproar's one and only music column- TuneWarp.
About the Writer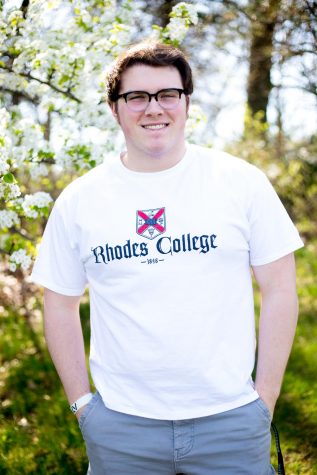 Davis Creach, Arts Editor
Davis is a senior at NASH. The sweet venom of poetry flows through his veins as a substitute for blood, because all the blood is located in his cephalic...