MJ Joins The MB
The Marching Band celebrates the legacy of the King of Pop
If you've been to a Friday night football game this season, you know that the King of Pop lives on. The Marching Band's halftime performance consists entirely of Michael Jackson's hits, and the reviews have been stellar.
"We had a staff meeting early last spring and brought a number of ideas to the table," Band Director Todd Stefan said. "It's always very cool how these things are born."
But Stefan was not an easy sell.
"I have never been a huge Michael Jackson fan, although I do like the Jackson Five stuff," he added. "One of our staff members brought up a Michael Jackson theme, and at first, I didn't like the thought, as I didn't want to play 'Thriller' and any of those other over-played MJ tunes."
However, Stefan soon warmed up to the idea.
"When one of the staff members suggested opening with 'I Want You Back/ABC,' I became instantly interested," he said. "I added that my favorite Michael Jackson tune is 'Don't Stop 'Til You Get Enough,' so we added that as our production number. 'Smooth Criminal' is also a pretty sweet tune and works well as the percussion feature. Then we decided we had to end with 'Man In The Mirror' and include the epic key change."
While the halftime show's theme is a first for NA, it has been done by other high school marching bands across the country.
"Many bands have done a Michael Jackson show for sure," Stefan added, "but many of them stick to 'Thriller' and other tunes from that era of Jackson's career.  Our Michael Jackson charts were arranged specifically for us."
At the recent Allegheny Valley Band Festival, held at Newman Stadium, the North Hills Marching Band played "I Want You Back," but the NA Band remained confident in its own take on the famous number.
"It's good music, and North Hills also has a great band program," Stefan said. "I am good friends with their director, and I know he always picks great music for his band as well. However, I do know that their arrangement of 'I Want You Back' was not the same as our's."
Stefan and his group of roughly 300 strong, including instrumentalists and auxiliaries, continue to make their mark on halftime audiences.  And with the football team looking poised to continue well into the post-season, spectators can expect to keep to the beat of the some of the most successful pop music in history.
"The band is doing a fantastic job," Stefan said. "At first glance, the music seems easy, but as you look more closely and really get into rehearsing it, you see how difficult the material really is.  It's very challenging from a rhythmic standpoint and very difficult to play outside, spread across a football field."
About the Writer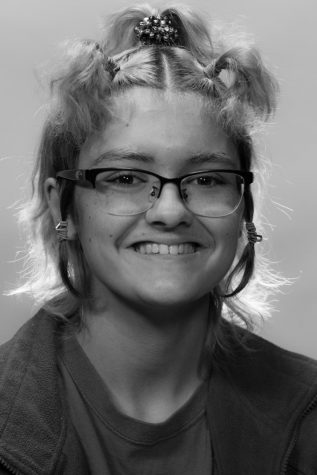 Carissa Ackison, Reporter
Carissa Ackison is a junior at NASH. She is a banner carrier for the school's marching band and carries it with pride. In her free time, she enjoys drawing, making comics, and listening to the band sing their pieces.