NA Grad Funds New Scholarship
This alumnus's contribution is the largest in NA Foundation history
Hang on for a minute...we're trying to find some more stories you might like.
With the price of college outpacing inflation, many students are realizing that it's more important than ever before to secure grants and scholarships.  The challenge has not been overlooked by the North Allegheny Foundation.  Last month, NA alumnus Dave Robbins, in partnership with the Foundation, pledged $50,000 to fund a new scholarship for NA seniors.
This scholarship awards $5,000 to one or two academically motivated students who are deterred by tuition costs and who will enroll at Westminster College.
The scholarship will be offered through the North Allegheny Foundation, which offers a total of about $20,000 in scholarships per year for students excelling in areas including academics, leadership, arts, music, and sports. The Foundation also raises about $100,000 per year in the form of grants for NA schools.
Robbins' contribution was the largest the Foundation has ever received to date.
"We were very surprised," Foundation Director Abigayle Tobia said. "We were just a couple thousand dollars short of our funds for the year, and [Mr. Robbins] pledged the money that helps us reach our goal."
Robbins currently resides in California. He attended Westminster College after graduating from NA in 1978. He has worked in management for Fortune 500 companies such as Progressive Insurance, and his current focus is on private venture-backed technology companies.
When asked if he considers NA and Westminster factors in his success, Robbins replied, "There's no question about it. The nature of [North Allegheny] gives you the opportunity to compete, and in competition you learn what you're strong and weak at, so I think that was very helpful."
In regards to Westminster, Robbins cited the small class size and personalized instruction as helpful factors.
In a recent phone interview, Robbins thoughtfully recounted his time at North Allegheny and Westminster, and decided that he wanted to give back. "The NA Foundation gave me a vehicle to engage in two institutions that I think helped me along," the alum said, "and hopefully [the scholarship] can encourage other students to do the same thing."
About the Writer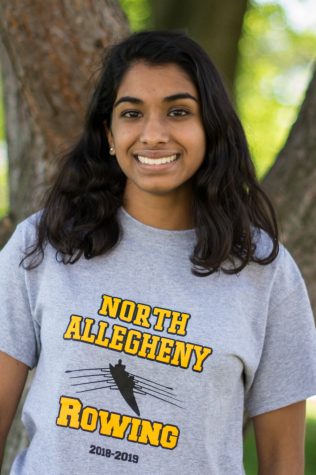 Anjana Suresh, Junior Class Co-Editor
Anjana Suresh is a junior at NASH. Originally from Michigan, she moved to Pittsburgh in 2014. She is a part of the NA Rowing team and has been involved...