Spread the Word
Poet Kelly Forsythe returns to her alma mater to share her passion
Hang on for a minute...we're trying to find some more stories you might like.
Last Friday marked the return of former North Allegheny student, now well-known poet, Kelly Forsythe. Fresh off the release of her book Perennial in August, she took the time to return to her former school and visit the next generation of NA poets, discussing life, inspiration, and what it truly means to be a poet.
Forsythe, a 2005 graduate, discovered poetry in Mr. Caruso's classroom. Before that, she states she had never read any poetry other than Dickens and Shakespeare. As she explained to the current Poetry class last Friday, it was in that classroom she discovered her love of poetry and, after reading a poem by Billy Collins, she knew she had found her calling.
She began her first book of poetry, Perennial, seven years ago while teaching in a graduate program at Pitt. She was reading student creative work, but as one student began to submit darker and more violent work, the feeling of being so unsafe took her back to the last time she had felt that way — the Columbine school shooting.
Columbine marked the beginning of many of the school safety measures across the nation, but while Forsythe was in high school, "school shooting" was not a part of her vocabulary.
"I remember seeing the faces of the shooters and the victims and not feeling like there was that much difference," she said. "The way I looked around me had changed.  My idea of safety had changed."
That was the inspiration for Perennial, a collection of poetry centered around the violent tragedy that was the Columbine school shooting.
Through the seven years following, Forsythe read over the Columbine Documents, over 20,000 in total, as well as psychology journals to analyze the relationship between the two shooters.
The book was purchased by Mr. Caruso's poetry class for analysis, and Forsythe's lecture combined over thirty students and teachers in the NASH Library as she read selections from her work aloud.
"I think that is inspiring," senior Peyton Dempsey said. "I would love to have my own poetry book one day."
For Caruso, seeing how far Forsythe's talent has taken her since her years at NASH was especially gratifying.
"What is remarkable for me is the realization I had when reading this collection," he said. "I wasn't reading the words of Kelly Forsythe, seventeen year old high school student, but Kelly Forsythe, woman in the world."
As for Forsythe, she left with some parting words of advice, a reminder of why poetry is important right now.
"Poetry is a way for for people to express the emotions they can't express," she explained to the group. "I think it is really difficult for us to be living in this country right now and not being able to share our perspective. Those differences are important and I think poetry is a means of expressing that. As long as someone is moved by what you are writing, that's all that matters."
Perennial can be purchased on Amazon or on her website for $16.
About the Writer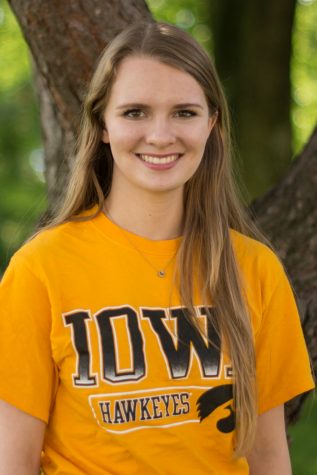 Rin Swann, Reporter
Rin Swann is a senior at NASH and, in her spare time, she enjoys drinking Peach Snapple, musical theater, and plotting for her inevitable take-over of...