Clocked Out
Friday's football game between WA and NA is inconsequential, unless someone gets injured
Hang on for a minute...we're trying to find some more stories you might like.
There's controversy afoot in WPIAL football.
North Allegheny Head Coach Art Walker and West Allegheny Head Coach Bob Palko had agreed to make this Friday's clock run the entire game. Essentially, it meant that no matter what happens, even if a player were to go out of bounds, the clock would continue running at all times. It would shorten the game by at least an hour, which they thought would be fine.  After all, the game will not alter either team's post-season chances.
The ensuing outrage came not from the players but from the local media. The Tribune Review, Pittsburgh Post-Gazette, and other local outlets voiced their dissatisfaction.
105.7 FM's Mark Madden detailed on Twitter why he was outraged: "If it is so useless, then just don't play the game. It's disappointing that Palko and Walker would do something like this when teams like Upper St Clair and Mt Lebo face off and give their all."
In addition, many fans complained that it's unfair to allow two teams to play to a running clock while other teams play under normal conditions. Some even called for the PIAA to intervene. It seemed, at least from my perspective, that North Allegheny in particular was receiving most of the criticism with very little heaped on West Allegheny.
As such, Walker and Palko decided to change their agreement and instead make this Friday's matchup a normal game, where the rules of the clock will stand for the duration. However, the coaches' decision to forgo the running clock has been met with mixed reactions.
Where the decision is really being felt is in both locker rooms. There is clear frustration over the decision to reverse the agreement.
"
"Put this game Week 1. Yeah, let's play. This does nobody any good. None.""
— Coach Bob Palko, West Allegheny
"West Allegheny played a non-conference game last year and lost three players for the whole year," NA JV Coach Nate Tengowski said. "It's a completely meaningless game. Both teams are battling for a conference title and the non-conference implications of it are worthless."
The situation seems to be fraught with disappointment, especially as the game comes at a time when both teams will be playing for conference championships.  West Allegheny, a 5A team, is not in NA's 6A conference.
"The plan was to make the game quick, because we both have important games next week," center and defensive lineman Paolo Bochicchio noted. "But we aren't doing it anymore. It doesn't make sense why we aren't. Someone could get hurt." 
Highly touted offensive tackle prospect Jake Lugg said that he would be angry if one of WA's or NA's starters happen to get injured before their battles against Moon Township and Pine-Richland, respectively.
Even quarterback Gunnar Fisher called the game useless, which seems to be a common theme.
It's therefore not clear whether fans will see a very competitive game this Friday, as both teams clearly have their next game in mind. West Allegheny has not forgotten that last year they lost three of their players for the season, so precaution on the part of the coaching staffs appears to make sense.
"Put this game Week 1. Yeah, let's play," Coach Palko told the local media. "This does nobody any good. None."
However, it's now clear that Coach Palko and Coach Walker would rather avoid the media drama and play the game. Yet when the coaches and players aren't happy that a virtually meaningless inter-class game was scheduled so late that an injury could jeopardize the teams' post-seasons, the only conclusion is that the WPIAL has sanctioned a farce.
About the Contributors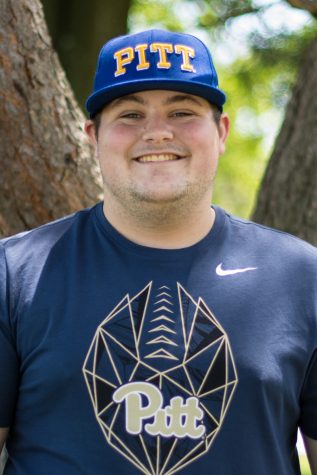 Nick Farabaugh, Sports Editor
Nick Farabaugh is a senior at NASH and the sports editor for The Uproar. Nick is a writer for SB Nation's Behind the Steel Curtain and is a WPXI Skylights...