Cornell on Court
Ashley Huang wraps up a decorated high school career and prepares for the next chapter
Hang on for a minute...we're trying to find some more stories you might like.
As last year's Girls' Tennis PIAA champion and this year's sectional, WPIAL, and possible repeat state champ, Ashley Huang has exceeded practically every expectation one could have for a high school athlete.
However, not only has Huang established herself as an elite high school athlete, she has recently committed to play Division One tennis at Cornell next fall.
Athletic success in this capacity obviously does not come about overnight. Huang's success is the product of years of passion, sweat, and dedication.
"This process started in the beginning of freshmen year," Huang said in a recent interview. "I had to train every single day of every week, while maintaining straight A's, and do well at every tournament in order to keep or improve my rankings so coaches would be interested. It was a long, hard, and stressful process, especially during my junior year and the summer before senior year."
Yet for all of her hard work up to this point, Huang knows that the college court will present an even tougher challenge.
"To me, making it and doing well in college is much harder than making it in high school," she said. "I hope to do well in college, as I've done pretty well in high school tennis.  I've always loved playing high school because of the team aspect and that's one of the huge reasons why I want to play tennis in college as well."
To be recruited by a Division One school is no easy feat, but at an Ivy League school a recruit's academics have to also be exceptional.
"I would say I work really hard, because balancing schoolwork while maintaining a high level of play of tennis is really hard, especially when there is pressure for you to perform 100% in both areas," Huang said.
As Huang heads back from Hershey this weekend after barely missing her second straight state title, she knows that moving on from high school tennis will be bittersweet,
"I will miss every aspect of NA tennis," she said. "I will miss most the people that I have been so grateful to be with and, of course, playing matches alongside my friends and winning titles with my team. I've made many friends playing high school tennis and this helped me open my eyes and see how a team works with each other.  I'm glad that I have had the chance to experience this for all four years of high school, and it is something that I will remember."
But life as a college athlete will have its advantages.
"I am most looking forward to the matches, being able to practice together with the team, and lastly, the clothes they give you!" Huang said.
About the Writer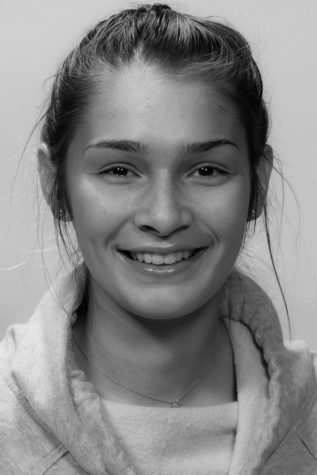 Ella Sinciline, Reporter
Ella Sinciline is a junior at NASH.  Ella is a starter on the Girls' Varsity Tennis Team. In her free time, she loves to write and go on adventures downtown.