The Trouble With Trust
I know what I'm talking about, trust me...
Hang on for a minute...we're trying to find some more stories you might like.
In a school of 1300+ kids, gossip travels fast. How often have you found yourself in this situation?
Person 1: I have a huge secret and I wanna tell someone, but I don't know who to trust.
Person 2: Oh, you can trust me! I never tell secrets. I'm very trustworthy!
Person 1: Well, okay, if you insist. [Insert juicy gossip], but you have to promise not to tell anyone.
Person 2: I promise!
*5 minutes later*
Person 2: OMG Becky, do I have some tea for you!
We have to realize that no matter how many times someone tells you they will not tell your secret, they probably will. Now, that's not to say that they won't try to keep it a secret. In my experience, people normally hold on to their secrets for a good minute and a half, but ultimately, your secret won't be so secret any longer.
I think there are many key factors that make people so keen on spilling secrets, the biggest one being the internet. I know, I know — I sound like your mom, saying, "That darn internet is ruining everything!" But in this case, I agree. These days it is so easy to hide behind a username and spill secrets and tell lies about whatever our little black hearts desire. All we have to do is log on to a website or social media platform and spill as many secrets as we want and be safe behind our fake usernames.
"
These days it is so easy to hide behind a username and spill secrets and tell lies about whatever our little black hearts desire."
A couple years ago, there was an Instagram page called @na_confessionss, which allowed you to DM them secrets (whether they were your own or others) and they would post them on their page. It was a big craze for a couple of weeks — a local place where the NA community could learn all their peers secrets and spread the gossip. This page made people on edge and untrustworthy. I must admit that I did send a secret or two of my own to this page, but I was constantly worried that I would log on and see one of the secrets that I didn't share show up.
I believe that the next issue is with the adults in our lives. Our teachers and administrators all claim that they trust us and treat us as adults, but when was the last time you tried to search Cool Math Games up on your computer and a screen popped up saying it was restricted? Or you needed to find a picture of something for a school assignment and could only find photos that had no relation whatsoever to the original search?
You see, the people we are supposed to model ourselves after are lying to us saying that they trust us. If they did trust us, then they wouldn't put all of these blocks on websites. I understand that some are necessary.  But really, no Papa's Bakeria? Blocking these sites forces us to become untrustworthy and download VPNs and turn into professional hackers to simply obtain an image we need.
With parents, it's a more personal matter. Our parents say they trust us and treat us like adults, but then put time limits on our phones. I had to have this very argument with my parents when the new iOS update allowed parents to put a time limit on their kids phones. It is incredibly frustrating when you want to be trusted, but the people you are trying to prove yourself to won't give you a chance. Parents will say they'll trust you when you prove yourself, but then they never give you a chance to prove yourself. This behavior again forces us to go behind our parents' backs to get what we need.
The final factor to what makes our generation untrustworthy is a problem that we have been facing for years: the waterfall effect. No one really wants to start a rumor and everyone wants to stay trustworthy, but there is always that nagging sensation you get as soon as you hear a secret. You think to yourself, "Well, if I just tell one person it doesn't count."
It does. Big time. That one person that you tell may end up telling three people or someone could overhear and then before you know it, the secret becomes public knowledge. As they say, hindsight is 20/20.
I am going to leave you with a riddle: What takes years to build but only seconds to break? Trust.
About the Writer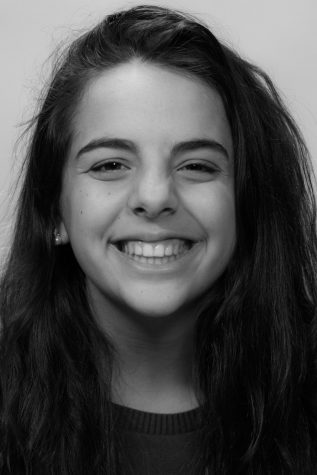 Maria Cima, Reporter
Maria Cima is a junior at North Allegheny who enjoys performing in or watching musicals. She loves horror movies (but not the night after watching them)...