Vaporized
How Juul got the "smoke free" generation hooked on nicotine
Hang on for a minute...we're trying to find some more stories you might like.
"Smoking cigarettes is disgusting" — a phrase commonly heard in conversation, especially within the halls of NASH, among teenagers who are either late millennials or early generation Z.  In that sense, the hours that current teenagers have spent sitting in health classes, where teachers present them with endless charts of blackened lungs and yellowed teeth, were successful.
However, no health teacher could have predicted what was to come: an entirely new category of nicotine product, the Juul.
Juul was founded by two former smokers who appear to have begun their business with good intentions. Within their mission statement, the company claims that Juul was founded "with the goal of improving the lives of the world's one billion adult smokers." Key word: Adult.
Juul claims that their company was founded so that they could provide cigarette smokers with means to quit smoking in a "better" way. However, when I questioned students at NASH about whom they thought Juul was intended for, many believed that Juul was made for teenagers and were genuinely confused when I read them Juul's mission statement. Why, I thought, do teens believe that they are Juul's target audience when the company claims otherwise?
"
Juul is quick to refute that they ever targeted a teenage market. But how could they not have known? "
Over time and with rapid growth, Juul's good intentions appear to have faded. The vaping product debuted on the market in 2016, growing by 800% by July of 2017. This surge, though, was fueled by a teenage market, with kids and their friends passing Juuls around at parties and getting each other addicted. Could Juul have stopped this?
First, there are many obvious reasons that Juul appeals to a younger audience. Not only do they offer sweet flavors like "Mango" and "Mint," which are some of Juul's best sellers, but their product has a compact presentation that is easy to conceal from adults.
I asked students at NASH who admitted they cannot go a day without Juuling for some perspective on what appealed to them about the habit. One person stated, "I think Juul is appealing because it's easy to hide." Another student said, "In a cigarette you taste the tobacco, and in a Juul you taste mango, fruit, or mint." The same student added, "It leaves a pleasant odor. It smells like perfume."
This appears to be the perfect device for smokers stepping down who face the scrutiny of public opinion constantly; unfortunately, this also sounds like the perfect device for a teenager trying to hide a substance from their parent or teacher. It is small, tastes good, and leaves an appealing scent rather than a distinguishable tobacco odor. I do empathize with those who are genuinely attempting to step away from any form of addiction, but I also believe that mass production of fruity flavors and rainbow skins displays a clear target audience.
Juul is quick to refute that they ever targeted a teenage market. But how could they not have known? Teenagers post on social media with their Juuls constantly, broadcasted within videos, memes, and photos.  Juul even previously advertised its product in a series of campaigns featuring young people and bright colors. The advertisement came under quick scrutiny for the promotion of Juul as a lifestyle product and for using models who looked like teenagers, despite their being all over 18. Instead of taking out popular flavors among teens, though, the company added sweet flavors like "Creme" and "Cucumber." It also advertised colorful skins to personalize your Juul.
It's obvious that Juul's executives understood at least in a basic way who they were selling to. Whether they discussed it or not, they continued products that evidently appealed to teenagers.
This brings me to the big question — so what? If Juul is tobacco free, then what is the problem with a nicotine addiction?
Dependence of any kind alters a person's life and binds them to an invisible contract; besides that, though, there are a multitude of reasons why catering to a teenage audience is irresponsible.
While questioning students at NASH, I heard a multitude of reasons why students haven't kicked their Juuling habits. "The buzz I get makes me feel like my problems are being solved," said one anonymous student. A different student stated, "I Juul because I am sad and depressed," and another mentioned, "I am unaware of any side effects."
Teenagers are a vulnerable audience because nicotine affects the prefrontal cortex, where decision-making skills are developed. Impairing this development not only limits teenagers' abilities to think clearly at a crucial point in their lives, but it ultimately makes them less likely to quit the products that they are addicted to — benefiting the seller. Nicotine addiction inhibits academic and athletic performance, as it is linked to a loss of focus and to less motivation, and affects kids' ability to both work through problems and gain valuable character-building skills. If teenagers have access to a quick release of stress, they will never learn how to resolve problems instead of setting them aside.
Juul's demographic switched early on from ex-smokers to susceptible teens, and Juul did not take any evident steps to reverse this pattern — that is, until September, when the FDA cracked down on them. The FDA issued warrant letters to various popular vaping brads in September, forcing Juul to cease the sale of its fruity flavors in stores. They also claim to have implemented more security online when customers are purchasing products. However, a lot of damage has already been done.
In the past years Juul has built their worth up to 15 billion dollars, and they could not have done it without their "accidental" teenage audience. To all of the kids who believe that Juul is on their side, they are not.
About the Writer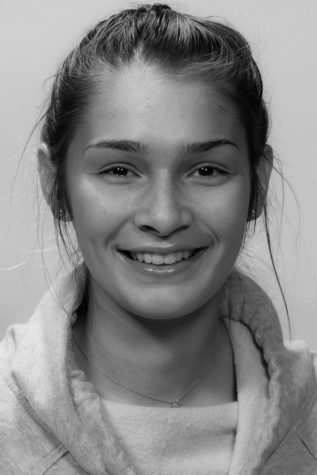 Ella Sinciline, Reporter
Ella Sinciline is a junior at NASH.  Ella is a starter on the Girls' Varsity Tennis Team. In her free time, she loves to write and go on adventures downtown.