A Suspenseful Sit
A review of The Woman in the Window, a book by A.J. Finn
Hang on for a minute...we're trying to find some more stories you might like.
If you are a fan of thrillers and are looking for a book that has a crazy, unpredictable outcome, look no further. The Women in the Window, written by A.J. Finn, is the book for you. Also known as "the hottest new release thriller of 2018" and number 1 on the New York Times and Sunday Times best-sellers in 2018, it is well written to say the very least.
Though this book might look moderately lengthy, it is an extremely fast read and quite the page-turner. Stephen King, a rather popular horror and suspense author, said, "One of those rare books that really is unputdownable…delightful and chilling."
The book is written from the perspective of a continuously drunk and medicated women, Anna Fox, who loves watching thriller movies all day and night in the solitude of her home. Right off the bat, it is obvious Anna is an unreliable narrator because of her limitations.
Anna suffers from a severe case of agoraphobia (an anxiety disorder), which prohibits her from leaving her house. The event that provoked this phobia plays a big role in the plot, and when the novel starts, she has been in her house for ten months. Before she was diagnosed with agoraphobia, she was a fairly popular child physiologist in New York City. Now she stays in her house without much contact to the outside world; the only people that visit her are her physical therapist, Bina, and her psychiatrist, Dr. Fielding. Anna and her husband have separated, but she talks to him and her daughter every day; however, they don't visit her house anymore.
When Anna isn't drinking or visiting with her therapist and psychiatrist, she enjoys playing chess online, helping others through a website dedicated to their own struggles with agoraphobia, and spying on her neighbors. She takes pictures and sometimes fantasizes that their lives are her own. One day, a new family of three, the Russells, move in across the park from her, and she quickly becomes intrigued with them. She looks through her window and across the park to their house throughout the day to watch this seemingly normal family.
However, one night, Anna looks out her window and sees something she knows she shouldn't. She tries her hardest to get to the bottom of what happened, but no one takes her seriously because there is no evidence– only the word of a drunk medicated recluse. She must figure out whether everything she saw was simply a figment of her own imagination or the horrifying truth. And if it was the truth, she wonders who else might be in danger– including herself.
Gilliam Flynn definitely got it right when she wrote "Astounding. Thrilling. Amazing." It is a great read that will leave your head spinning until the very last page.
About the Writer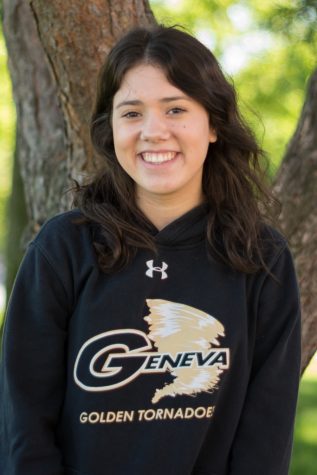 Rachel Schaelchlin, Reporter
Rachel Schaelchlin is a senior at NASH. This is her first year on The Uproar staff. She is a member of the National English Honors Society, and she plans...