Spring Into Action
The new season in school sports has arrived
Hang on for a minute...we're trying to find some more stories you might like.
As the weather (hopefully) starts to change and a new season begins, winter sports are wrapping up, and a new wave of sports is beginning. Winter sports were undoubtedly successful in the 2018-2019 season; many teams made it to WPIALs and several 1st place trophies were hoisted, as well as one PIAA trophy. The spring teams have a lot to live up to, and they are already gearing up, including Rowing, Lacrosse, Softball, Track & Field, Baseball, Boys' Tennis, and Boys' Volleyball.
The first rowing competition took place on Saturday, March 16th, and the team is motivated for a successful season and hopefully to qualify for nationals.  "Everybody on the team is really excited to go from indoor training to actual outdoor practice," junior rower Alex Hladio said.
The Girls' Lacrosse Team is starting off the season with their first game on Friday, March 22nd. "We have a really strong group of girls and I think we can make it really far this year," said junior Maddie Kantz, who hopes the squad will make it to WPIALs this season, as the girls ended up one game short of qualifying last year.
The Boys' Lacrosse Team will also play their first game on March 22nd at Upper St. Clair. Coming back from a loss in the WPIALs championships, they have many hopes to make it even further this season.
Softball and Track & Field will start their seasons with their first game and meet on March 26th.  Last season, the Softball Team made it to WPIAL quarterfinals, and the girls hope to make it even further this year. Junior Lauren Harris thinks the team will go very far this year and is inspired by her coach Warren Pirring's frequent saying, "It's our year!"
As 1st place WPIAL & PIAA champions last season, the Boys' Track & Field Team is starting the season with excitement and high expectations. Likewise, the girls won 2nd place at WPIALS and have many strong individuals to make it even further this year. When asked about excitement for the season, junior runner Emily Naughton said, "I'm really excited because I love the competition and my friends, and it's a great way to stay in shape and be social."
The Baseball Team has been especially strong in recent years, and it is no different this season. Due to a loss in the WPIAL championship game last year, they are starting the 2019 with abundant momentum and hope to redeem themselves this year. They will start their season with their first game on Wednesday, March 26th at Mt. Lebanon.
The Boys' Tennis Team began their season with a home game against Chartiers Valley on Tuesday, March 12th, and the squad is currently 4-0.
Among the most anticipated seasons this spring is the one to play out on the volleyball court. The boys' team, which begins the season with the NA Invitational tournament held at NASH on March 23rd, has made it to the state finals the past two years and won the title in 2018.  The team cannot ignore such high expectations, but they nevertheless remain focused on the season at hand.
"There's a little bit of pressure," junior Ben Mendes said, "but I also know that we have great coaches and a great team that is set up for success."
The North Allegheny spring teams have a reputation for excellence. Many teams usually make it to WPIALs, some even to states, and this year is no different. Make sure to come out and support the Tigers soon to give all the dedicated athletes the support they need!
About the Writer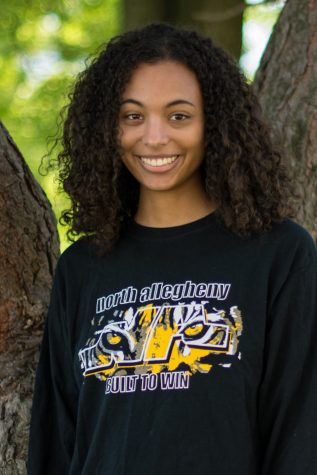 Kendel Barber, Reporter
Kendel Barber is a junior at North Allegheny. She is also a part of National Honors Society, Key Club, DECA, and Unicef. Outside of school, she enjoys...