Title Wave
Fresh off WPIAL and PIAA wins, Head Coach Patrick Wenzel looks forward to keeping the same goals - winning championships
Hang on for a minute...we're trying to find some more stories you might like.
Last year, the North Allegheny Boys' Swim Team won its first national title in school history.  The boys' relays in both the 200 and 400 freestyle set national public high school records. This season, they extended their WPIAL AAA championship streak to eight and won their third straight PIAA State Title. What is the secret behind the team's success?  To find out, The Uproar sat down with the head coach of the team, Patrick Wenzel.
How long have you been coaching?
I have been coaching for seventeen years.
When you're not coaching, what do you most like to do?
I like to spend time with my children and my wife.  I also like to eat!
What was NASH like when you went to school here?
Pretty much the only things that have changed since I went to school here are the auditorium and the athletic entrance. When I graduated in 1994, we won the state swimming title for the first time in NA history. The pool hasn't changed at all, except for the scoreboard.
When you first took over the head coaching position from former head coach Corky Semler, did you feel any pressure?
A lot. Absolutely. There's a lot of pressure with this program, and you just have to do your best.
Is there a specific highlight from your career as a coach so far?
I think there are several highlight moments for me. The boys' national record was a big highlight for me. This year's girls' WPIAL title was very special for me — that was a big one. Simply all the time I get to spend with the swimmers is pretty awesome.
Is there any secret to winning states three times in a row for the boys?
Have really good swimmers, train them really hard, and hope for the best.
How would you describe your training philosophy?
My main training philosophy is quality over quantity. Do everything correctly. When you're swimming easy, do it correctly. If you're swimming fast, swim fast but correctly. If you don't have good technique, you're not going to be good.
What allowed the boys' team to win states this year?
I think it was their attitude and their willingness to not worry about the losses they had and concentrate on the swimmers still here. They swam hard for each other.
What are your goals for next season?
I don't think I'm a person who lowers my goals. Even though we're losing a massive senior class, the goal is still the same — winning championships.
What is the best part of being a swim coach?
Being a swim coach can be a very difficult and rewarding profession. Working with kids is a lot of fun but it can also be very frustrating. However, the best moments for me are when someone touches the wall and has that look of shocked happiness, and for me, that makes it worth doing over and over again.
Is there anything you want to tell the student body?
If you work hard and set goals, you can do anything you want to do. And swimmers prove that sleep is overrated.
About the Writer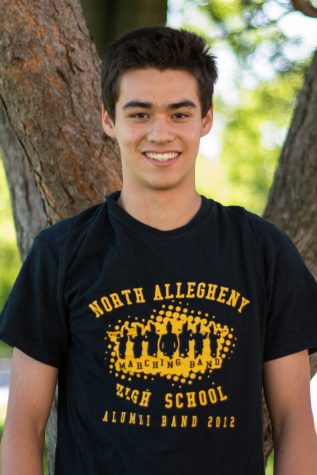 Richard Jensen, Reporter
Richard Jensen is a junior reporter. He is a member of the swim team and plays cello in the orchestra. In his spare time, Richard enjoys biking and hanging...