Aced Up
Trevor Treser and NA Volleyball are looking to repeat in the WPIAL and at States
A University of Mount Olive commit, Trevor Treser is one of the many forces of an NA Boys' Volleyball Team that has won 39 matches in a row.
How long have you been playing volleyball and how did you get into it?
I've been playing it really competitively since the summer between 8th and 9th grade on a travel team. I got to go to nationals in Columbus there, but I've really been playing it my whole life since I've been around a family that all have played volleyball in college.
Obviously, you're an extremely natural athlete. What about volleyball made it more appealing than other sports?
It's something I always looked forward to doing. The bond I had with guys on the team helped, but it's the fact that I love the game. I look forward to every match, I look forward to every practice, and I look forward to working on my game.
You have a family legacy in volleyball. How did that help you in your improvements?
It helped a lot having family that played at George Mason and Penn State. They can always get me in the right mindset or help with a minor tweak in my game. It helps with constant improvement.
How was your recruitment process?
Stressful. Unlike other sports, in volleyball you have to email coaches and hope you get a response. Mount Olive and St Francis got back to me and after that it all really calmed down, but getting my name out there was stressful.
You committed to Mount Olive, why there?
The atmosphere, their competitiveness, and the guys they have there all drew me in. It feels like the second chapter of NA Volleyball for me with how close those guys are. They have the Visgitis twins, who are from NA, on their team and they made me feel extremely comfortable on my visit. Everything just felt right.
What do you expect to accomplish in college?
With the great atmosphere, we want to be super-competitive. A conference title is obviously at the front, and a big upset of a team from a major conference would be great. The ultimate goal is a run in the national tournament.
As a libero, what do you view as your most important role?
Above all else, make sure the ball doesn't hit the floor. My serve-receive has been something I've been working on and I've improved at a lot. I switched from an opposite recently, I always had those defensive instincts, but my main goal will always be to keep that ball off the ground.
With the Boys' Volleyball Team having won 39 in a row, does that give you any sense of pressure?
Absolutely, it does. You know, you don't think about the fact that we've won that many games in a row, but each game the pressure absolutely mounts. Once you get on a roll, you never really want it to stop.
What makes the team so special?
This group of guys has been playing together for so long that we're a band of brothers. We ride and die together. The bond we have shows in our play. We do everything outside of school together and help each other persevere each game. The culture is great.
How have the coaches helped you guys?
Coach Schall has been great and has helped us all out in so many ways. Anytime we needed help, he could start an open gym and gives us reps to work on things with. He did that with me and my serve-receive. He's part of the family we created.
What's your one biggest obstacle to repeating at WPIALs and States?
It's always going to be ourselves. If we get too caught up in our success and aren't dialed in that's when we become vulnerable. When we're on, we feel like we can beat anyone. We have our fights like any family, but we can work through it all.
What has lead up to the point of getting the one seed and first round bye?
It's been that family mentality the whole way. We've had guys like Drew Hunker and Sava Topich really step up. Ben Mendes has been great for us. This entire team is playing well and with confidence, and we feel we can go all the way.
About the Writer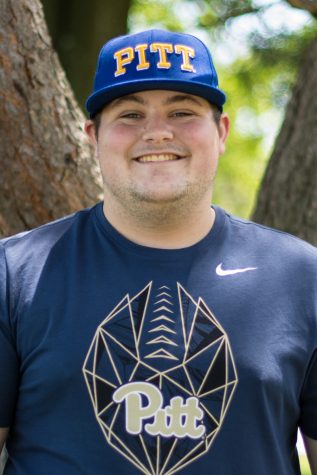 Nick Farabaugh, Sports Editor
Nick Farabaugh is a senior at NASH and the sports editor for The Uproar. Nick is a writer for SB Nation's Behind the Steel Curtain and is a WPXI Skylights...