Young at Heart
Grandview Mentoring Projects connects NASH students with inner-city youth
Hang on for a minute...we're trying to find some more stories you might like.
The Carnegie Science Center on Pittsburgh's North Side is a common destination for school trips, but last Monday was an uncommonly enjoyable day at the museum. 
On May 20th at the museum, NASH GOAL students joined forces with a group of 4th and 5th graders from Grandview Elementary in the Pittsburgh Public School District.  The expedition was a continuation of previous outings where NASH students tutored the Grandview students in preparation for their PSSA tests. Funds for the Science Center field trip were raised by the Teacher Jeopardy event at NASH in January.
"I thought the trip was a huge success," said Mrs. Lombardi, the sponsoring GOAL teacher from NASH.  "After two weeks of AP tests at NA and three weeks of PSSA tests for the Grandview students, everyone needed a day to move, play, and learn in an active, hands-on manner."
Both Grandview Elementary and NASH students had the opportunity to explore all floors of the Carnegie Science Center and the Highmark SportsWorks.  Grandview kids had the opportunity to build confidence with the help of their mentors.
"Some of their favorite attractions were the Climbing Wall and the Ropes Challenge at the Sports Works," Lombardi said.  Several of the Grandview kids were afraid to try the zip-line but were encouraged by their mentors, Lombardi added.
The NA mentors enjoyed the trip as well.  Some mentors commented that their favorite parts of the trip were connecting with the children and watching the kids gain confidence.
However, the purpose of the Grandview Mentoring Project runs much deeper than just a fun outing at the Science Center.  
"For the Grandview students, there is an important academic benefit," Mrs. Lombardi said. "When they have a high school mentor helping them work through challenging math problems and daunting essay assignments, they build their skills and confidence."  
For the NASH students, the Grandview experience has been filled with important lessons about people with different socioeconomic backgrounds than the typical NA family.  
"At only 10 years of age, some [of the Grandview students] have dealt with food insecurity, family instability, and violence in their community," Lombardi pointed out.  "As our NA students follow their paths in the world, I want them to be impacted by this experience. Perhaps it will impact their career, their future service experiences, or even social justice initiatives that they take part in."
About the Writer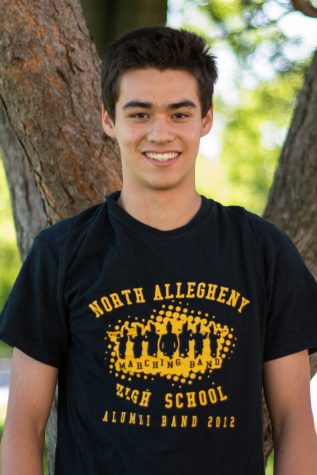 Richard Jensen, Reporter
Richard Jensen is a junior reporter. He is a member of the swim team and plays cello in the orchestra. In his spare time, Richard enjoys biking and hanging...