Speak Up
The nationally ranked Speech and Debate Team clears their throats for the upcoming season.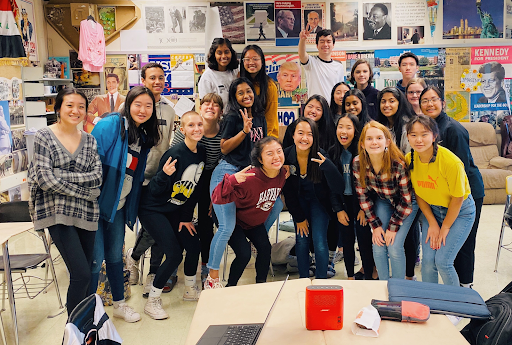 If you attended the Homecoming parade earlier this month, chances are you saw a massive herd of dalmatians in the mix. With clearly over 101 members, the Speech and Debate team not only stands as one of the largest clubs at North Allegheny, but also as one of the most accomplished. Take a stroll down the halls of the third floor, and you will find numerous showcases with trophies and medals lined up one after the other. With the team ranked 21st place nationally and 1st in the state, the stakes are rather high, but that does not stop these students from working hard and making a serious effort to improve themselves. 
The team has already kicked off the season by participating in the Homecoming parade, the annual five-hour retreat, and three practices per week to prepare for their weekly tournaments. This year, NA will compete in tournaments at Moon, Shady Side, North Catholic, Pine-Richland, and Bethel Park, among several others, even including some national tournaments at Yale, Harvard, and George Mason University. Competing in these tournaments not only familiarizes students with their events but also allows them to become increasingly persuasive and confident speakers. 
With a wide range of events to choose from, the team welcomes everyone with open arms. Popular speech events include Extemporaneous Speaking, Original Oratory, and various forms of interpretation.
"Speech and Debate has shaped a huge part of my high school experience," senior Katherine Gao said. "Not only has it helped me better understand topics that I'm passionate about, but I've also developed a greater appreciation for our ability to speak and think critically about issues that affect the world today. Above all else, it is because of the Speech and Debate community that I have found some of my closest friends both locally and nationally."
Senior Carsyn Nash agreed. "The Interpretation event feels like a family between the participants and is such a positive environment to explore speech in," Nash said.
In addition to the aforementioned events, there are also numerous debate events. Lincoln-Douglas (LD) Debate is a one-on-one form of debate generally dealing with topics that heavily emphasize morality and philosophy. The most popular event, Public Forum (PF), is a two-on-two debate dealing with current affairs. Both LD and PF are proceeded with a coin toss to determine the side and order in which the teams will be speaking, meaning that they are required to prepare both the affirmative and negative cases of the same topic. 
"Overall, Speech and Debate takes quite a bit of work to prepare cases and materials for the debates, but going to tournaments and actually placing at them is one of the most rewarding experiences," said senior Jiany Zhao, who competes in PF.
Furthermore, there is also Student Congress, where students draft bills and resolutions. They later vote for or against proposals before turning into a law. 
"I like [Congress] because it is the perfect cross between policy-driven debate and fluency-driven speech events. I used to be extremely scared about public speaking, but congress and just Speech and Debate, in general, has given me much more confidence to speak in front of a crowd," said senior Eli Prem. 
Head Coach, Mrs. Volpe, was on the Speech and Debate team herself as a high school student and has been an organizer of the team for many years.
"Every year, I try to come in without expectations. I tell myself that anything can happen because it's not just how we debate or perform, it's also how our competitors rise up to their expectations. And I've been lucky that each year, our kids keep coming back as amazing as the year before – and our freshmen and new people are already doing amazing work," said Volpe.
Students who actively participate in their respective events, not only start to feel at home due to how close they become with their peers and competitors across schools, but they also fine-tune their speaking and communication skills, boost their confidence and even improve work ethic. Because many of these students have explored various events before finally finding one that they enjoy most, they were able to identify their strengths and weaknesses, which they will likely cherish for many years to come. 
About the Writer
Neeti Cherukupalli, Staff Writer
Neeti Cherukupalli is a senior at North Allegheny School District.  She enjoys writing about politics, eating hummus, and hates birds.