Vital Message, Voluntary Audience
Low turnout at NASH assemblies is discouraging and detrimental, yet it's easy to fix, as most other high schools across the nation know.
I spent the better half of one Thursday morning in December taking pictures at the No Place For Hate assembly in the NASH auditorium. I saw months of hard work on the part of the Multicultural Student Union come to fruition,  and committee members in awe as their efforts unfolded before them. Seven panelists, 12 heartfelt anonymous testimonies, one captivating speech after the next. 
The event was a success, by all accounts but one. 
I watched for three periods, the length of the assembly, as students filtered in and out of the auditorium. Testimonies and presentations were interrupted by class changes and students standing up and muttering to themselves and their friends, "I have to go, I can't miss this class," or "I have a test this period."
Such is the case for practically every assembly at NASH, a high school quite unlike the majority of high schools across the country.  Here at NASH, assemblies are usually voluntary.
I was lucky enough to be at No Place for Hate for the full duration and to be able to hear everything that was said.  But even as I listened and watched, I couldn't help feeling that the event could have been even more impactful than it was. I'm no public speaker, but I know that the success of any presentation is limited to its audience. Thus, making the assembly optional, with periodic class changes no less, diminished the impact of the morning. 
I've never understood the premise of an optional assembly, not only because no other district in the area follows such a practice but also because it counteracts the hard work of the organizers and shortens the reach of heavy and important topics.
"
A district like NA that prides itself on 'inclusivity' should be more inclined to push these kinds of discussions and assemblies to its students.
There were approximately 600 students in attendance (many of whom, however, did not stay for all three periods) at No Place for Hate, which may sound like a success, but in a building with over 1,300 students, an auditorium that can hold nearly 1,800 should have looked a lot fuller. A friend noted to me that there are more students who attend monthly GOAL meetings than attended the assembly.  Perhaps an exaggeration, but only slightly.
The truth is that there were likely far more than 600 students who were interested in attending the December assembly. I heard plenty of people express that they wanted to go but couldn't because they had tests to take and classes they couldn't miss. Even teachers who encouraged their students to attend continued with their lesson plans, as if students should be forced to choose between their academic sanity and a long overdue, meaningful discussion.
A district like NA that prides itself on "inclusivity" should be more inclined to push these kinds of discussions and assemblies to its students. As No Place for Hate poignantly illustrated, a lot of students feel hatred here, but perhaps even more don't think there is a problem. 
Truly, it's hard to even recall the assemblies that we've had this year because most have been voluntary. I do remember one of my non-technological classes being forced to attend the Hour of Code, yet when it came time for No Place for Hate, we chugged along with the lesson plan for the week. 
Considering that we're a senior high school, where the world after secondary school is closer than ever, it's disappointing that the administration doesn't appear inclined to bring together the student body for important conversations beyond our academic needs. These last two years should prioritize life skills education and pertinent discussions, but the message we're hearing is that no school-wide conversation is so important that it should be mandated.
"
To require the entire student body to attend such important meetings, which is hardly a radical idea, solves more issues than it creates.
It's practically impossible to find any other school like this. 
Perhaps it's the case that when assemblies are optional the audience will be more engaged because they chose to attend. It's possible that required attendance at assemblies would fill the auditorium with apathy and distractedness.  But it's just as likely that students may be incentivized to attend optional assemblies in order to dodge their academic duties in the classroom. On that Thursday morning in December, I noticed more than a few students in attendance who were angling to get more time to study for tests they hadn't prepared for, or merely looking for an excuse to nap or watch movies on their phone.
Of course, mandatory assemblies could be met with the same kinds of behaviors. But to require the entire student body to attend such important meetings, which is hardly a radical idea, solves more issues than it creates. Students who want to attend won't feel pressured to sacrifice their academic priorities, and students who are simply looking for a break from class might actually be surprised to find a captivating presentation. I should know — like a lot of us, I've gone to assemblies and dozed off, or spent the entire time scrolling through Twitter and not paying attention. But I can remember quite a few times when I was mindlessly scrolling on my phone only to be interrupted by some piece of information that grabbed my attention.
Required assemblies show that a school administration has a vision beyond academics.  They're a way for schools to communicate to students that some messages are so necessary to hear that they're worth a minor alteration to the normal routine.  I can't imagine that students and teachers would have a difficult time adjusting, especially because every other school they've been a part of follows such a practice.
MSU and the guest presenters at No Place for Hate should be commended.  Like so many other optional assemblies at NASH, the event delivered a vitally important message.  It's a shame that well over half of the school didn't hear it.
Leave a Comment
About the Writer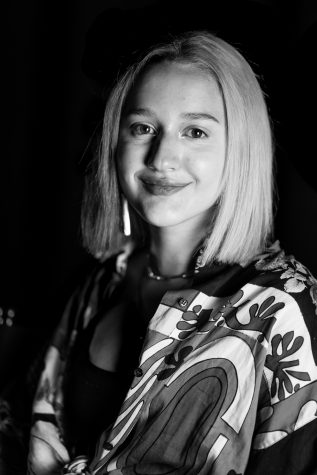 Julia Poppa, Photography Editor
Julia is a senior at NASH and is delighted to be this year's Photography Editor. She uses she/they pronouns and is passionate about making a positive change in the world. In her spare time she enjoys reading about philosophy, photographing the world, creating art, writing, and caring for her plants. She hopes to become a helicopter pilot one day and dreams of going to school in New Zealand.