Head to Toe
Kensly Owens' speed, tenacity, and nose for the goal have helped the Boys' Soccer Team advance in the WPIAL post-season.
How old were you when you started playing soccer? What made you decide to play?
I started playing soccer around the age of five, and I played because that's all kids did for fun in Haiti.
How has soccer changed your life?
Soccer forces me to stay in shape and is a great outlet when school is really stressful. I've also met some of my best friends through soccer.
Is it hard to manage soccer and school as well as a social life?
Yes, sometimes it is tough to balance school and soccer. During the school soccer season, it gets frustrating when we have an away game at Butler and don't get home until 10:30 on a school night. Practice is also every day, and it's tough to let your body recover and prevent injuries. For club soccer, the most frustrating and exciting thing is that we have tournaments pretty much every weekend for which we usually have to wake up around six or seven for games. So there is really not much time to catch up on sleep or hang out with friends. Luckily, for both school and club soccer, my teammates are really fun to be around.
When you aren't on the soccer field, what are some of your favorite activities to do?
I love to listen to music, work out, and hang out with my friends. 
Do you know what you want to do after high school?
My goal is to play soccer at the next level, but the recruitment process has been tough with COVID and being unable to visit colleges. I want to study sports medicine and pursue a career working with athletes at the highest level to prevent injuries.
What is your favorite professional soccer team? Why?
One of my favorite soccer teams is definitely Liverpool because they approach each game with a lot of confidence, and it's clear that they have fun while playing against the toughest competition and at the highest level.
If you hadn't taken up soccer, is there another sport you think you would be playing? If not, do you think there is something else you would like to do other than a sport?
If I wasn't playing soccer, I think I would most likely be doing track and field. 
What are your top three all time favorite movies?
Of course Stepbrothers with Will Farrell is number 1. Second is Black Panther. Last but not least, Iron Man 2 is one of my favorites.
Who are some big role models in your life?
The most important role model in my life is my dad, and another kind of random one is Will Smith. 
What is your favorite subject(s) in school?
My favorite subject right now is AP Psychology. Very interesting class. Next would be Honors Philosophy because we have a lot of good discussions. Another would be Economics.
Do you have a favorite pump up song before games?
"From the D to the A" goes crazy.
What is one thing that people would be surprised to learn about you?
I have 12 siblings total, counting my brothers who still live in Haiti and my family here.
About the Writer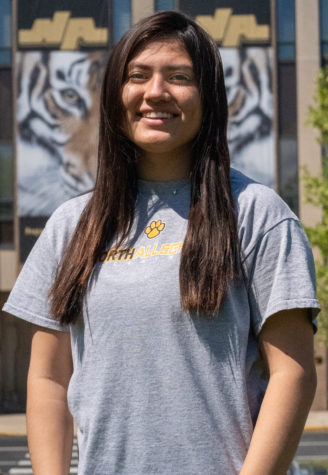 Eva Bellissimo, Staff Writer
Eva Bellissimo is a junior at NASH. She began writing for the NAEye when she was a sophomore. She is very excited to get the chance to write about more things she loves and publish them on The Uproar for everyone to see. She works two jobs in the summer and one during the school year. She is a lifeguard during the summer and works as a hostess at Goodfellas Drafthouse. In her free time, she likes to...