Madam President
Meet Maggie Scala, President of the Class of 2021
What was your biggest motivation to run?
 To represent the senior class and make this year the best we can make it for the circumstances we've been given. 
What are you most excited for?
I am very excited for our first project—senior T-shirts.
What platforms will your presidency highlight?
I want to mainly focus on what the students want. Personally, I feel that a president isn't elected to do whatever they want but to represent the class that elected them. So most importantly, I want to encourage communication between myself and seniors. Any recommendations for senior year are greatly appreciated. I also want to focus on school-induced stress. I struggle with school-related anxiety and I'm sure many other seniors do, whether it's because of college applications or homework. I want to try to reduce the stress created by school as much as possible with fun things planned during school for students. 
Any ideas or projects in the works?
Last year, I organized a fundraising "game" for Soles4Souls, so I am hoping we will be able to participate and raise money for kids without shoes again this year.
What parts of your job have been impacted by the virus?
I can't speak for this year yet, but last year, almost everything Junior Class Council had planned got cancelled, which was sad to see. Specifically, we were supposed to have a Senior Citizen Prom, which I was very excited for, but it got cancelled due to the virus. Hopefully, this year we can make all of the normal senior year events go on, even if they have to be socially distanced. 
What are your overall goals for your term as president?
To represent the senior class, work on school-created stress within the student body, and to bring some fun to our senior year.
What's your daily routine?
Wake up, drink chai tea, go to school, go to Irish dance class, do homework, watch TikToks, and go to sleep.
Favorite class(es)?
Last year, my favorite class was AP Psychology with Mr. Schall, and so far this year, I really enjoy my government class with Mr. Maddix.
What do you plan to do in the future (college/career)?
I am still undecided. I have always loved history, government, and learning about different cultures and places, so I am thinking about going into International Business on a Pre-Law track. As far as where I want to go to college, I am also undecided, but I know I want to live close to D.C. or somewhere warm. 
Tell me a joke.
2020.
Favorite food? Restaurant?
Mad Mex. My order there is the Honey Chipotle Burrito. It's bomb. 
Any hobbies outside of school?
Learning about quantum physics & space.
What's your spirit animal?
An otter, but my Harry Potter Patronus is a hedgehog.
What is the best purchase you've ever made?
My Amazon Echo Dot. 
If you could travel anywhere in the world right now, where would you go?
I would go to Valencia, Spain. 
Final question: In your opinion, what song is essential for the Prom playlist?
No Hands (feat. Roscoe Dash and Wale) by Waka Flocka Flame
About the Writer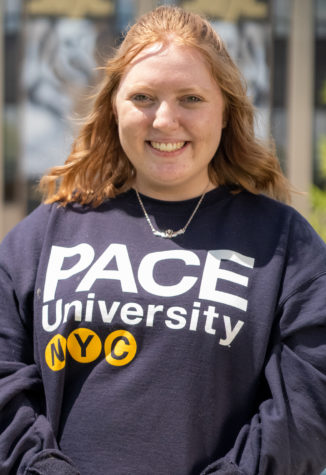 Lucie Flagg, Co-Editor-in-Chief
Lucie Flagg is a senior this year. She enjoys the finer things in life, such as sushi, napping, and her dog, Daisy. Along with writing for The Uproar, she also contributes to NATV. Outside of school, Lucie works at Naturally Soergel's, and she watches Impractical Jokers whenever that's not happening. Lucie plans to attend Pace University in New York City next year to pursue a career in media production.