Cop Show Cancellations
Network and cable TV producers are adapting to changes in the culture at large, and shows that involve police are now the focus of change.
In the wake of nationwide protests over the death of George Floyd, television networks have had to modify and even cancel shows that involve the police, which has come with criticism from both sides of the political spectrum. But are these networks really making a positive impact on society, or are they just a big overreaction?
For decades, police officers have been portrayed as "the good guys," who protect and save the people of their town. But nowadays, these shows often glorify violence and corruption, instead of portraying cops as positive influences in their communities. In an interview with NPR, Rashad Robinson, President of Color of Change, talked about the many cop shows in America.
"Over and over and over again, the good guy—the police officer, the district attorney, was doing bad things, and it was being endorsed," Robinson said.
The worry with these negative messages centers around the next generation. Children who aspire to be police officers could see TV show characters that they idolize involved with corruption and assume that these actions are the norm within the police force. These norms of corruption and abuse of power are passed to the next generation, combatting the message of the Black Lives Matter Movement and continuing trends of systemic police violence. 
NPR also sat down with Adi Hasak, the creator of the NBC show Shades Of Blue, to speak about the cancellation of the show.
"You know, there were a lot of cop shootings," Hasak said. "Cops were shooting unarmed people. And I was wondering if I was really serving, you know, anything here besides just, you know, helping the flame get bigger." He left the show in 2016. 
In 2020, established TV shows like Law And Order: SVU  decided to change the direction of their shows instead of cancelling them. Law And Order plans on incorporating the fallout following George Floyd's death into the plot of the upcoming season. Wilson Morales, an editor of Blackfilm.com, thinks that Law and Order can more than handle the challenge.
"Law & Order still exists because it's done a good job covering these subjects over the years," Morales said. "These shows have covered issues like stop and frisk and police brutality before. When you have 21 years of renewals, it means they're doing something right."
Well-known shows like Chicago P.D. and Blue Bloods will also continue airing and will hopefully pay more attention to social justice issues in their upcoming episodes. 
Unfortunately, live-action police shows like Cops and Live PD weren't as lucky as the police dramas, after both were pulled off air in the wake of George Floyd's death. Most police dramas stayed safe, despite current events, for one main reason: fictional dramas are scripted. These popular shows can make changes to the theme and ideas portrayed in their shows whenever they want and without restriction. Live-action shows don't have this luxury. The only way to reform those shows is to reform the police system itself, and police reform isn't something that happens overnight.
These shows rack up some of the highest ratings in all of cable television, and their cancellations were met with immense backlash from the public. Those who are against the cancellations claim that these shows highlight the positive side of policing, while those who oppose these shows say that they turn police brutality into a form of entertainment. It seems, however, that this debate will continue without a definitive answer, as long as cop shows stay on the air. 
Although cancelling cop shows seems like a good short-term move, long-term consequences can only be avoided if major networks encourage the positive aspect of the police, not the negative.
About the Writer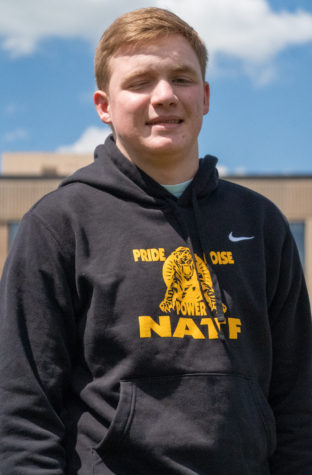 Flynn McGurrin, Staff Writer
Flynn McGurrin is a junior at NASH who enjoys golfing and watching any sport he can find.