A Quiet World
ASMR has many helpful benefits beyond simple relaxation.
After a long, stressful day, most kids, teens, and adults need an escape. One of the newest trends to help them relax is watching or listening to Autonomous Sensory Meridian Response— or as it's more commonly known, ASMR– videos. 
ASMR is a tingling sensation that typically begins on the scalp and moves down the back of the neck and upper spine, and it is easily a pleasant form of paresthesia. To elicit such a response, the content creators whisper or make small noises with objects close to a microphone quietly. For a reference, ASMR videos have been compared to old-time Bob Ross videos, as he has a quiet, relaxing tone of voice while he paints.
Since social media has made opening up about mental health issues more mainstream, ASMR has bloomed. While some teenagers may not feel comfortable going to an adult with their anxieties or worries, they can always just look up a video to help them calm down.
That's the great thing about ASMR. It doesn't matter if you have a big problem going on or if you just need to calm down before bed– with one quick search, you have an endless library of relaxing videos to choose from.
Before ASMR was proven to have long term benefits on mental health, it was actually looked at in a negative light, but that time has passed. Now, ASMR is known as one of the simplest ways to relieve stress in a digital age.
Junior Zoé Tracey uses ASMR to relax while studying.
"I listen to ASMR when I study because it helps calm my nerves down while also helping me focus without being a distraction. Listening to music usually gets me off track," she said.
One of the reasons for ASMR's spike in popularity is the large amount of creators who put out the content for their audiences. Teen YouTuber Gracie Kate has raked in almost 1,500,000 subscribers and over 600 million views in only three years. She started her channel in 2017 after struggling with an eating disorder, from which she used ASMR as an escape.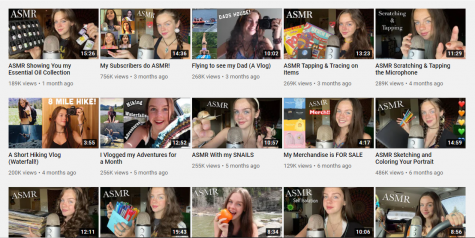 "When I was nine I fell into a dark place. Luckily, I am completely better now and my mission is to help other people who are down, struggling with an eating disorder, or even just not doing so well," Kate explained. "I know the only thing that made my days better back then was ASMR, so that's why I love posting videos so much."
ASMR has also been proven to help with one's physical health. Studies have shown that listening to ASMR can be associated with a reduced heart rate, as well as increased skin conductance levels.
This makes ASMR one of the cheapest, effective therapies for all ages, as it can benefit someone mentally and physically. 
At the end of the day, ASMR's recent rise in popularity has had a positive impact on the mental health of thousands of people around the world. Each day more and more creators arise, all with the desire to help others relax and destress.