Doubles Drive
Though they hadn't played together until this fall, Claire Shao and Abbey Swirsding quickly solidified themselves as one of the top doubles teams in the WPIAL.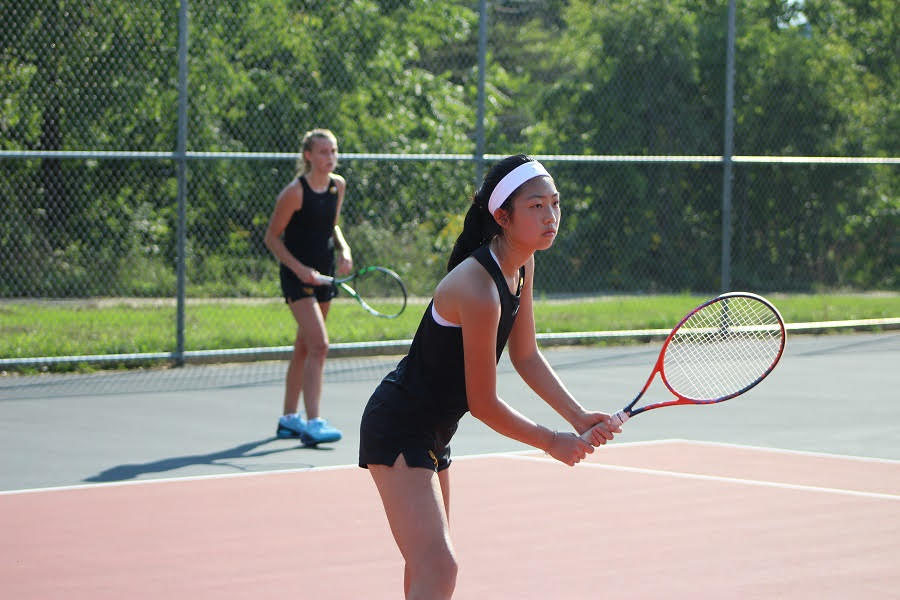 This fall, Claire Shao and Abbey Swirsding became North Allegheny tennis's top doubles pairing, showcasing their passion and talent for the sport.
Shao, a senior, discovered her love for tennis when she was in fourth grade. After experimenting with several different sports, she found that she liked tennis the most. 
Swirsding, a sophomore, started playing about ten years ago. She credits her father with getting her to start playing, and over the years she's enjoyed it more and more.
"My biggest supporter (and critic) is my dad," Swirsding said in a recent interview.
Both girls started competing in tournaments around fourth or fifth grade. Since then, they've practiced several times a week and made countless memories during competitions. Both have both been playing on the school team since they were freshmen.
Along with the school team, Swirsding plays for a team through the U.S. Tennis Academy, and Claire trains at the Pennsylvania Tennis Academy. When she's not practicing with the school team, she likes to train at Oxford Athletic Club, take private lessons, and compete in other tournaments.
When Shao is not playing tennis, she likes to run, do indoor cycling, and practice yoga.
"While not all of these are directly related to tennis," Shao said, "I think they've helped make me a more adaptable player on and off the court."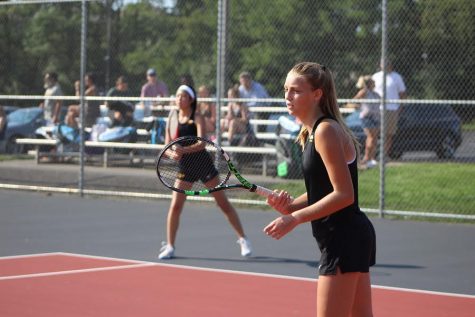 The duo just started playing together this year on the second match of the season. 
"It wasn't too hard getting used to playing with Abbey," Shao said. "I think we have styles that complement each other."
Through communication on and off the court, they've learned to work together and become good friends. 
"It's really nice having someone else on the court with you since tennis is usually such an individual sport," Shao continued. "It helps having a partner whenever you're having an off-day."
At first, though, the two said that they faced the challenge of not understanding each other's playing styles and not communicating enough. However, doing doubles drilling helped them understand each other's strengths and weaknesses. 
"We became friends and learned to work together through communication on the court," Swirsding said. "When things weren't working, we discussed and fixed them."
Unlike singles tennis, playing doubles requires communication and a different set of skills. 
"It takes a little bit of time to adjust to each new partner," Shao said, "but after Abbey and I started playing together, it was smooth sailing." 
Even though there are challenges that come with playing doubles, both girls cherish the friendship they have and love playing together. They like being able to share their successes and losses and grow together as players.
"The best part of playing together is having someone to pick you up when you get down on yourself," Swirsding said.
As for the future, Swirsding plans to play tennis throughout the rest of high school and in college, depending on where she ends up going to school. Shao does not plan on playing in college though she is considering joining a club team in college next year.
About the Writer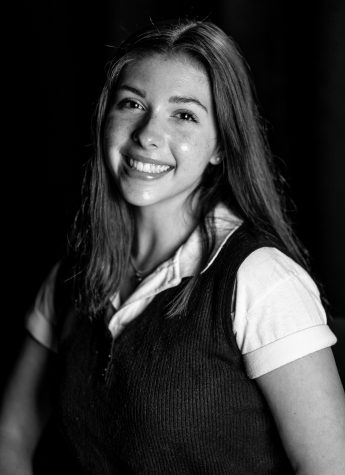 Michaela Golik, Staff Writer
Michaela Golik is a junior at NASH, and it's her first year writing for The Uproar. She enjoys dancing, spending time with her friends and family, painting, and writing. She loves filmmaking and aspires to be a director. When she's not working or dancing, you can likely find her online shopping or daydreaming about traveling the world.