Good Talk: Mr. Claus
It's been a crazy year since we last saw the man. Check out what he's been up to!
It's been a rough year. How are you holding up?
I'm fine—more worried about others, honestly. I'm doing okay. Thanks for asking.
What is the toy shop's policy on COVID-19 sanitation?
It's all RapidTests for the workers, hand sanitizer stations throughout, and distancing—we do six and a half feet—figure a little extra never hurts.
Did the elves get stimulus checks?
They did…not.
Are you considered an essential employee, and if so, when will you be eligible for a COVID-19 vaccination?
I got an elf up here who made a vaccination—so I took that. I'm essential only insofar as I'm needed a great deal leading up to the day, but I don't think of myself as essential.
What's the best mask brand/type to wear with a beard?
Haven't found one yet—I'm open to any suggestions. Had a few prototypes, but nothing that really fit snug. And don't even get me started on face shields—this beard was packed in tight against that screening. Fogged up pretty badly. Don't want it fogging up on Christmas Eve. Zero visibility isn't how I like to do my job.
Have you ever considered switching to vegan cookies and oat milk?
I'm really open to anything—I've had a pretty steady diet of milk and cookies, but I've never been choosy. I'm a milk—any kind of milk—and cookies—any kind of cookies—guy.
Thoughts on Elf-on-the-Shelf?
Amateur.
Would you consider the reindeer to be your pets or your coworkers?
That's the hardest question you've asked yet. Gosh—I'd hate to say more pet than coworker, but then I don't harness up my pets for the hardest day of labor known to man. I'm gonna have to say coworkers…but that seems so very heartless. I'm…I'm at a loss.
How much paid time off do the elves get each year?
I give them a fairly standard two weeks. I also have a 4013B set up, which is a fund of my own design—won't find it in any banking system or schema. They're well taken care of long after they whittle their last toy or hammer their last nail.
I heard your 1,741st birthday is coming up. How do you plan on celebrating?
Has it been 1,741 years already? Geesh. Where does the time go? Me and Mrs. Claus have a trip to South Dakota planned—just wanna get south for a while and enjoy.
Does the International Date Line help or hurt you on Christmas Eve?
I don't know what that is.
What do you do when a house has no chimney?
Front door. Maybe a side window. Sometimes a patio door. Pick a lock. Grappling hooks. It can get…intense.
What's on your wish list this year?
I'm not asking for much. A friend of mine told me, "This isn't the year to get what you want, it's the year to appreciate what you have." That aside, I'm asking Mrs. Claus to buy me a TikTok account.
About the Writer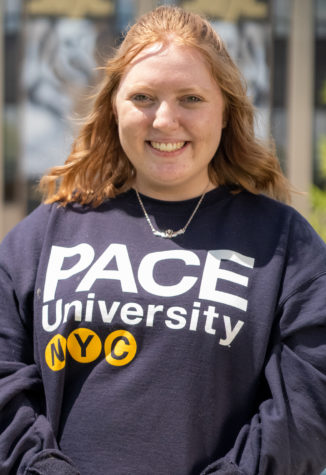 Lucie Flagg, Co-Editor-in-Chief
Lucie Flagg is a senior this year. She enjoys the finer things in life, such as sushi, napping, and her dog, Daisy. Along with writing for The Uproar, she also contributes to NATV. Outside of school, Lucie works at Naturally Soergel's, and she watches Impractical Jokers whenever that's not happening. Lucie plans to attend Pace University in New York City next year to pursue a career in media production.