StuCo celebrates Black History Month
February is Black History Month. To observe and honor the accomplishments of Black Americans, the Student Council, Social Justice Club, and Multicultural Student Union have come together to host a series of weekly events. Each event will be held virtually every Friday of the month at 3 PM. 
These groups have acknowledged that 2021's Black History Month is unique in the way that many more North Allegheny students have challenged themselves to reflect upon various aspects of racism in America in the past year. 
On February 5th, the groups hosted their first event of the month, History of Pittsburgh and Our Inequities. They discussed inequity that Black people have faced in Pittsburgh from the 1800s all the way up to today. 
Victoria Ren, a junior and Student Council's Vice-President, feels that this event is crucial.
"In classes, we've covered Pittsburgh's rise as a steel giant, its eventual collapse, and our transition to a diverse hub of technology, education, and medicine– but rarely how it relates to race," Ren said.
Ren also believes that because recent studies have shown that Pittsburgh is one of the worst United States cities for Black women to live, NA students must acknowledge that there is an issue and work to fix it through education and community discussion. 
"Especially as a 2019 Gender Equity Commission Report put Pittsburgh as one of the worst places for Black people to live in pretty much all standards of livability, it's crucial to look at why this is and what we can do as community members," she said.
There are three more events this month, including a viewing of the Netflix film 13th, a Smithsonian discussion, and a Pittsburgh speaker panel. These will cover a variety of perspectives on Black history, such as America's criminal justice system and how art can shape change. 
Ren urges students to participate in the upcoming activities while emphasizing the necessity of the events' content.
"Issues like systemic racism and inequity are deeply woven into our American identity but often are incredibly overwhelming and complex, discouraging many from even attempting to take action within their realm of control," Ren said. "In order to be better students, neighbors, coworkers, and citizens, we must recognize how pervasive and insidious these issues are."
North Allegheny alumni and NA For Change co-founders Jaime Martinez and Lucía Bautisa also encourage students to attend.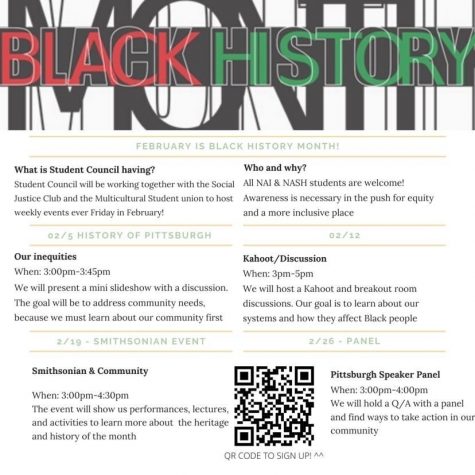 While NA4C is not directly involved with these events, they believe that education surrounding antiracism, representation, and Black history aligns with their organization's message. 
"Working to ensure that students can see themselves represented in the world around them — and especially in their classrooms — has been a guiding goal for our coalition since the very beginning," Martinez said.
NA For Change, primarily on their Instagram page (@naforchange), has worked to educate their following about Black history through a lens of culture and education, similar to the school-sponsored events of the month. 
Martinez added, "We hope that by doing our small part in amplifying the enormous impact of Black people on our culture and social fabric this month, the community may be exposed to and find inspiration in the stories of history that are too often underrepresented in mainstream culture."
Through community discussion and education, the groups organizing these events hope to bring light to stories of Black history and struggle that students may not have been aware of previously. 
Bautisa believes that these events are necessary as they offer a multitude of different perspectives on Black history and activism rather than just a singular view, something that she thinks should be reflected in an academic setting as well. 
"Heritage months, in general, are an important time to learn and reflect. Through these lessons, we realize that a singular, historical narrative does not exist," Bautisa said. "I look to educational experts for their input, and the common consensus is that students would be better served if educators taught history as a collection of different, sometimes conflicting, analyses. I agree and think we can do our part through clubs at school and other youth-led initiatives."
David Schantz, a junior and Student Council's Recording Secretary, thinks that aside from these events, we should try to celebrate Black history every day of the year. 
"Black History Month is a great time to show support to the Black community. However, we should really strive to celebrate it and the histories of other underrepresented cultures daily," Schantz said. "And it's honestly not that hard. For starters, people can support Black businesses, donate to antiracism charities, or simply take the time to learn about important Black figures and what they fought for."
Click here to sign up for the events this month.