When School is Out
Though it's hard for some students to imagine, NASH teachers lead adventurous lives outside of of their jobs.
We see out teachers every day, but do we really know them? Outside of school, what do they enjoy doing? 
The NASH staff is full of talented teachers whose lives outside of school may come as a surprise to their students. Ms. Yakich, Mr. Kodenkandeth, Mr. Lyons, Mr. Bugel, and Ms. Wienand are among those teachers who nurture a passion for the outside-of-school activities, whether on the weekends or over summer break.  
Outside of the building, the 11th grade English teacher, Ms. Yakich, finds joy in nature, participating in outdoor activities such as fly fishing and hunting, archery hunting, all done in the company of her family. 
Yakich took up these activities at a young age, her love for the outdoors stemming from her father and grandfather.
"My dad—the youngest of three boys—was the only one who took up hunting and fishing with his father. Since my sister and I were my dad's parents' only grandchildren, we spent a lot of time with them," Yakich said.
Most of these activities took place at Camp Tionesta, north of Pittsburgh. Although the camp was sold by the time Yakich was ten years old, her love for the outdoors remained steadfast. 
Yakich's childhood adventures continued into adulthood. This time, however, she now shares these family trips with her sister and her sister's husband.
"This past summer we took a fly-fishing trip to Colorado. Every October, as siblings, we go salmon fishing in New York," Yakich said.
Like Ms. Yakich, social studies teacher Mr. Kodenkandeth, more commonly known as Mr. K, is an adventurer or what some might refer to as a world traveler.
"My main hobby outside of school is traveling," Kodenkandeth said. "This might not be surprising to the students but the nature of the activities surely will be. Most of my travels include thrill-seeking activities," he said.
Not just once, but on multiple occasions, he has jumped from dizzying heights, traveling to several countries to do so. Mr. K has been to China, New Zealand, Spain, Tanzania, Zimbabwe, Antartica, Peru, and all over the United States. 
"People, in general, think it is funny that I do all these death-defying activities, but I am afraid of water. So I can jump off a building, but I am terrified of going into even the shallow end of a pool," Kodenkandeth said.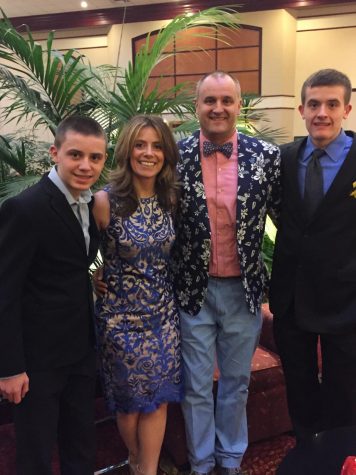 Separate from his time spent teaching, social studies teacher Mr. Lyons offers his hand in making an impact on an organization that is dear to his heart. Lyons is co-chairman of an annual benefit called An Evening for Autism, which began in 2008. 
When his son son was diagnosed with autism, there was an outpouring of support from local organizations.  Soon the Lyons family wanted to reverse the roles and reach out to new families, supporting them in the same way their family was supported years ago. 
"My wife, Annmarie, and I wanted to give back to so many that helped us," Lyons said.
An Evening for Autism was thus born and is now approaching its 14th year. The benefit's goal is to increase awareness about autism and to raise money to benefit the Autism Speaks organization. The event averages over 300 attendees, many of whom are on the North Allegheny staff.
Another staff member who thrives outside of the NASH building is astronomy teacher, Mr. Bugel, a major golfing fanatic. Having played on courses all over the United States, including Pennsylvania, California, Florida, Nevada, and even Hawaii, Bugel began playing here in the North Hills. 
"I have played golf since I was a kid," he said. "It was something that my friends and I could always do. My parents would drop us off at North Park and we would walk and play 18 holes."
For Bugel, golf is a chance to spend time with his kids, fellow teachers, and fellow football coaches. His time spent golfing has offered him the opportunity to win substantial prizes.
"I almost once won a car at a golf outing at Grandview," he said. "The car was a prize if you hit a hole in one."
Similar to Mr. K, NASH's librarian Ms. Wienand is an avid traveler — but not a traveler in search of daring adventure. Instead, Wienand's aim is music.
"Pre-pandemic, my husband and I traveled a lot more frequently, and we like to schedule trips around shows from our favorite bands," she revealed.
Following their favorite bands together, Wienand and her husband have traveled all over the United States and beyond. In fact, she has traveled to see the band The National in Toronto, Canada twice now.
"We are very lucky that we have similar taste in music, so even if we don't have the same favorites, we both enjoy the same shows," she said.
Although we see our teachers every day, their whereabouts outside of North Allegheny are largely unknown to students. But the next time you ask how their weekend went or how their summer was, be prepared to be surprised.