Powered By Coffee
NASH's coffee cart has returned, with students and staff working to keep their offerings hot and fresh.
The smell of sweet yet bitter coffee permeates the halls of NASH as the beloved second-floor coffee cart makes its glorious return. During the pandemic precautions, NASH was forced to shut down the cart. For more than two years, students dreamed of the day when the hushed pop of a Keurig coffee pod would once again echo through the hallway.
Only a few weeks ago, the coffee cart made a triumphant return to the second floor of NASH outside of room 266. As students traverse the hallways, they are now greeted with the smell of chocolate or hazelnut. While it's no Starbucks, the coffee cart is a saving grace to many NASH students. 
Founded in 2019, the cart serviced students and staff while providing Ms. Gina Vitale's and Mrs. Kami Ritter's special education students with necessary and valuable life skills. 
Ritter emphasized that the coffee cart is a hands-on task for special education students.
"Our students love making the drinks and interacting with their peers and staff," she said. "They don't get that opportunity if students and staff make their own drinks."
"
I've learned to be confident, while still making jokes."
— Connor Ross, NASH senior
Vitale emphasized the hands-on life skills provided by the cart, saying it gives "an opportunity for our students to practice money and vocational skills." 
Special education students are ecstatic with every cup they serve. The coffee cart caters to both students and staff. Students can walk on up and select their pod of choice, and the NASH staff has the opportunity to place an online coffee order and have it delivered by a special education student, NASH's newfound baristas. 
Connor Ross appreciates how working the coffee cart has connected him with NASH teachers.  
"I love delivering to Mr. Mooney," he said. "I've learned to be confident, while still making jokes."
When NASH principal Dr. Dirda gave the green light to reopen the coffee cart earlier this fall, Ms. Vitale and Mrs. Ritter got straight to work. They took their students on Community Based Instruction (CBI) trips that teach skills and functions in a natural environment. 
"Our classroom took CBI to Sam's Club to go shopping for the products, like paper supplies, a variety of hot drinks, creamers, and sweeteners," said Vitale.
Three options are available at the coffee cart for $1.50: coffee, tea, and hot chocolate. Since the cart is deemed a non-profit, all proceeds go right back into funding the cart.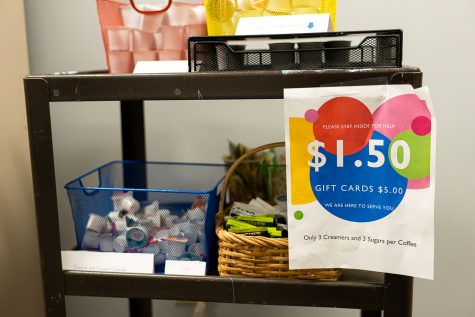 NASH senior Varsha Girish is an avid coffee cart visitor.
"I have only tried hot chocolate, but for the price, getting a little cup of warmth really brightens my day," Girish said. 
Seeing the impact the coffee cart has had on all students, Vitale and Ritter are eager to expand the cart in the future.
"We would love to have the ability to staff a coffee shop throughout the day," noted Vitale. 
Senior Lauren Snavley appreciates that servicing the coffee cart gives her the opportunity to expand her life skills.
"We get to help people, and we learn to listen," she said.
Even after the setback of COVID-19, the NASH coffee cart is hoping to regain its bustling business. 
"Everyone was happy to have the option to have inexpensive drinks at school and to get to interact with our students," said Ritter. 
It's just a cup of hot liquid for many students, but at only $1.50 a cup and a wide variety of flavors available, it is worthwhile to bring your spare change down and buy a hot beverage from the coffee cart.
"We welcome students and staff to our little world," added Ritter, who knows the 2022-2023 school year is off to a great start with the return of fresh coffee to the halls of NASH.