On the evening of Friday, August 25th, NASH junior Nyla Graswick entered Newman Stadium with a new mindset. When she walked up the stairs to the Student Section, she realized that her legs were going to have to do a lot less climbing.
"I think that it's just more fun being closer to the field," Graswick remarked. "It's more exciting because you are closer to the end of high school."
Every year, each high school grade moves up in their designated area in the Student Section for Friday night football. Every year, each new class climbs the hierarchy. The juniors are now closer to the action, lower in the section, and in front of two whole grades. 
At the home opener last Friday, the juniors showed up in style, decked out in Hawaiian shirts and leis. Jason Link was one of many 11th graders who were thrilled with their new seats in the bleachers.
"It feels good being in the junior section," Link said. "It's closer to the field." 
"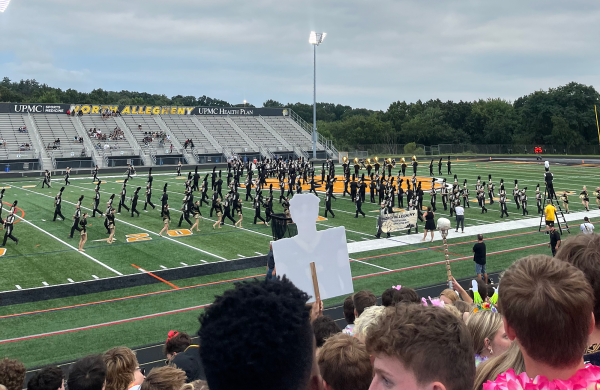 It feels good being in the junior section. It's closer to the field."
— Jason Link, NASH junior
When asked if being a NASH student now makes her want to attend more sporting events, Allison Yanchak was all in. 
"Yes. Absolutely 100%," she exclaimed. "You will see me at every game."
Abby Clouse remarked that, because the end of high school feels closer, she feels more motivated to be involved in sports events. 
"I feel like I do need to come to the games more," said Clouse. "I feel like our games are coming to an end, and we will be graduating eventually."
Elizabeth Pizon answered that she "definitely" feels a sense of hierarchy in this part of the Student Section.
Some students come solely for football, yet others come primarily for socializing. Grace Willetts explained that she comes for both. 
"Personally I like to socialize more. I like the bonding," said Willetts. "I think it's really a good time for people to come together to support their school. But occasionally I come for the game."
Taige Miller said that, now that he is a junior, he feels more of a need to dress to the theme.  
"It's my last two years of high school," said Miller. "I want to live it up."
When asked if she felt a greater sense of responsibility in the junior section at football games, Katie Maffei did not hesitate to answer.
"Yes. Yes 100%," Maffei said. "I just feel like we have more control."