Drawing fans in with her unconventional performance style, the legendary Stevie Nicks took Pittsburgh on an unforgettable journey. While she is best-known from her time with the band Fleetwood Mac, Nicks has had an incredibly successful solo career as well. Pittsburgh fans got a taste of both eras of her life at PPG arena on Wednesday night. 
NASH English teacher Ms. Peters was one of lucky fans on Wednesday night.
"I have been a fan of Fleetwood Mac since I was a little girl. Since my parents would never let me go to concerts, I made it my goal to see as many concerts in my 50s as I could," Peters said. "Last year, I saw Billy Joel and Elton John. You never know when it is going to be someone's last show. Stevie was incredible — she's still got it."
After an opening performance by Cil, a crowd of all ages waited in anticipation. The lights went down and the crowd erupted in cheers as "Runnin' Down a Dream" by Tom Petty blasted through the speakers. Stevie joined her guitarist; Waddy Wachtel, her bassist; Al Ortiz, her drummer; Drew Hester, her pianists; Ricky Peterson and Darrell Smith, and her backup vocalists; Sharon Celani and Marilyn Martin. 
Stevie started her set with a segment from the song "Outside the Rain" from her 1981 album Bella Donna. The lyrics "Maybe it's only a dream I don't want to feel that. Well it's one more link – in  the chain I don't believe that" have led many to believe that the song is about her romantic relationship with her former bandmate Lindsay Buckingham.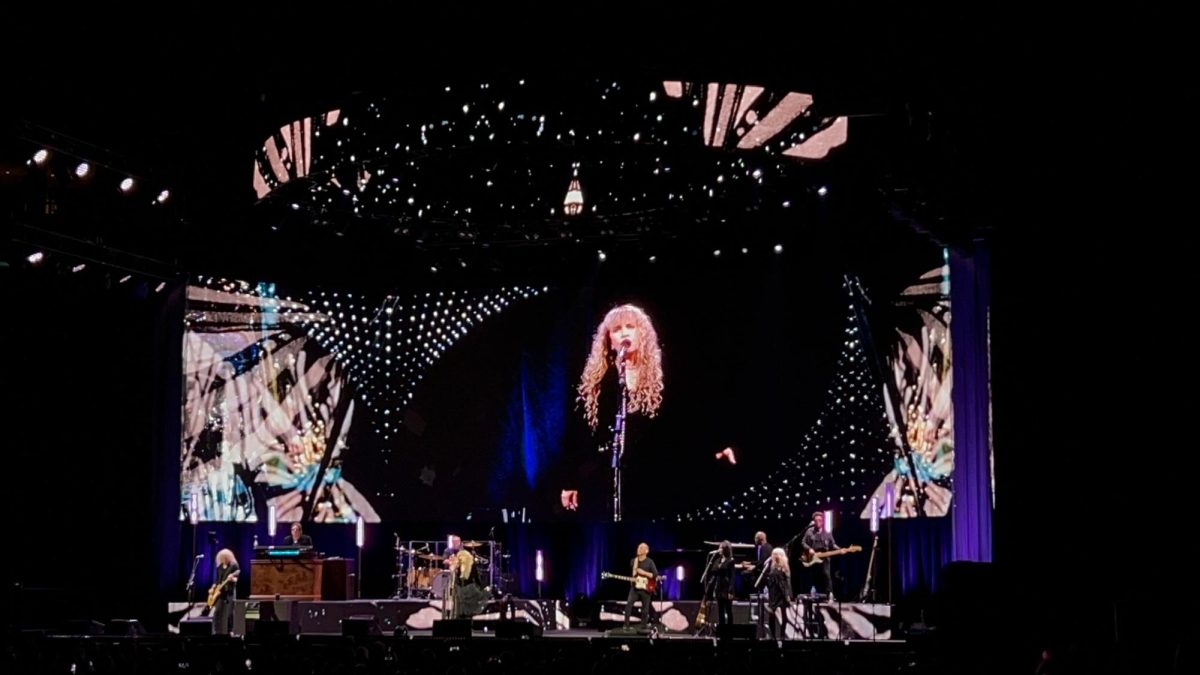 "Now here you go again. You say you want your freedom. Well, who am I to keep you down?"  The crowd went wild as an aura of the seventies filled the arena when Nicks transitioned into one of the most famous Fleetwood Mac songs, "Dreams." 
One of the few of her songs that was not written by Nicks was featured on the set list. "Stop Draggin' My Heart Around" — written by Tom Petty and Mike Campbell — was a dream for Nicks. She told the story of how she received the opportunity to work with the band. Prior to the release of Bella Donna, Nicks and her producer, Jimmy Lovine, realized the need for a single. While Nicks was panicked,  Lovine had a life-changing offer for her. He connected Nicks with one of her favorite bands, Tom Petty and the Heartbreakers, and said that they would give her "Stop Draggin' My Heart Around" to release as a single with her album.
On Wednesday, Nicks paid a tribute to Petty by covering "Free Fallin'" during this all-American classic. Photos of Nicks and Petty rotated on the jumbo screen as fans watched their friendship and musical partnership evolve over the years.
"Gypsy," another Fleetwood Mac song, was the a favorite number in the set. Nicks told a very heartwarming and authentic story of the inspiration behind the song. During her time with Fleetwood Mac, when her career became too stressful, she had a sweet ritual to bring her back to Earth. Nicks would remove her mattress from her bedframe, line the frame with paper flowers, and have a seat right in the center. She would close her eyes, take a deep breath, and say to herself, "I am still Stevie Nicks."
Nicks, an advocate for peace, also gave a moving and impactful speech about her time at Bethesda Naval Base. She recalled her experiences talking to recovering soldiers and the impact that their stories had on her. She also discussed her feelings against the war in Ukraine and dedicated her powerful song "Soldier's Angel" to the Ukraine soldiers. She portrayed the intensity of the message as a Ukrainian flag flashed on and off the screen, and she drove home the final line "No one walks away from this battle."
Some of Nicks' hits, such as "Gold Dust Woman," "Edge of Seventeen," and "Bella Donna," exceeded any other performance I have seen live. Her stage energy and style, paired with captivating guitar interludes, reached a level of enthrallment that left the audience in what felt like a trance.
Nicks ended the night with a heart-warming tribute to her late best friend, Christine McVie. McVie and Nicks were bandmates in Fleetwood Mac, and they had formed a sisterhood throughout their time navigating their careers. Nicks sang the tear-jerking ballad "Landslide" while a variety photos of McVie and her circled through on the screen above. The black and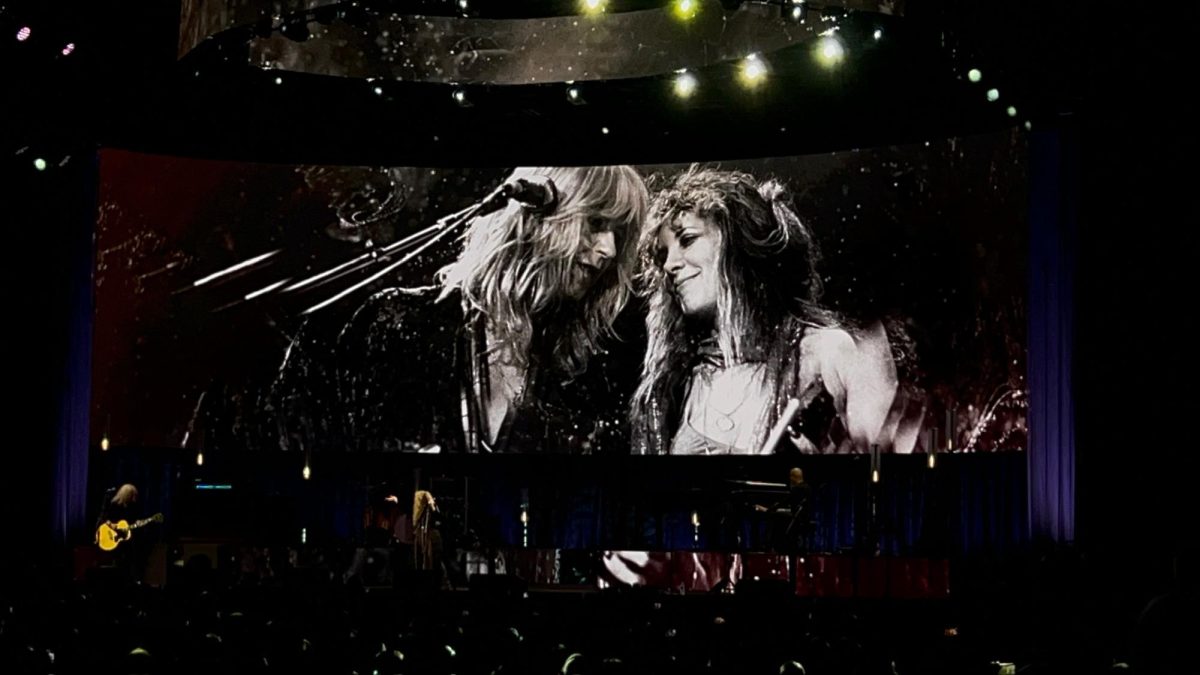 white photos captured endearing moments all throughout the course of their friendship. Nicks then gave a speech about how performing "Landslide" for her fans has brought her closer to accepting and healing from the grief of losing her best friend.
The night came to a close as Nicks and her team stood center-stage, arms around each other, grinning ear to ear, and soaking in the love from a beaming crowd.
The beautiful thing about Stevie Nicks is how well-loved she has become to all generations. She is both a voice from our parents' eight-track tapes, and a frequenter on our Spotify playlists. Both students and staff enjoyed her spectacular show.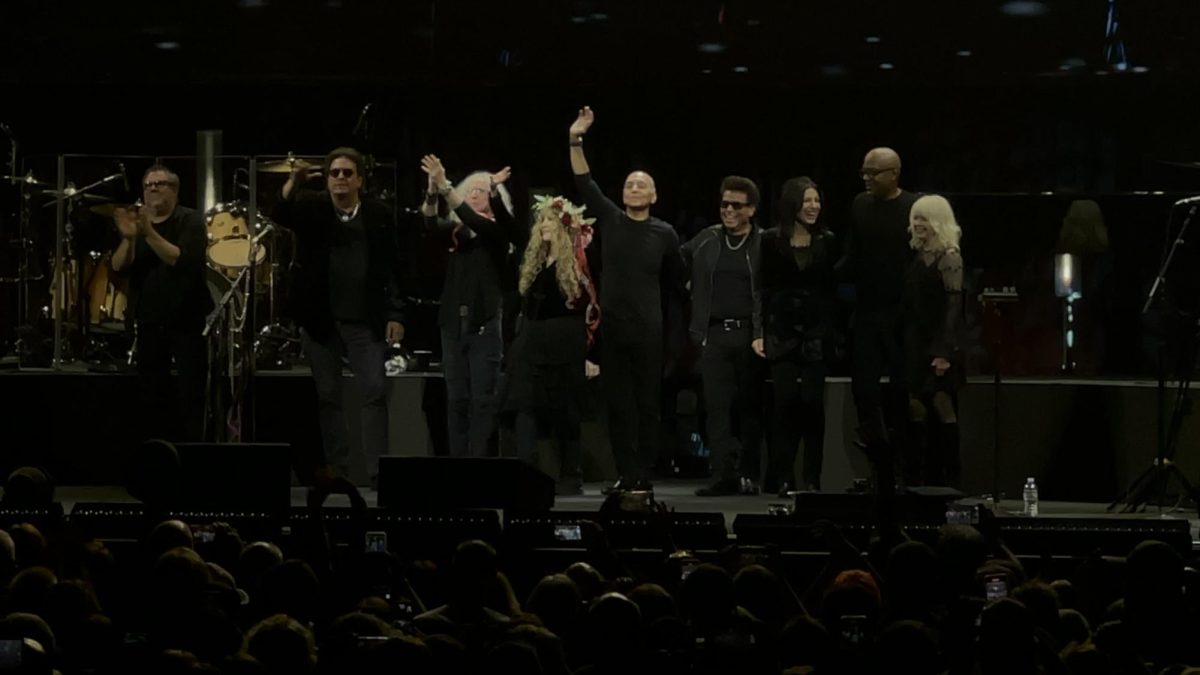 Ms. Stamp, the NASH school nurse, lives in a family of Stevie Nicks fanatics. She took her children as birthday presents.
"Her voice was amazing, my family was happy, and it was a night I will never forget," Stamp said.
Avery Neely, a NASH senior, felt that Nicks' performance was truly life changing.
"Stevie Nicks is someone who has inspired me for years," Neely said. "Having the opportunity to see her live was even more transformative than I could have imagined."