Driven by Diversity
MSU continues to provide a vital service to students and staff
The current American political climate is perhaps more divisive than ever before, but there's an organization here at NASH that is intent on bridging the divide.
Multicultural Student Union is a club for students to discuss high school diversity–and the problems that come along with it. Their mission is to promote cultural awareness and diversity in North Allegheny School District. The club welcomes all students to come discuss their own ethnic backgrounds and gives everyone a chance to learn about the variety of students at North Allegheny. MSU meetings normally happen every Friday morning in Mr. Bishop's room 318 and are run by Paolo Bochicchio and Zairi Mercader, the club's presidents.
Mercader found the club her junior year after a racial incident that happened to her during a fundraising event.
"I was actually involved in a fundraiser that donated money to the victims of the hurricane in Puerto Rico," she said. "When I would go over the microphone at lunch to remind everyone to donate, multiple students made racist comments. I decided to go to a counselor about the incident and ask what I could do to stop it. He suggested MSU, and ever since, I've been actively attending the meetings."
MSU was founded in 1995 by NA graduate Melissa Spence. Her intention was to create a safe place for all people in NASH. With the Multicultural Student Union, anyone from any background could come there and talk about their ethnicity and how it affects their day to day life in North Allegheny.
"There were fights between students because someone would use a racially insensitive term or others would write racially charged words on lockers and desks," Spence said in a recent interview. "We would discuss that, ways to combat it, and things to do in order to encourage more love rather than hate."
The club started with 15-20 kids, and the numbers have continued to grow.
As the current club sponsor, Bill Bishop is eager to promote the club's importance.
"All of the kids that join us in the mornings are open minded," Bishop said. "They come from all sorts of backgrounds. It's a great way for students to come together and unite,"
Beyond their morning meetings and discussions, MSU members participate in out-of-school activities. For instance, on Wednesday, October 24th, the MSU, in conjunction with GOAL and the English Department, will go to see The Hate U Give, a new film about a young teenager, Starr Carter, who fights against police brutality and racism.
Interested in joining this unique organization?  Simply attend a meeting.  The next one will be held 6:50am this Friday, October 26th, in Mr. Bishop's room on the third floor.
About the Writer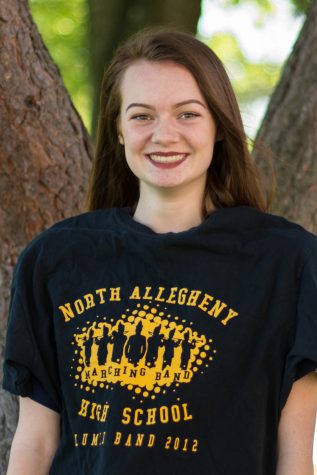 Autumn BC, Reporter
Autumn Bulebush-Clouse is a current Junior at NASH and specializes in videography and photography. In her free time, Autumn trains in all styles of dance and is planning on going to school for a business major in hopes to own her own dance studio.