Pencils Down
As more and more colleges drop the SAT essay requirement, the section becomes more and more obsolete
Hang on for a minute...we're trying to find some more stories you might like.
The SAT is an exam that tests college readiness and provides guidelines and standards for college admission. First administered in 1926, the test has undergone a number of revisions since its creation to form the exam that exists today. Of course, most of you know this. However, you may know less about the history of the essay portion of the SAT.
In 2005, the College Board (the company who creates the SAT) developed a new 2400 point scoring system that included a mathematics section, a critical reading section, and a writing section that included a required essay. Each section had a possible total of 800 points, for a total of 2400. The essay itself bore striking similarities to the SAT Writing II subject test and was intended to measure test-takers writing ability.
2016 brought with it a total revamp of the SAT test. The scoring system was converted back to the 1600 point scale that existed 11 years prior and the dreaded essay was made optional. The goal of this revision was to more accurately mirror skills students learned in the classroom. Test-takers now have the option to take the same multiple choice portion of the exam with or without the timed essay. The SAT essay asks students to respond to a passage they read in an analytic manner and lasts for 50 minutes.
"
Only 17 colleges out of the thousands that exist in the United States currently require applicants to submit SAT essay scores"
Although the essay has now become an optional portion of the exam, approximately 70% of SAT registrants sign up for the exam with the essay. However, most colleges could care less about your essay score or whether you even took the essay at all. Therefore, it is a waste of both the College Board's time and effort and test-takers' money as the essay becomes more and more pointless in the college admissions process and I believe they should remove it completely.
First of all, only 17 colleges out of the thousands that exist in the United States currently require applicants to submit SAT essay scores. There are a few more colleges that list it as "recommended"; however, it is not necessary to be able to apply. Several high-profile schools, many of them Ivy Leagues, dropped the essay requirement in the past couple months, believing that it holds little importance and is not a strong indicator of student achievement or intelligence. These universities include Harvard, Yale, Princeton, Dartmouth, Stanford, and Duke.
Additionally, the SAT essay costs an extra fee of $12 on top of the $45 entrance fee to sit the multiple-choice exam. Although this doesn't seem like much of an added purchase, for lower income families, this can make a difference. Poorer income students should not be put at a disadvantage when it comes to college applications just because they could not afford an additional standardized test (even though I did mention how few colleges require the essay today, these students may still want to apply to a college that does require but would struggle to afford it).
Finally, the College Board ties your SAT score to your essay score immediately. If, like me, you took the SAT with the essay portion and were happy with your score but dissatisfied with the assessment of your essay, there seems to be no feasible way to send your scores to colleges without those colleges also seeing your less-than-desirable essay score. This has led me and I'm sure many other people to have to retake their SAT without the essay portion, wasting more money despite receiving an initially satisfying score. Due to the many flaws the essay presents and its overall futile nature, I strongly believe that the College Board, like many other colleges, should drop the SAT essay and forget its very existence.
About the Writer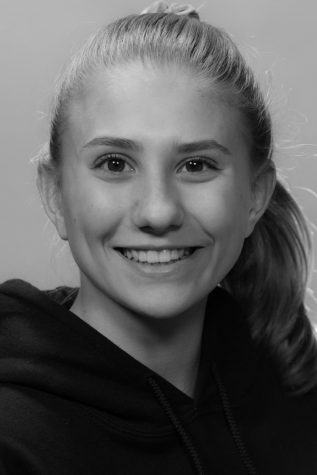 Caroline Mura, Reporter
Caroline Mura is a junior at NASH this year and is super excited to be writing for The Uproar! Previously an Atlanta native, she moved to Pittsburgh in...